Looking for an easy tool to market and scale your small business online?
In the modern era where Digital Marketing is the crux of all businesses, the tools available for website building, email marketing, creating podcasts, keyword rank tracking, etc. are considerably overwhelming, especially for beginners. Having to manage all these tools single-handedly is time-consuming, making business owners and creators feel jet-lagged with all the technicalities involved in operating them.
Systeme.io is an all-in-one tool for all aspects of organizing and running a business, without the exhaustion of managing several tools all at once because it does it for you!
In this Systeme.io Review, we shall explore the main features, pros and cons, and who is it best suited for. Read further to understand how to sign-up for FREE and to understand how easy running an online business can be!
Systeme.io Overview:
| | |
| --- | --- |
| Company: | Systeme.io |
| Year Founded: | 2017 |
| Website: | Systeme.io |
| Service Types: | Marketing platform software |
| Starting Plan: | Free, $27/Month |
| Customer Support: | 24×7 – Ticket, chat/helpdesk |
| Platforms Supported: | Web |
| Best For: | Startups, Small businesses, Mid size businesses, & Freelancers |
| Services provide: | Sales Funnels, Marketing Automation, Crate Online courses, Run Affiliate Program, Email Marketing, Website Building |
| Refund Policies: | 30-day money-back guarantee |
| Competitors: | Kajabi, Clickfunnels, Hubspot |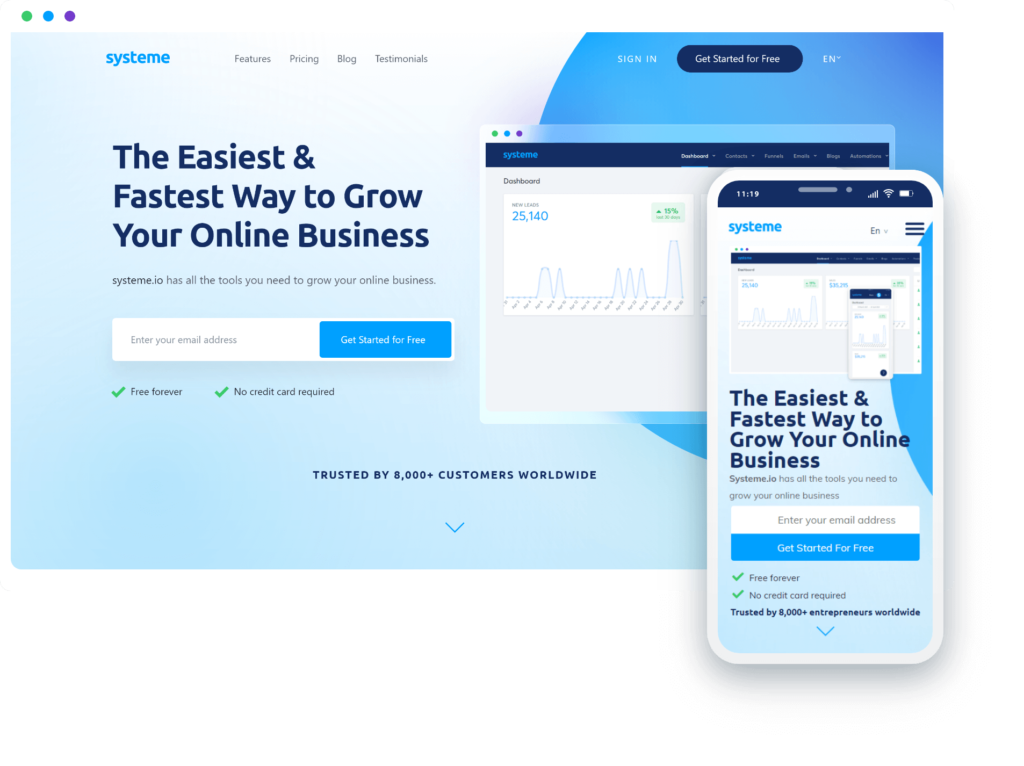 What is Systeme.io?
Systeme.io in their own words is "An all-in-one solution for creating sales funnels, webinars & memberships, running affiliate programs, sending unlimited emails & selling physical products for an online business."
Aurelian Amacker is the creator of this platform. Running a successful business himself, he found the part of managing all the marketing metrics the most difficult and failed to scale it as quickly as he desired.
Thus, he created a platform that makes it suitable for creators to create products and services while managing all their marketing needs at one place.
Now, over 10,000 business owners across the world use Systeme.io to run and scale their businesses in a cost and time-effective manner.
Systeme.io: Worth the Hype?
For most online businesses, the biggest obstacle is often starting from scratch. Investing time and money in various tools, apps, and software lead to frustration and creative blocks for business owners.
It is often noted that even after days and weeks of trying to operate such software, business owners find it difficult to fully understand the working of these tools.
Thus, Systeme.io reduces the investment of time and money by being an all-in-one platform for all your marketing needs.
👉 Integrations:
Systeme.io integrates with a wide range of popular tools, including payment processors, other email marketing services, and webinar platforms.
👉 Performance:
In terms of performance, Systeme.io is considered a reliable and robust platform. Users have reported high levels of satisfaction with the platform's ease of use as well as its range of features and integrations. The platform is also known for providing excellent customer support.
Who is Systeme.io Best Suited For?
Anyone who is looking to scale their homegrown business, solopreneurs, and lifestyle businesses are benefited from Systeme.io the most.
Instead of juggling various different tools for website building, email marketing, sales funnels, and much more, Systeme.io allows you to have full access to 6 different tools required to start your business.
👉 Sales Funnels:
Any marketer goes through leaps and bounds to build a sales funnel for their business and to increase the rate of conversions on their website.
Systeme.io comes with an in-built sales funnel with customizable templates for easy, professional-looking funnels for your business.
One can easily also create sales pages, invitations, thank you pages, and much more with the templates provided here.
Using these, one can convert their audience into consumers and can easily track them too.
👉 Email Marketing:
With the need to keep up with emails on a daily basis for small businesses, this tool allows you to create quick responses, newsletters, and even automated replies! The platform also helps increase customer readability and engagement through email campaigns which in turn helps increase sales.
Systeme.io helps you send unlimited emails to customers and contacts. With automated replies, the platform saves time by doing your work for you, thus making it time efficient.
👉 Online Courses: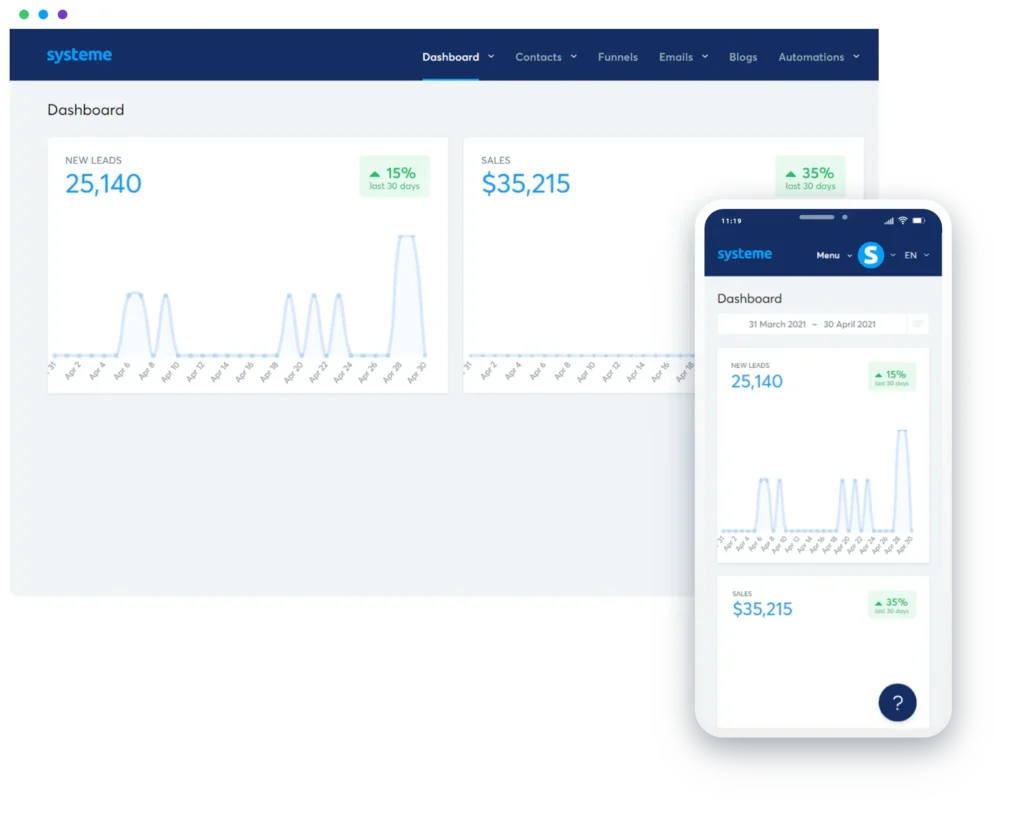 In today's modern era, education has become the one-way ticket to your audience's hearts and minds. If your small business also focuses on providing knowledge about your products and services, your audience is more likely to be faithful towards your business.
Systeme.io is your go-to tool to design your online teaching course or classes to educate your audience about your products or services. You can add new courses, customize your content, manage payments, send emails to your students and record your statistics on the dashboard page.
This is suitable for businesses who:
Businesses that have an educating course for their target audience to learn and invest in their business
Companies that build an online business by selling courses
Systeme.io has an editor which allows you to add appealing texts, images and videos to your course. Though the designing options are not exceptional, it can help you create an entire online course and post it in a separate domain, thus proving to be time and cost effective to many so far!
👉 Webinars:
Webinar is what makes money for you while you sleep. Thus, having a good webinar software or tool can be a huge game changer for your small business.
Systeme.io allows to create as many webinars as you'd like with just a few clicks. It then takes care of everything from registration to deliveries, and follow-ups too!
With the Systeme.io PAID plan, you can set up as many webinars as desired, making it best suited for business owners looking to scale their business organically.
👉 Affiliate Program Management: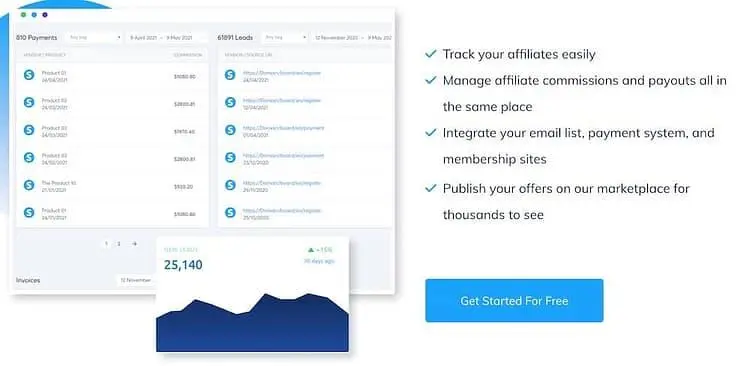 Affiliates are people who join the affiliation program of your business, share your products and services via links with their connections thus driving traffic to your website.
Systeme.io has a unique in-built affiliation tool that automatically sends all your subscribers a unique affiliate ID, which links to their respective Email IDs.
If your subscribers generate a sale, they get commissions for the same.
👉 Ecommerce Functionality: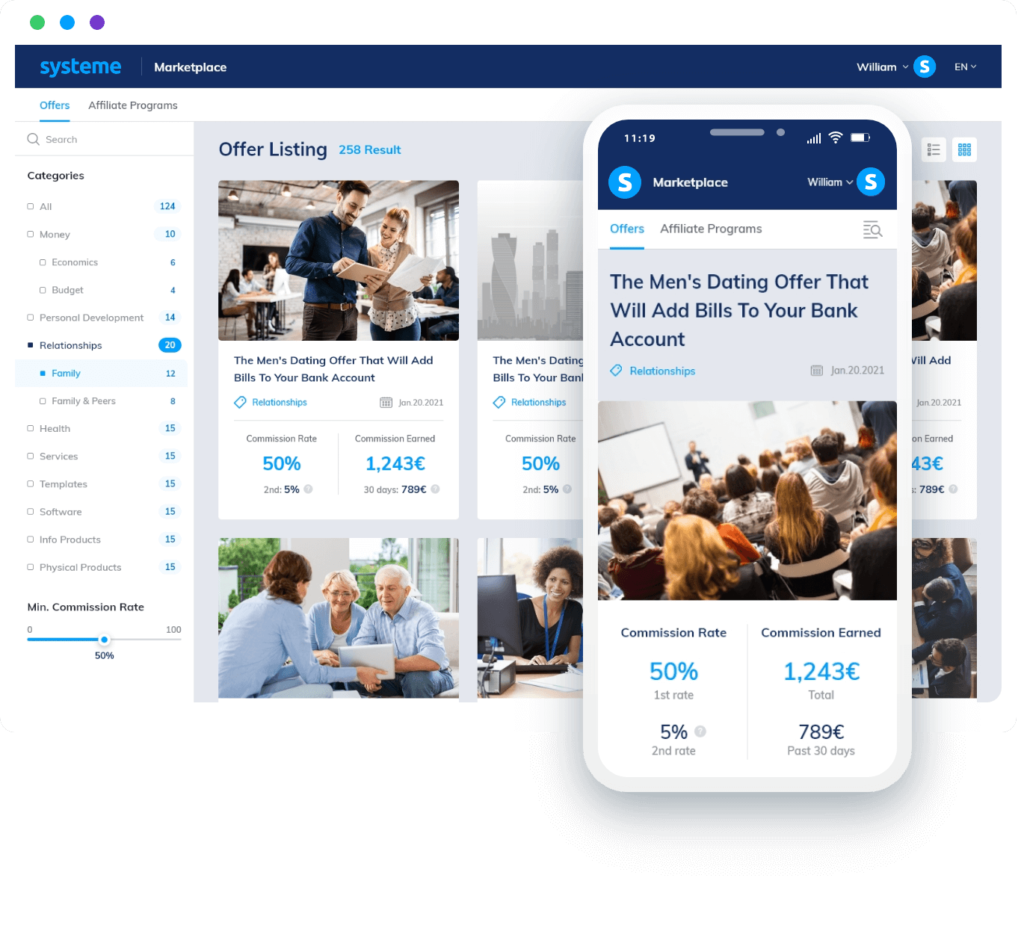 Selling your products is very easy on Systeme.io as it does not require third-party Ecommerce platforms, but instead allows you to create an online store for selling both digital and physical products right on the systeme.io website.
👉 Blogging: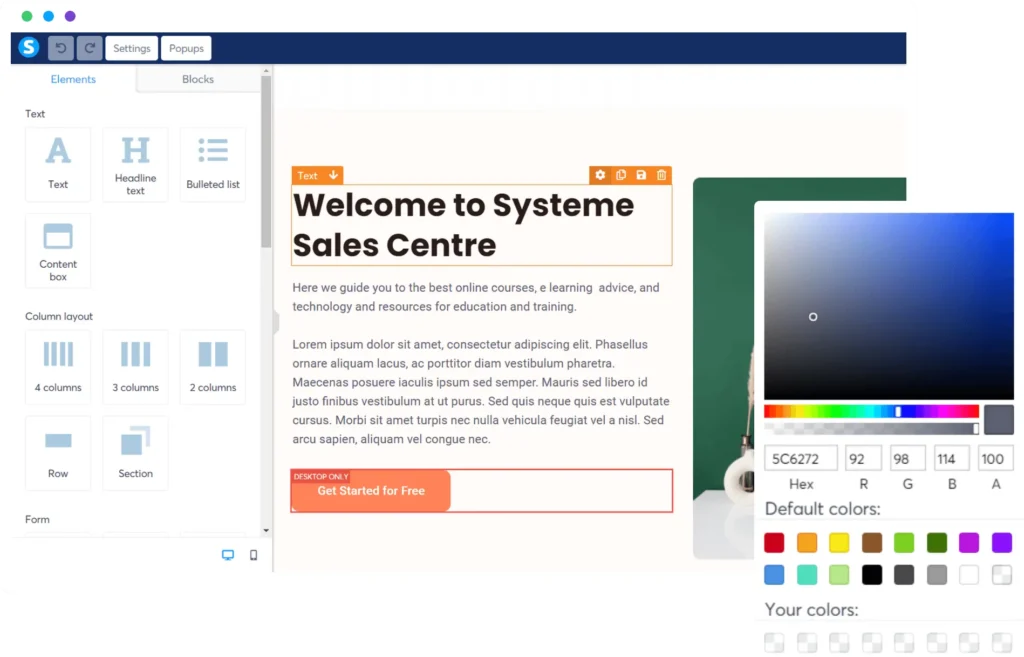 Blogging has become an essential part of all businesses in today's world, especially because it brings in organic traffic from your target audience. With Systeme.io, one can create a blogging website with just a few clicks.
Not only does it make it easier for you to write and publish your work, but their professional templates also help make it look more authentic and eye-catchy to your audience.
One can add custom domains or use systeme.io FREE domain as long as you are a PAID subscriber.
👉 Membership Sites:
Many small business owners rely on Systeme.io when it comes to building their own membership sites.
In this Systeme.io review, let's explore how its expert features help you build a professional membership site in minutes.
With the platform's integrated features, no coding skills are required for business owners to create a fully functional membership site by using simple drag-and-drop options to add desired options to add to your page.
If a member or user stops paying, systeme.io automatically revokes their access. This makes payment settings easier than ever, as systeme.io allows you to set payment options like stripe, PayPal, debit, and credit cards and handles the rest for you!
👉 Marketing Automation:
In this systeme.io review, we have explored that the primary key to scaling your small business successfully is by automating as many operations as possible.
Systeme.io makes it for business owners to automate a wide variety of processes while still having the freedom to grow your online business.
Systeme.io VS Competitors
ClickFunnels:
Clickfunnels offers its most basic package for $97/month while Systeme.io offers it for $27/month for the same features. Clickfunnels' basic package does not include everything on the platform and is thus not cost-effective. Systeme.io offers all the features that Clickfunnels offer but at a lower rate, making it better suited for beginners and solopreneurs.
Kartra:
While Systeme.io and Kartra offer very similar features and are both equally effective in running your small business, the major difference between the two is the user interface of both platforms.
Systeme.io is more user-friendly making it popular among beginners and people who don't want to spend time understanding a complex system.
Kartra's pricing starts at $99/month while Systeme.io's starts at $27/ month, making Systeme.io the most affordable choice in the market.
Kajabi:
While Kajabi only allows you to sell online and not physical products as Systeme.io does, it is one of the strongest competitors of Systeme.io as it allows various third-party integrations.
Kajabi does not allow any FREE plan, thus setting back than Systeme.io in the race. Kajabi's basic plan starts at $149/month making Systeme.io a pocket friendly option for its users.
WordPress:
WordPress being one of the most popular websites worldwide, is an all-in-one platform just like Systeme.io. While email marketing, sales funnel building, digital marketing automation, social media management, and more can be accomplished with WordPress, each requires the use of a different tool.
WordPress requires third-party tools to access all its tools, thus making Systeme.io full proof and easily accessible to all.
HubSpot:
HubSpot Marketing Hub is another all-in-one marketing software which provides various tools for businesses to run online campaigns that bring in organic traffic to their business.
HubSpot provides tools like CRM, blog creation, email automation, website building, and more, which makes it easier for small businesses to market and sell their products and services online.
Although HubSpot has various commendable features, it's starting price is $50/month. Thus, Systeme.io makes a better option for small business owners on a budget.
Pros and Cons of Systeme.io
Pros:
It is one of the most affordable platforms. It also has an entirely FREE plan with numerous features to start and scale your business.
It is an ALL-IN-ONE tool which doesn't involve the use of third-party tools.
It is a very cost-effective platform to build an online teaching business.
It has an in-built affiliate program to help you increase traffic and sales on your website.
You can use it on mobile phones as well.
Cons:
Systeme.io provides limited design flexibility, which discourages people in the design field to go for this platform.
It has very limited third-party integrations.
Pricing:
Systeme.io provides four pricing plans as follows:
Free Plan: Forever Free Account
You can manage up to 2,000 contacts
You can send unlimited emails, although all emails should be from 1 email campaign.
You can create unlimited blog posts for your business. Only 1 blog site is available.
You can create 1 membership site with unlimited members.
You can create 3 sales funnels, 1 automation rule, and 1 A/B test.
You can add 1 custom domain and use the free domains available.
Startup Plan: $27/month
You can manage up to 5,000 contacts.
You can send unlimited emails with 10 different emailing campaigns.
You can create unlimited blog posts for 5 different blogs in the same place.
You can create 5 membership sites with unlimited members.
You can create 10 sales funnels, 10 automation rules, and 10 A/B tests
You can add 3 custom domains of your choice.
Webinar Plan: $47/month
You can manage up to 10,000 contacts.
You can send unlimited emails with 10 different emailing campaigns.
You can create unlimited blog posts for 20 different blogs in the same place.
You can create 20 membership sites with unlimited members.
Create 50 sales funnels, 100 automation rules, and 50 A/B tests
You can create 10 evergreen webinars.
Add 10 custom domains of your choice.
Unlimited Plan: $97/month
You can manage up to 15,000 contacts.
Send unlimited emails with unlimited email campaigns.
You can create unlimited blog posts for unlimited blogs.
You can build unlimited membership sites with unlimited members.
Build unlimited sales funnels, unlimited automation rules, and unlimited A/B tests.
You can create unlimited webinars at the same place easily.
You can create and add unlimited custom domains of your choice besides using all the FREE domains available.
Thus, as one can notice, even the most expensive plan in Systeme.io is affordable when compared to its competitors, making it a first choice for many.
FAQs Related to System.io
What is Systeme.io?

Systeme.io is an all-in-one marketing platform with various integrated features like email marketing, webinars, marketing automation, membership site builder, sales funnel builder, and more. In short, it allows you to manage all aspects of running your small business on a single platform and eliminates all third-party integrations.

Is Systeme.io Free?

Systeme.io has 4 different pricing plans. Although all 4 plans are equally compelling, one can find everything necessary to open and scale their small business with the FREE plan.

Is Systeme.io better than ClickFunnels?

ClickFunnels is the first choice of many business owners as it is an all-in-one marketing tool to scale your business. It provides all the features as Systeme.io and more, however, doesn't include any FREE pricing plan. Its basic plan starts with $97/month, which might be a hole-in-the-pocket situation for small business owners. Hence, Systeme.io is considerably a better suited option for all beginners.
Systeme.io Summary:
Systeme.io is an all-in-one tool to cater to all your business needs from creating an online website to delivering both digital and physical products to your customers at their doorstep.
You can generate leads, maintain blogs, create an affiliate program, email automation, online courses, create video tutorials, host webinars, create landing pages, and more using this FREE platform.
It has 4 different pricing plans. However, even the FREE versions have all tools necessary to run and scale your online business.
Systeme.io is significantly better than all other marketing platforms, a major difference being its affordable pricing plans which allows business owners of all kinds to choose it time and again!
You can sign-up for a 14 day FREE-TRIAL to understand how the platform works and how you can grow your online business using Systeme.io.