Tell me what's the main reason you've started a business? There are most likely only two.
To solve a problem
To generate sales
Now, solving a problem is entirely up to you. You identify one, you start a business, and you solve it, the cycle ends there. However, generating sales is a more complicated part. It is difficult to generate sales and your business will not survive without them.
So what's the best way to generate more sales? Many online entrepreneurs use sales funnels.
In this article, we're going to discuss what a sales funnel is, its benefits, the best sales funnel builders, strategies, and everything else you need to know about it.
So let's get this party started.
What is a sales funnel?
In a nutshell, a sales funnel is the journey your customer takes from being a prospective buyer to actually buying the product.
It functions as a funnel, with many people at the top who are interested in what you're offering, but as they progress through the funnel, some drop off and others become more committed.
The primary goal of a sales funnel is to drive as many people as possible to the final stage of the journey and get them to purchase the product.
In short, it is a roadmap on how you will be selling your product.
Benefits and importance of a sales funnel
A sales funnel is simply important because it allows businesses to track and understand the journey their potential customers take in order to convert them more effectively. However, let's go over some of the reasons why a sales funnel is important and how it can help a business.
1. Better understanding of the customer journey
A sales funnel is a visual representation of the entire journey a customer takes before purchasing a product. This helps businesses better understand each stage and provides suggestions on how to improve their customers' experiences at each stage.
2. Improved conversion rate
Your conversion rate improves when you understand and improve your customer's experience at each stage. A sales funnel allows businesses to track their marketing efforts and receive proper advice on how to improve each stage in order to increase conversion rates and generate more sales.
3. Increased revenue
By analyzing the entire customer journey and improving conversion rates, businesses get the opportunity to increase their revenue. Indeed, if you have mastered the sales funnel, you will be able to generate more sales and earn more revenue in the long run.
4. Better allocation of resources
A sales funnel helps businesses better understand the stages where the customer journey flows smoothly and where it needs improvement. This lets businesses get better output from resources by using them at stages that need improvement. For example, spending your marketing budget on driving awareness if needed.
5. Better customer experience
A sales funnel is a customer-centric perspective on the purchasing process. This enables businesses to understand each stage from the customer's point of view and improve them to provide a better purchasing experience.
Sales funnel stages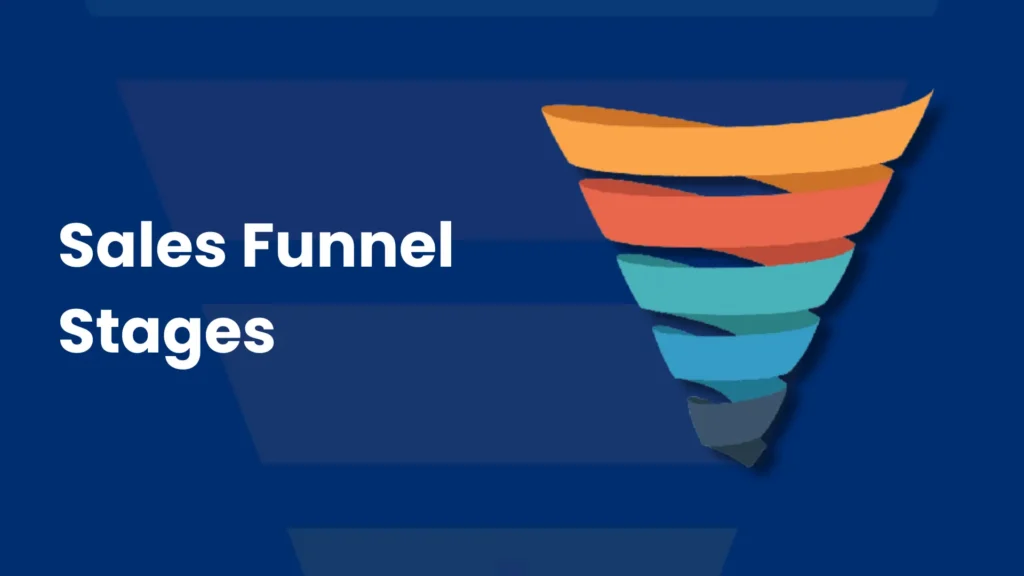 Now that you understand what a sales funnel is, its benefits, and importance, let's go over the main stages of a sales funnel.
a sales funnel typically includes six stages in the journey: awareness, interest, desire, decision, action, and loyalty. Starting with awareness and working your way up to loyalty.
Let's go over each stage separately.
1. Awareness
This is the first stage of any sales funnel strategy. During this stage, the potential customer becomes aware of your brand, product, or service for the first time. Awareness is the first stage of the sales funnel because, without it, the potential customer would know nothing about your brand.
2. Interest
During this stage, the potential customer becomes more familiar with your brand and begins to interact with it. They may express an interest in your products, visit your website, sign up with their email addresses, and so on.
3. Desire
Now the potential customer is gradually understanding the benefits of using your product or service and developing a desire to own it. The potential customer increases their effort by performing research and learning more about your product or service. They may also read product reviews and compare prices.
4. Decision
The potential customer is almost ready to buy your product and service. They may contact your sales team to obtain additional information, add your products to their shopping list, or even negotiate your prices.
5. Action
This is the most important stage of the funnel because it is here that the potential customer purchases the product and becomes an actual customer. This is the point at which the prospect officially becomes a customer of your product or service.
6. Loyalty
Because a sales funnel does not end with sales, the final stage of a sales funnel is the loyalty stage. At this stage, your customer becomes your repeat customer and gets loyal to your brand. You can ensure it by providing excellent customer service, adding value, and engaging customers.
Characteristics of a good sales funnel
Let us now look at some of the characteristics of a good sales funnel. Here are some.
1. Targeted right audience
A sales funnel with a clearly defined target audience helps you clearly research and reach the right people with the right move. It helps you work toward the right set of audiences and create a message that properly relates to them.
2. Seamless customer journey
One of the most important characteristics of a sales funnel is providing customers with a seamless journey throughout their buying experience. The customer journey must be smooth leading them through each stage of the funnel with ease and simpleness.
3. Attractive lead magnet
A good sales funnel acquires more customers by creating attractive lead magnets such as providing a free ebook, course, or webinar, to persuade the potential customers to provide their contact information.
4. Personalization
A good sales funnel is one that is personalized and tailored according to its target audience. It provides value in the form their target audience prefers and perfectly matches their needs.
5. Relevant offers
A good sales funnel must properly understand each set of audience and the stage they are at, to provide offers that are relevant to their needs. A sales funnel with relevant offers always boosts ups the customer's journey and, as a result, increases the conversion rate.
6. Engaging content
The content in the sales funnel must be engaging for the target audience to ensure proper value is provided. It must be to the point and match the target audience's preferences. The content must be something the target audience can relate to and enjoy sharing.
7. Follow-ups
The sales funnel must have an effective follow-up to ensure each potential customer is converted most effectively and retain them in the business. A follow-up process, such as an email campaign to nurture leads, is a must.
Now that we know what a sales funnel is, its stages, importance, and characteristics, it's time to know about some of the best sales funnel builders.
What is a sales funnel builder?
To explain it in short, a sales funnel builder is a tool that helps businesses build sales funnels.
The sales funnel tool helps you create a series of steps that your target customer would go through before buying your product.
The tool will help you set up different stages of the funnel, such as landing pages, email sequences, and upsells, as well as track your performance and make changes to improve conversions.
The idea is to get as many leads as possible and move as many as possible to the final stage with the help of these sales funnel builders.
Benefits and importance of a sales funnel builder
A sales funnel builder can bring tons of benefits to a business, making it a really valuable tool. Here are some benefits and importance of a sales funnel builder.
1. Building targeted lists
Building targeted lists of the audience are extremely important for a business as the right audience helps businesses achieve better results. Businesses often don't realize how important it is. That's when funnel builders come in, organizing a separate list for each set of customers and generating targeted sales.
2. Automated sequences
Sales funnel builders create an automated sequence after each stage of the funnel and run it without many active participants from the business. This helps businesses focus on other departments as it takes off a lot of workloads.
3. More efficient marketing spend
A sales funnel builder can easily identify and suggest businesses on the areas or stages that need improvement. This helps businesses spend their marketing budget more effectively and use it in places required to achieve better results.
4. Customer insights
Businesses can learn more about their customers by using the sales funnel builder. It provides information about the customer, such as their behavior and preferences, to help them understand it better. This allows businesses to better allocate their funds to sales and marketing.
5. A/B testing
Some members of the audience may prefer one thing over another. In such cases, a good sales funnel includes an A/B testing feature that allows businesses to test different sales funnels and select the most effective one for a specific audience.
6. Scalability
As the business grows, it may get hard to manage your sales process effectively. A good sales funnel builder ensures that the sales funnel is maintained and runs the same way as the business grows, to achieve better results.
12 Best sales funnel builders & software
It's time to discuss some of the best sales funnel builders you can use for your business. Let's go.
| Sales Funnel Builder | Free Plan/Trial | Paid Starting Plan |
| --- | --- | --- |
| Cartflows | Free plan | $79/year |
| Systeme.io | Free trial | $27/month |
| ClickFunnels | Free trial | $127/month (Annual plan) |
| Keap | Free trial | $149/month |
| Kartra | No | $79/month (Annual plan) |
Top 5 Sales Funnel Builders
---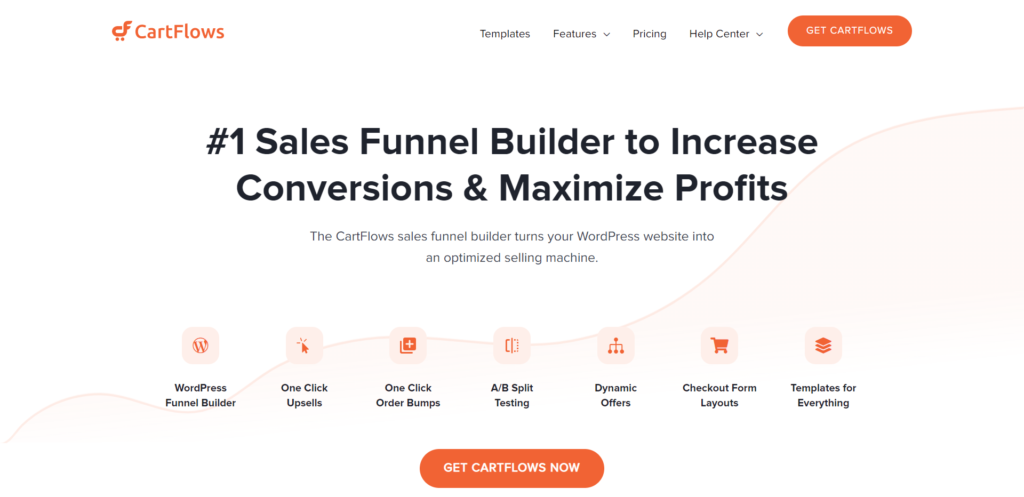 Ever heard about Cartflows? Well, it is a game changer for anyone looking to build an effective sales funnel.
Essentially, Cartflows is a WordPress plugin, known for its ease of use in terms of creating a sales funnel that can effectively convert. With just a few clicks, Cartflows lets you add landing pages, checkout pages, order bumps, and upsells.
Furthermore, there are numerous benefits to using Cartflows as your sales funnel tool. Firstly, you can save a lot of time as this platform lets you create everything with just a few clicks. Secondly, the tool is not too pricey which surely makes it worth investing in.
Features
A/B testing
One-click upsells and downsells
Integrations with payment gateways
User-friendly
Drag-and-drop feature
Starting price: $79/year
Free trial: Yes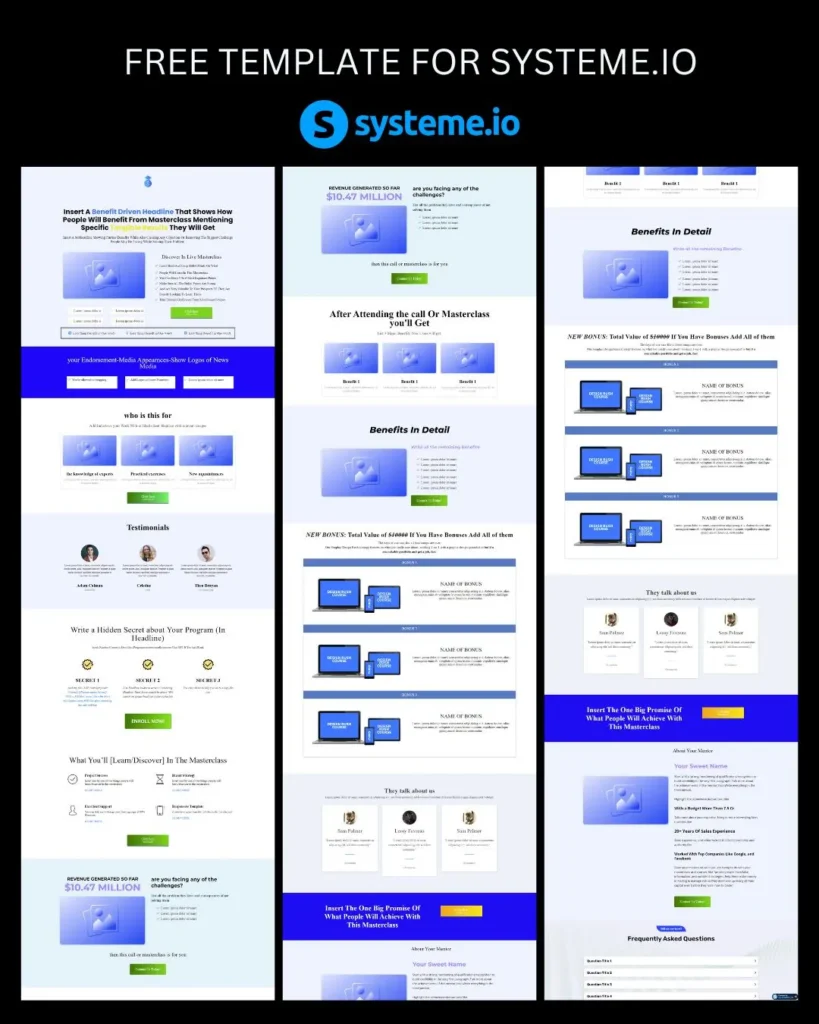 Are you sick of figuring out how to make the most of your sales funnel? Well, why fear when Systeme.io is here.
Systeme.io is a one-stop shop that helps businesses with sales, marketing, and delivery. Whether you are a seasoned marketer or just starting out, this platform will assist you in quickly creating a professional-looking sales funnel.
Furthermore, the platform includes a drag-and-drop editor, customizable templates, and a plethora of integrations, making it extremely versatile.
The "forever free" plan, which is ideal for basic use, is the most significant advantage of using this platform as a sales funnel tool. A paid plan would be required for more advanced usage.
Features
Landing page builder
Free-forever tier
Email marketing platform included
24/7 support
Automated sales and delivery
Starting price: Provides free tier. Paid plan starts from $27/month
Free trial: Yes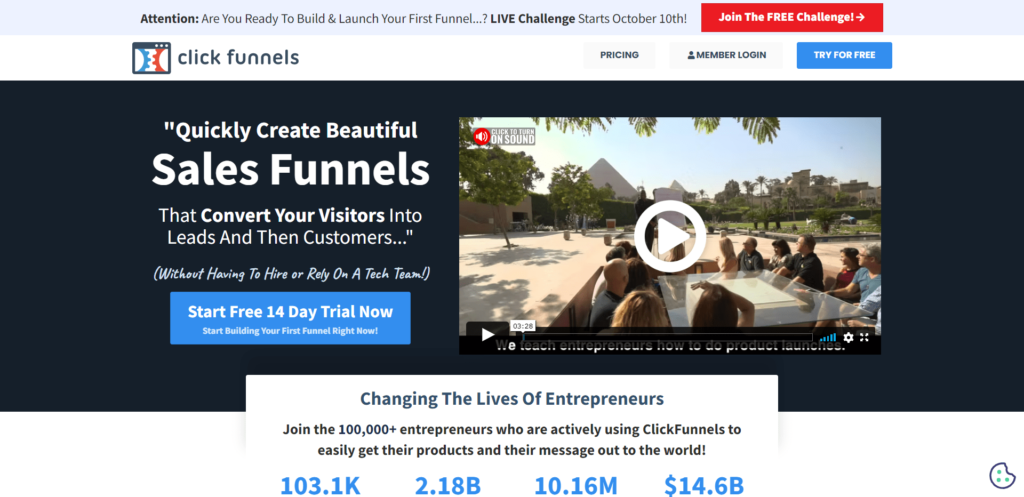 Looking to create a sales funnel without any technical knowledge? ClickFunnels is the ideal tool for you.
ClickFunnels is a sales funnel builder with a plethora of features that make it easier to create a funnel and track the performance of your campaigns.
You don't have to be a designer or a developer to create a high-converting funnel with ClickFunnels. You can select from several templates and personalize them to match your brand.
Additionally, the tool can be integrated with popular email marketing platforms, payment gateways, and CRM platforms.
Features
Real-time editing
Integrations
A/B testing
Add upsells, cross-sells, and downsells
Contact database
Starting price: $127/month (Annual plan)
Free trial: Yes
👉 PRO TIP: If you are looking for ClickFunnels alternatives, this list might help you.
Leadpages may be the tool for you if you're looking for a high-converting tool for your sales funnel efforts. You can easily create landing pages, pop-ups, and alert bars with Leadpages to capture leads and guide them through your funnel.
Leadpages can be integrated with other email marketing and CRM platforms, making it simple to nurture leads. Furthermore, you can easily sell products or services directly from your landing page using their built-in checkout function.
Features
Customizable templates
Drag-and-drop builder
Data import/export
Online booking tools
A/B testing
Starting price: $37/month
Free trial: Yes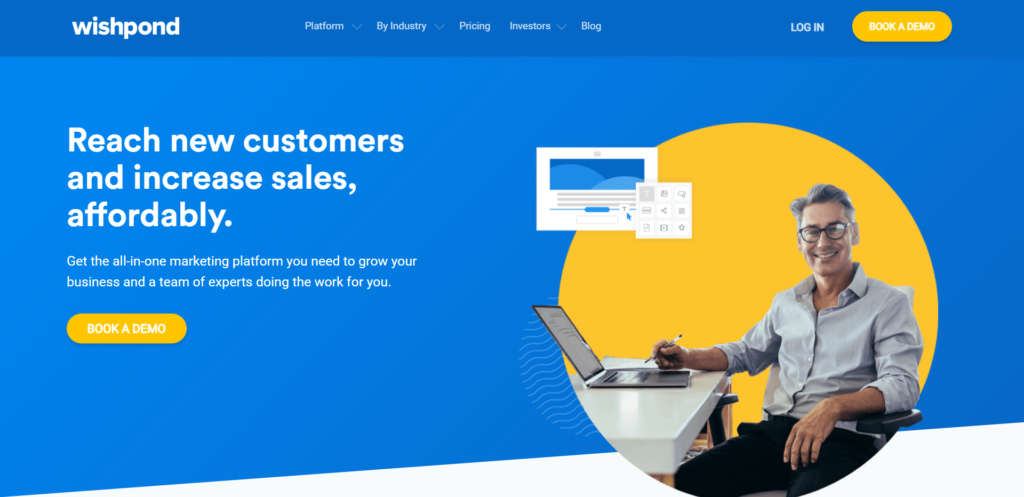 Wishpond has everything you need to create and optimize your sales funnels, including a variety of features, pricing options, and benefits. This robust platform enables you to create high-converting landing pages, pop-ups, email campaigns, and more from a single location.
The excellent drag-and-drop builder makes it simple for anyone with no coding experience to create and customize pages. The platform even provides heat maps to assist you in identifying areas for improvement.
The biggest benefit of using Wishpond as a sales funnel tool is its robust feature set.
Features
A/B testing
Easy drag-and-drop builder
Marketing automation
Analytics
Customizable templates
Starting price: $49/month
Free trial: Yes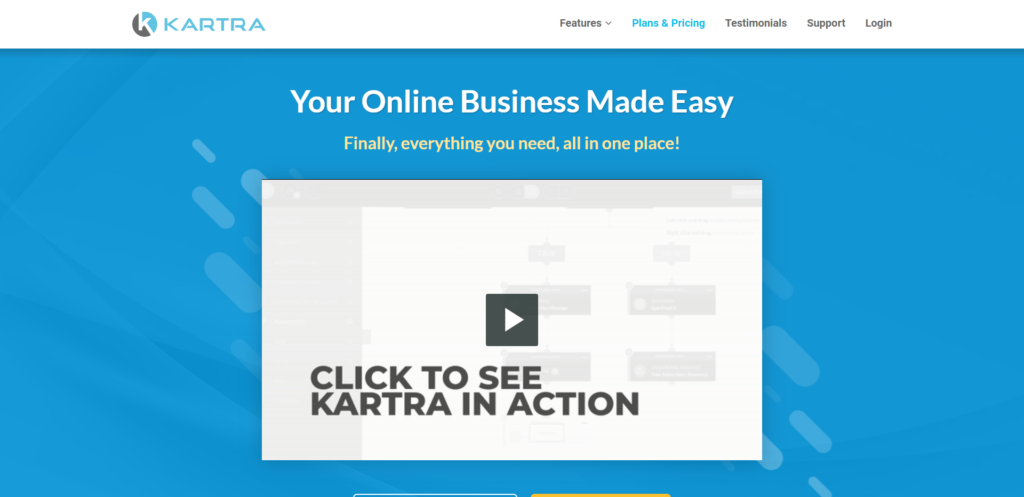 Want to convert more visitors into customers? Kartra is another tool you need to check out.
Kartra is a powerful all-in-one platform that can help you with everything from creating landing pages and sales pages to managing email campaigns and processing payments.
The tool comes with tons of features such as a drag-and-drop editor, A/B testing, templates, conversion tracking, etc, to help you create an effective sales funnel.
With Kartra, you won't need to integrate multiple tools to get your sales funnel up and running. This can save you a lot of money.
Features
CRM
A/B testing
Form Builder
Data import/export
Prospecting tools
Starting price: $79/month annually
Free trial: No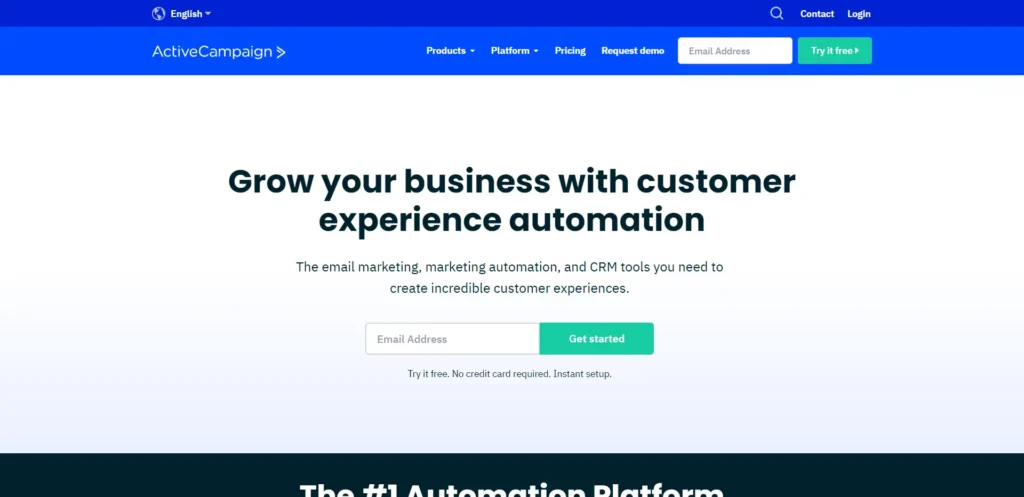 ActiveCampaign is a fantastic sales funnel builder that comes with a plethora of features and other benefits to help you in creating and managing your sales funnel. This tool can help you manage your sales funnel like never before, whether you're a small business or a large organization.
ActiveCampaign is a Customer Experience Automation platform that specializes in email marketing and CRM.
One of the primary advantages of using this tool is its user-friendly builder, which allows you to customize your sales effort with minimal effort. It also includes features such as email marketing, lead scoring, and marketing automation to help you in keeping your funnel running smoothly.
Features
Customer experience automation
Template management
Social marketing
Automated follow-up emails
Website visitor tracking
Starting price: $29/month
Free trial: Yes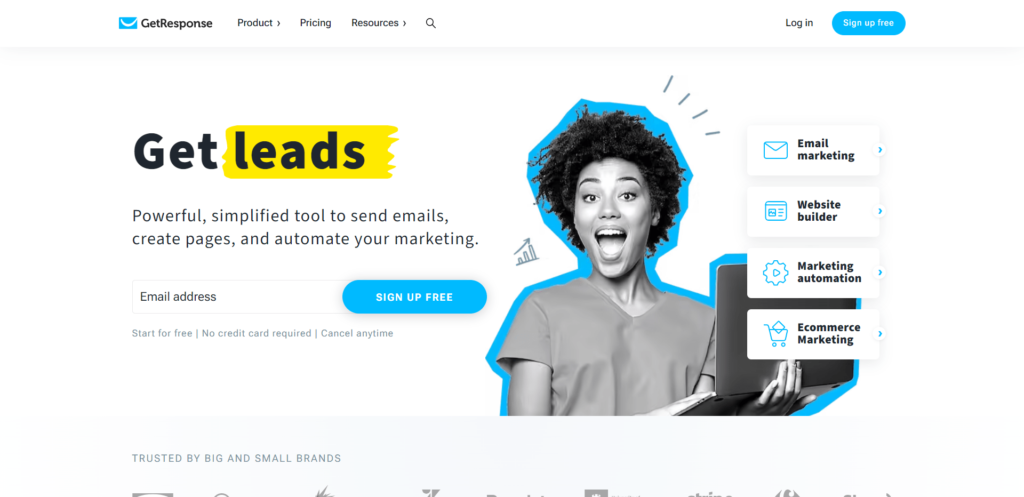 If you ask me which is one of the most loved marketing platforms you can choose, my answer would probably be "GetResponse".
GetResponse is a robust marketing platform that allows you to generate high-converting sales with minimal effort.
With the help of this fantastic tool, you can create custom forms, landing pages, sales pages, thank you pages, lead magnets, automated email sequences, and so on.
GetResponse, as a sales funnel builder, integrates seamlessly with other tools such as PayPal, Shopify, and WordPress. This means you can use the platform to manage your entire sales process from beginning to end without switching between different applications.
Features
Customer surveys
E-commerce integrations
Form Builder
Drip campaigns
Automated marketing funnels
Starting price: $59/month for 1,000 users
Free trial: Yes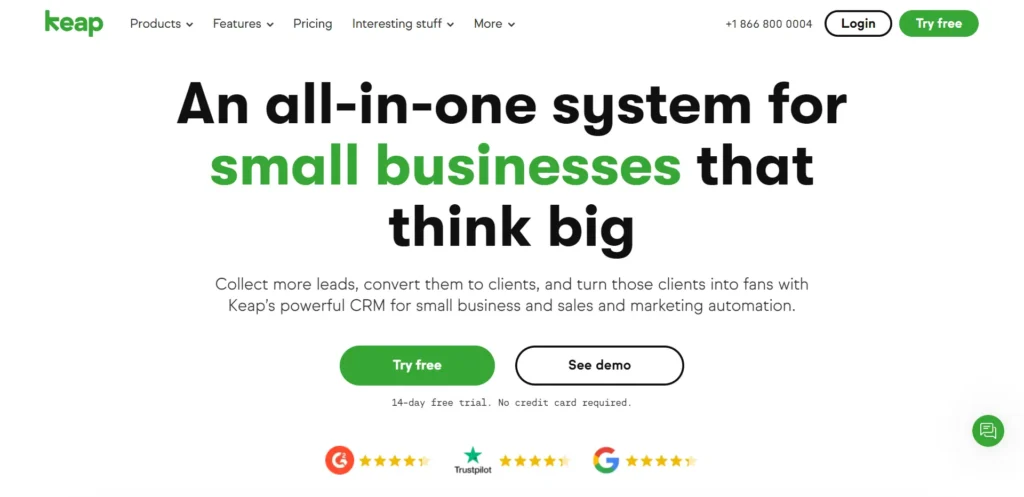 Another sales funnel tool to help you take your business to the next level has arrived. Keap is a cloud-based platform for managing a CRM sales funnel.
You don't have to be a tech expert to use Keap. The drag-and-drop interface makes it simple to design a sales funnel that works for your company. It also allows you to automate your sales process, incorporate email marketing, lead capture forms, and enable CRM integrations.
From lead capture to customer management, email marketing to automation, the platform provides a comprehensive solution for businesses looking to streamline their operations and grow their customer base.
Features
Customer surveys
Relationship tracking
Marketing automation
Sales pipelines
Lead capture forms
Starting price: $149/month
Free trial: Yes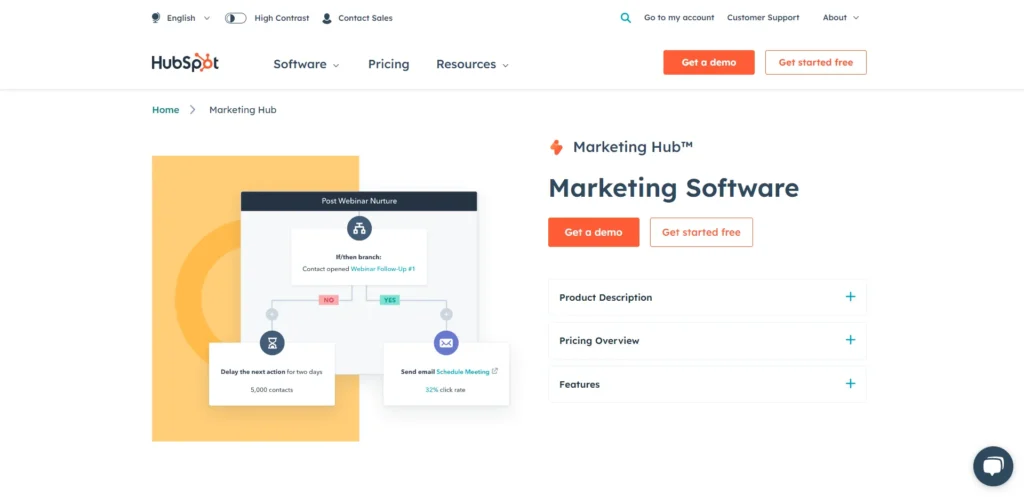 Looking for a powerful platform that not only serves as a sales funnel builder but also offers other marketing solutions? You received Hubspot Marketing Hub.
To begin, its SEO optimization and social media management tools can help you attract leads. HubSpot offers lead nurturing through personalized email campaigns and targeted ads once you have those leads. When your leads are ready to buy, HubSpot includes a CRM to manage and track sales.
It also provides integrations with various third-party platforms and the ability to track the results of those integrations.
Features
Lead management tools
Drag-and-drop builder
CRM software including sales pipelines
Marketing automation
Free tier
Starting price: Provides free tier. Paid plan starts at $50/month
Free trial: Yes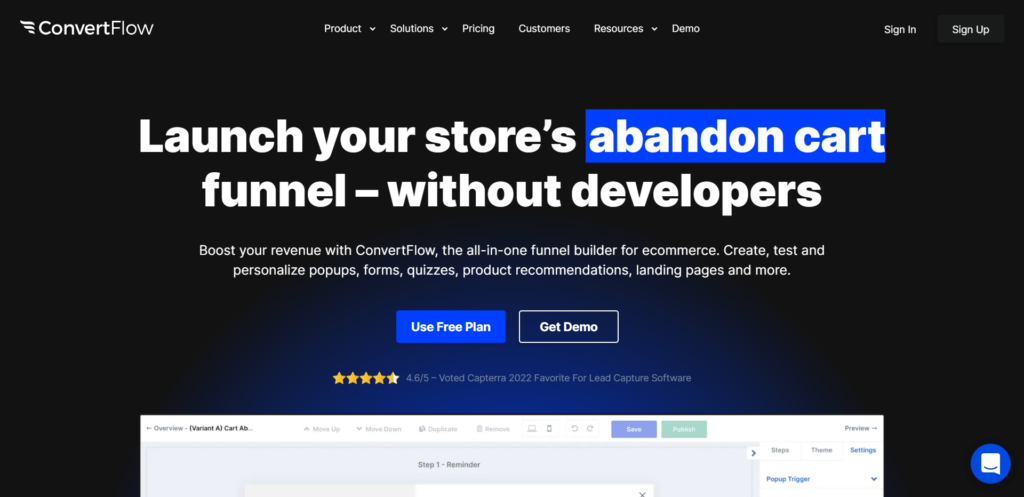 ConvertFlow is a powerful sales funnel builder that uses AI to help ecommece brands in creating and optimizing sales funnel.
Additionally, It's built to provide businesses with the tools they need to take action on their data using advanced analytics and automation capabilities. Using this tool, you can set up automatic signups, email sequences, surveys, landing pages, forms, and more.
Features
All-in-one funnel builder
Drag-and-drop landing page builder
Personalized forms, quizzes, and pop-up builder
3rd-party tools integrations
Marketing automation
Free tier
Starting price: Provides free tier. Paid plan starts at $49/month
Free trial: Yes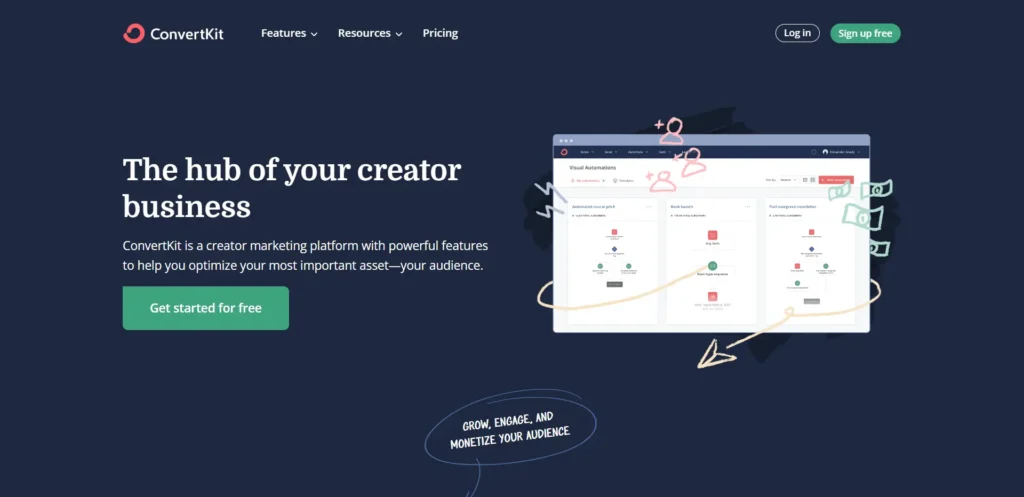 ConvertKit is another great email marketing cum sales funnel tool with an easy-to-use builder to help you streamline your marketing efforts.
The ability to create customizable landing pages is one of the key features and benefits of using ConvertKit as a sales funnel builder. ConvertKit also allows you to create automated email sequences and track your results to see what works and what doesn't.
The tool saves you time by automating your marketing efforts, allowing you to focus on other aspects of your business.
Features
Automation
A/B testing
Event-triggered actions
No-code landing pages
Training modules
Starting price: Convert kit offers a free plan for up to 1000 subscribers. The paid plan starts at $29/month.
Free trial: Yes
How to choose the best sales funnel builder
The sales funnel builder you choose plays a very important role in determining the sales performance of your business. That is why it is crucial that you choose a sales funnel that best suits your business needs.
Choosing the best sales funnel builder can feel like a daunting task, as there are so many tools available on the internet. Here are a few factors to consider while choosing the best one.
1. Ease of use
Choosing a sales funnel builder that is easy to use is crucial as it will help you create and manage your sales funnel more effectively. A good sales funnel is one that makes it easy for you to use the tool even if you have no prior experience with it.
2. Cost effective
Some funnel builders can be very costly because of the advanced features they provide. However, if your corporation does not require any advanced features for your sales funnel, you should avoid investing in such expensive tools. Choose a tool that is inexpensive and has useful features.
3. Features
Always go for a sales funnel that comes with all the necessary features every sales funnel must have. Some examples of such features can be, landing pages, email marketing, Integrations, A/B testing, and so on.
4. Customer support
Despite providing excellent sales funnel features, some tools still don't have any good customer support team to help the users. In such cases, you must always choose the tool that provides the best customer support to help you when needed.
5. Reviews and testimonials
Reading reviews and testimonials about a sales funnel tool is the best way to get additional information about it. By reading reviews, you can dig into things and learn about the pros and cons you would not have known otherwise. Always try to go for the sales funnel tool which has the best reviews.
Sales funnel strategies: How to build the best sales funnel
Understanding some of the best sales funnel strategies and how you can use them in your business is crucial if you want to build a successful one. Let us discuss a few sales funnel strategies that can help your business.
1. Use a lead magnet
A lead magnet is when you offer a resource to a person, for free, in exchange for a person's contact information.
You can get your target customer's email addresses by offering them a valuable resource for free, such as an eBook, a course, or even a free trial.
By doing this, you get one step closer to converting your customers as you get their personal information and can also easily promote your products.
2. Nurturing
After you get the email address of the prospect, your next job is to develop their interest in your product.
This is the time to educate the prospect about your products and inform them about the benefits it provides and how they can use them.
You'll want to stay in touch with your customer by contacting them once a week to stay in their mind every time they think about your industry.
3. Post-sale
Your sales effort doesn't end with the conversion, there's still a lot of work pending. Once you convert your customer and generate sales, your next best strategy is to provide the best customer service you can.
Ensuring customer satisfaction is crucial as it massively affects the brand image of your company. You can get their feedback using follow-up emails, surveys, and many other tactics.
4. Upselling and cross-selling
Many online businesses use upselling and cross-selling techniques to generate more sales from the customers they've already converted.
Upselling and cross-selling is the process of offering additional products, features, plans, or upgrades to your existing customers for increasing lifetime value.
5. Analyze and optimize
Finally, you need to analyze and optimize your sales funnel strategy based on the results it provides. In fact, analyzing and optimizing is a sales funnel strategy in itself, that can help you convert more customers by making changes if required.
Understand the areas where your sales funnel lacks the ability to convert, and optimize it into a better one that does.
6. Create a landing page
Your landing page is often your first ( can also be the final) opportunity to attract a potential customer to your brand.
The landing page is simply a page where a user lands after usually clicking a link, ad, or anything else that brings them to this page.
Your landing page must contain the best copy and should tell the customer everything about your brand and how they can benefit from your product or service. This ensures the customer smoothly flows to the next stage of the sales funnel.
Tips for building an effective sales funnel
Creating an effective sales funnel requires careful planning and execution. Here are a few tips to keep in mind when building a sales funnel.
Tip #1 Understand your audience
Identifying and understanding your target audience is always going to be the first step in building a sales funnel, regardless of your industry.
You'll have to identify the correct audience you need to target, their preferences, behavior, motivation, pain points, and everything else to create a sales funnel they love.
Tip #2 Define your sales funnel stages
After you identify and carefully understand your target audience, your next job will be to define your sales funnel stages.
A typical sales funnel includes 6 stages, that are:
Awareness
Interest
Desire
Decision
Action
Loyalty
However, you can make changes to your sales funnel as you want. You can always add or eliminate a few sales funnel stages if you want to.
Tip #3 Always create compelling content
People love great content! That is why you must focus on providing compelling content that speaks to the needs and pain points of your target audience, making it unavoidable for them to move through your funnel.
Usually, these types of content are created with the help of blog posts, social media, emails, etc.
Tip #4 Use email automation
You can also use email automation to nurture leads through the sales funnel.
This can include welcome emails, follow-up emails, and promotional emails.
Tip #5 Optimizing your landing page
Your landing page is extremely important in partly determining the success of your sales funnel. A landing page is a place where your lead magnet lives.
Make sure you've added a compelling headline with excellent copy and a prominent call to action. Additionally, it must also be mobile-responsive, have a fast loading speed, and have a professional design.
Frequently asked questions
What are the types of sales funnel?

Here are some of the most popular sales funnel types:

The lead magnet funnel
The cross-sell funnel
The webinar funnel
The survey funnel
The sales call booking funnel
The affiliate sales funnel
The high-end client sales funnel

Does every business need a sales funnel?

Yes. Regardless of the size of your business, you always need a sales funnel. It is a must if you want to convert more customers.

What is the best WordPress-based funnel builder?

Here are some of the best WordPress-based funnel builders:

Cartflows
Leadpages
OptimizePress
Woofunnels
Hubspot
Conclusion
So this is it! This was the complete guide to sales funnel with everything you need to know about it.
Now that you know what a sales funnel is, how to use it, and which is the best sales funnel builder for you, it's time to rock your sales.
If you have any doubts or questions, please leave them in the comments section.