Have you ever wondered how to grow your business from a small startup to a multi-million dollar company? Lead generation is a critical factor in business success. Whether a small business or a large enterprise, you need qualified leads in your pipeline.
This post will talk about 10 of the best lead-generation tools and software you can use to grow your business in 2023.
What is lead generation?
Lead generation is the process by which marketing and sales teams identify, qualify, capture, nurture, feed into sales funnels, and share with sales.
Lead generation results in increased sales-ready lead passing through to sales for follow-up during their own lead-generation campaigns. Lead generation is a fundamental part of any business. It allows you to capture qualified prospects that would otherwise be lost in the noise of your sales funnel.
Types of lead generation Tools
Inbound lead generation:
Inbound lead generation is the most effective way to get leads for your business. It refers to the way prospects approach the brand with their interest to know more about its products or services by getting to know about them on many digital platforms. Examples include SEO, social media, and PPC.
Outbound lead generation:
In outbound lead generation, brands approach their clients through direct emails and calls and educate them about their products and services. Some examples include email marketing, cold calls, and direct mail
How to generate quality leads
Lead generation is a critical part of any marketing strategy, as it helps to ensure a steady flow of new customers into your sales process. To ensure that you are generating quality leads, there are several things you should consider.
Know your target market.
This means knowing what they like, what they don't like, and where they shop. You can do this by talking to people already in your target market or looking at their websites or social media pages.
Review of testimonials.
Take advantage of the power of testimonials to help people know that others have used your product or service and were happy with it. Make sure your testimonials come from real customers in a way that is not misleading or fake.
Create an email list.
Build your email list by offering something of value to those who opt-in to receive emails from you, such as free tips and guides or discounts on products or services they may be interested in taking advantage of at some point in the future.
Create articles with helpful information.
Create an article that contains valuable information related to your target audience and then submit it to article directories such as Ezine Articles. This is an excellent way to build link popularity and give your site extra exposure.
Start a lead generation campaign.
Launch a lead generation campaign for your business that involves giving away something in return for people's contact information. For example, you might give away an ebook or a report related to the type of business they are interested in.
Best Lead Generation Software Tools For 2023
Here is a list of the most efficient lead generation tools in 2023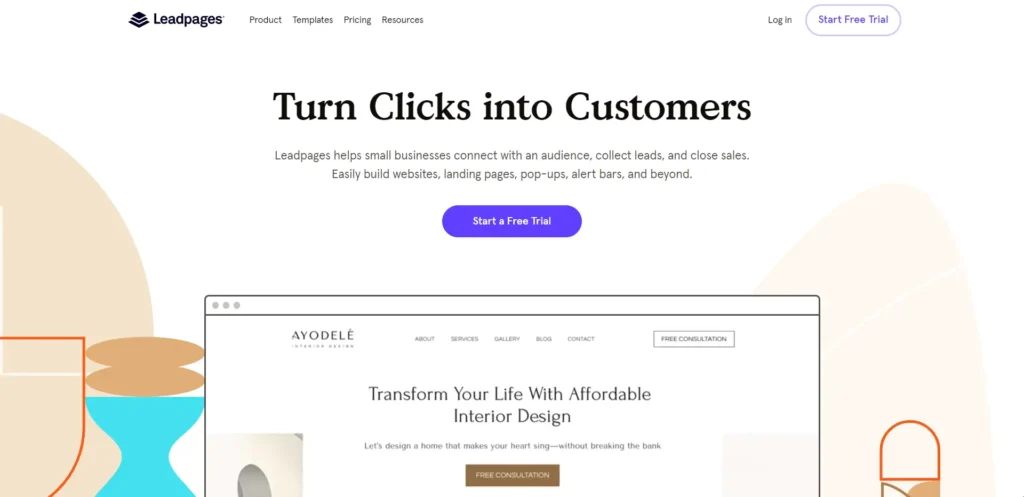 Leadpages is a lead generation software that allows you to create highly-converting sales pages. Leadpages makes it easy to build and design high-converting landing pages, so you don't have to spend hours coding.
With this, you can create custom landing pages for specific audiences. Then it connects to your other software, so the leads drawn in are funneled into your CRM. You have hundreds of high-converting templates to select from. Then you can change the colors, add your logo, and customize the design to make it your own.
The standard cost for LeadPages is $27 if you only want to use it for one website. But if you have several websites, you can opt for the $59/mo Pro plan for three websites. Agencies use the Advanced plan for $239/mo for up to 50 sites. You also enjoy a 14-day trial.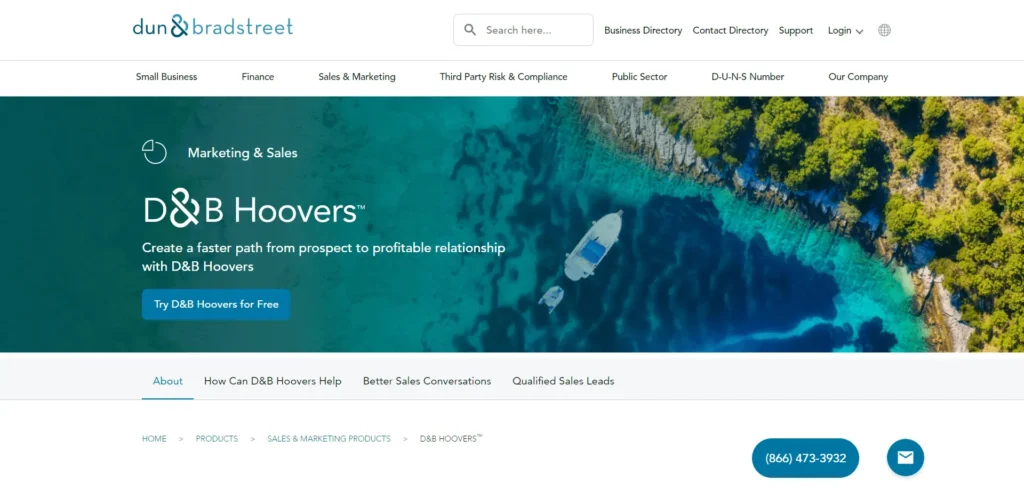 D&B Hoovers is a lead generation software that lets you automate the sales process with your leads. The software automatically pulls information from your database and runs it against our back-end database, providing you with instant feedback on how well your prospects are qualified. These lead generation tools allow you to quickly identify those ready to buy and move them forward in the sales cycle.
D&B Hoovers is not just another CRM system. It is a sales automation tool that makes it easy for you to manage everything that goes into making an effective sales strategy. Contact the company for pricing and enjoy a free trial.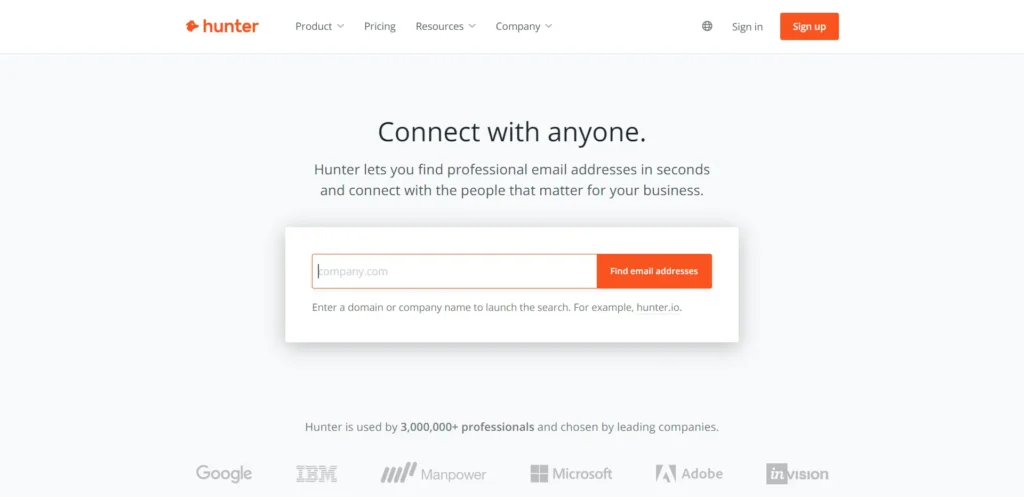 Hunter is a popular B2B lead generation platform that lets you browse through all emails at a specific company and helps you find the most relevant ones. This lead generation software is available free for up to 25 email searches and offers 50 email verifications per month. The paid plans start at $49/month for upto 500 searches and 1000 verifications.
The software has two components: a customer database and an email marketing system. The database allows you to manage contacts and keep track of all communication with customers. The email marketing component allows you to send personalized emails to your database of contacts and prospects, as well as send bulk emails with up-sells or down-sells based on what they've bought in the past or their transaction history with you.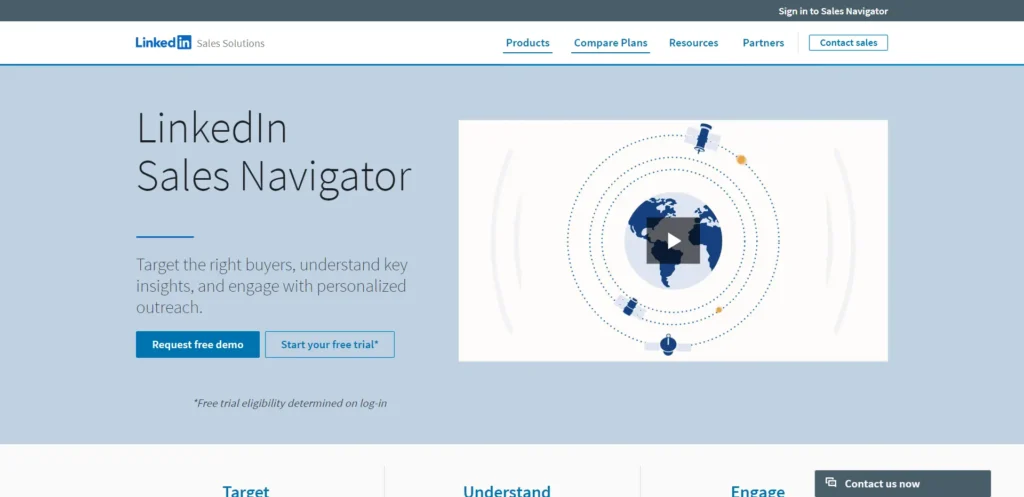 The LinkedIn sales navigator is lead generation software that helps you find other Linkedin users who can become prospective clients. It helps them find and connect with prospects, track leads and keep up to date on the latest sales news.
The LinkedIn Sales Navigator comes with advanced lead and company searches to find the most relevant prospects. It also has an in-depth analytics dashboard that lets you monitor your progress. Through these lead-generation tools, businesses can manage their activities efficiently. Sales professionals have access to contacts and the latest leads from Linkedin. Businesses also gain insights into the competitor's strategies and activities.
With LinkedIn Sales Navigator, you can:
Find and connect with prospects
Build new connections
Evaluate your LinkedIn network
Find new prospective clients
Gain insights on the industry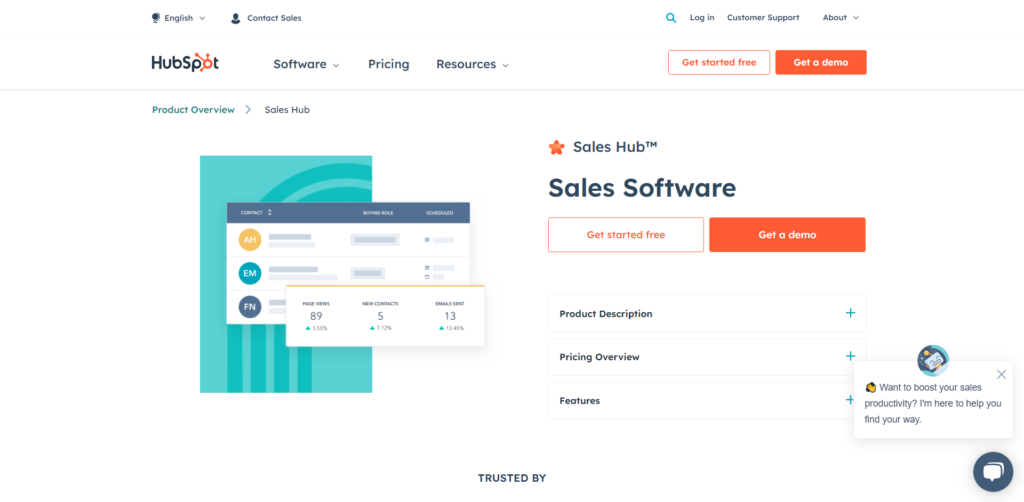 This is an inbound marketing and sales tool that helps businesses attract visitors, convert leads and close on customers. It is a cloud-based platform, and all your data is synched across devices and teams. It has real-time updates and assists the business functions to integrate, making it easier to scale by having all data centralized.
It provides lead generation tools for marketers to help them in their job, such as
Creating landing pages
Managing blog posts
Generating leads through email marketing
Analyzing data on the performance of the website or app.
Drift is a customer engagement platform that offers live chat, web chat, and text messaging. It also offers a calendar scheduling feature to book prospect calls and meetings. The lead generation software also enhances account profiles with data from other sources like social media and CRM systems.
Drift's artificial intelligence engine uses machine learning to provide marketers with the most relevant content based on their unique customer personas.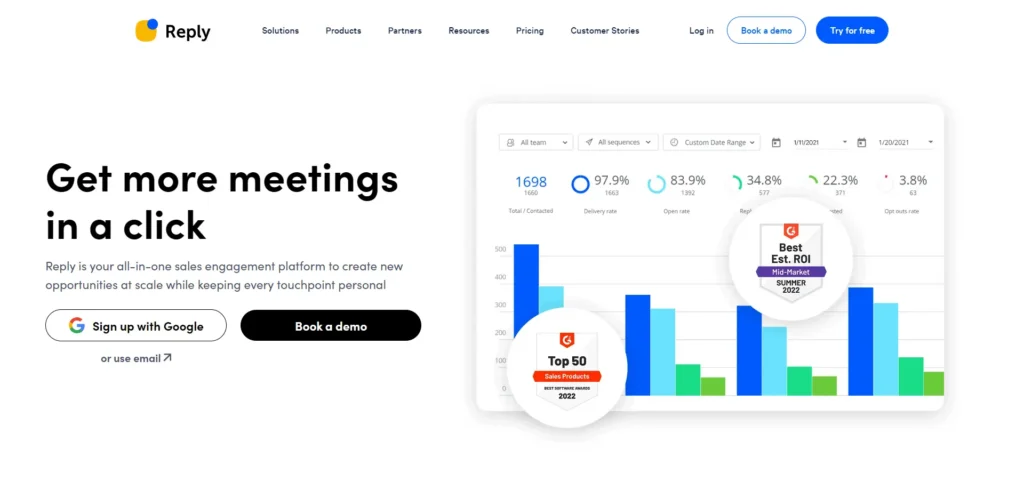 Reply.io is a web-based lead generation tool that helps marketers deliver automated emails to their customers. The software works by enabling marketers to create an auto-responder sequence that can be triggered by time, event, or subscriber behavior such as opening and clicking on an email.
The lead generation software is designed for the needs of small and medium businesses who want to grow their customer list with minimal effort, as well as for enterprises who want to automate customer communications and improve engagement rates.
Reply.io's AI-powered chatbot is designed to provide an experience that is as close as possible to a human conversation. It has been designed to handle any customer service request or answer any question the customer might have.
The chatbot has been developed to provide a personalized experience for each customer in mind, which means that it should be able to understand the tone of voice used by the customer and adjust its responses accordingly.
Reply.io paid plan starts at $49 per month and offers up to 200 emails free.
Skrapp is an email lookup tool and business data enrichment tool for sales outreach and email marketing. The tool crafts and collects public data to offer advanced email prospects search to help professionals launch outreach campaigns.
Skrapp.io is a lead generation software that helps you find someone's LinkedIn email. It will automatically scrape the data from LinkedIn and provide you with a list of possible emails for that person. This tool has a chrome extension that has a find email button that picks information from the LinkedIn profile.
This lead generation software has a verification filter that collects all invalid emails which can be deleted later after downloading the list in an excel file. The software can also verify bulk emails through the bulk email verifier.
Skrapp starter package is $49 with 1000 emails per month.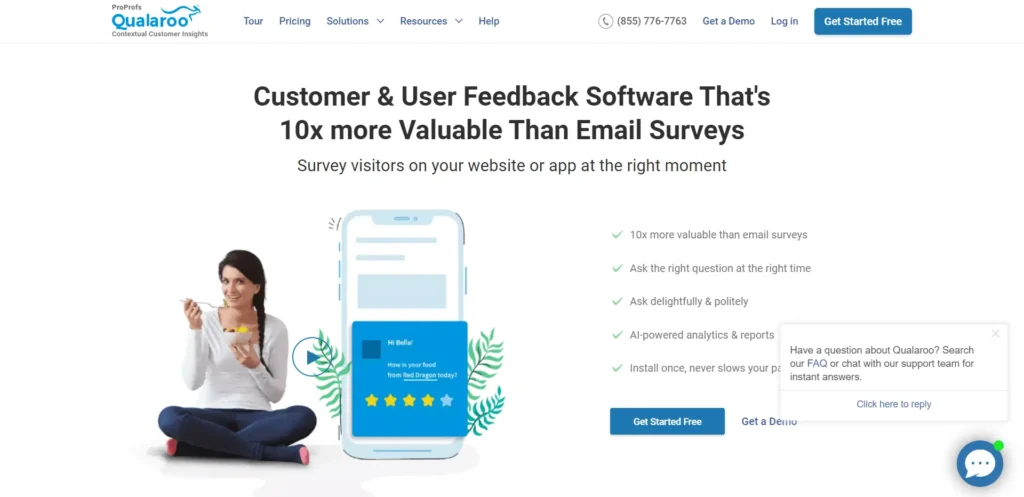 Qualaroo is a survey tool used to collect customer feedback on a website. It is an unobtrusive and non-intrusive way to collect information. These lead-generation tools allow users to capture leads from websites and websites, social media posts, and more. The results are sent directly into the Qualaroo system for easy collection and management.
Qualaroo can be used on any website, regardless of the type of site. You just need to embed the Qualaroo tag into your site's site code or HTML. The Qualaroo tag will automatically track the user's activity on your site and ask them questions at different points in their visit.
Qualaroo allows you to easily collect user data on your website or blog through a built-in browser extension. This includes visitor information like IP addresses, location information, and browser type.
It also allows you to display relevant, engaging questions on your website and in your email marketing campaigns. This makes it simple for visitors to provide feedback about their experience with your business.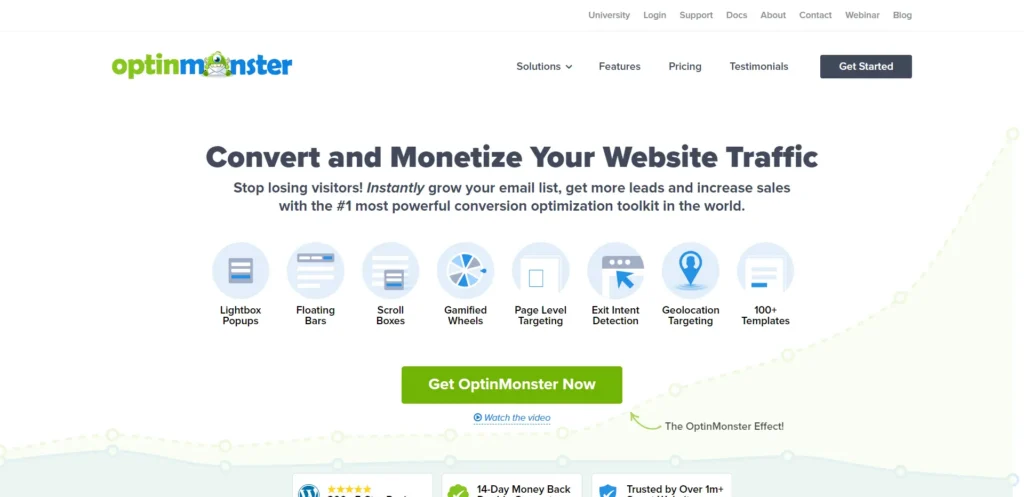 OptinMonster is one of the most powerful lead generation tools that help companies to generate leads and increase their conversion rates. It is a comprehensive suite of tools, including lead capture forms, marketing automation, and landing pages.
This lead generation software has many features that help increase your conversion rates on your site, including popups, overlays, exit-intent popups, and video intros. All of these features are customizable, and the service offers free templates for all of them.
This service aims to make it easier for people to subscribe or buy from you without going through hoops or filling out any forms.
Conclusion
While there are many tools out there, these ten tools and software integrate seamlessly into all stages of the lead generation process. They help you to generate leads and nurture them through your buyer journey. These tools will give you insight into your best leads, where they're coming from, and how to improve conversion rates and close ratios.
Your mileage may vary, and there are no guarantees that you'll get the desired results. But if you execute all of these tools properly, you can expect big things for your organization's future. While there might be some growing pains, ultimately, your business's future will depend on your ability to reach potential customers. And if you have a team that knows how to attract the right people, your company will have a solid future.
Frequently asked questions
What are lead management tools?
Lead management is tracking and managing leads to generate sales opportunities. Lead management tools are an essential part of this process. They help businesses to keep track of contact information, create and send marketing messages, and measure effectiveness.
What is the best tool when it comes to lead generation?
Every tool has some pros and cons, and it depends upon your business needs, so it's hard to say which tool can be more worthwhile for you. So choose wisely, do testing, then go for the checkout. 
What software is used for lead generation?
All listed tools here help you to create surveys, capture responses, track results and import them into your CRM system or Excel. It also has a reporting feature that allows you to access all the data from your survey reports in one place.
---