Landing page – a new emerging jargon across websites that contributes to the major potential leads of organisation. You should have encountered an unsubscribe web page at least once in your lifetime.
Apart from breaking the bond between you and the organisation, is there anything mystery information residing over there? To know all stuff, be wise to know what landing pages are. Landing pages are defined as web pages that appear when you click a hyperlink.
They play an important role in brand marketing, consumer statistics, etc. This article will be explaining about the questions relating to landing pages and landing page builders either. Certainly, a good landing page evolved from various phases where the testing phase is the most significant to consider.
On reading this article, you will be able to
Understand the meaning of landing pages.
Understand the significance and purpose of landing page builders.
Know the various landing pages built by landing page builders.
Identifies the best landing page builders across many.
How have landing pages become so important for business?
Wherever the path is, our destination should be correct. In a similar way, landing pages are a fortune for business officials to brand their B2B or any type of business. These landing pages are hidden behind the complex hyperlinks that we come across the web.
Landing pages can contain any information that increments brand awareness. In fact, landing pages are constructed in order to collect information from the visitor such that their burden of setting an alarm for the product is reduced.
They come under the click-through pages where a whole marketing strategy is unwrapped via a single click. A landing page should not consist of exaggeration, verbose sentences that illustrate the proudness of one's company.
As a single picture can illustrate a thousand words, using visuals could be maximised while sentence usage should be optimised efficiently. Even one word can fulfil the meaning of a whole sentence. It is very vital to be careful with the proper working of links in the landing page.
It would be so annoying if the links in the landing page are not working properly or the given data might not be accepted. The uptime of the landing page should be equal to 99.9% and the load time also accounts for the bounce rate from a landing page.
Apart from the above said theories, many people would like to have a landing page with the most attractive information that sticks with the needs of a user.
In today's generation, AI has become so powerful to align the landing page in accordance to the desires of a user who already enrolls his interest. Without any delay, let us take you to the pool of purposes connecting with landing pages.
Help to boost the brand awareness
Aids in the brand marketing
Chances of gaining numerous prospects that might turn into our customers
Increase sales experience
Transformation of bounce rate into conversion rate
Provides additional insights to your target audience
Improved sales funnel
Catchy headlines would implement a first good impression
Memorable
Scalability
Which type of landing page suits your business?
Whenever an imagination of a landing page is created, it is not meant to be collecting email addresses from the person always. A landing page is not always labelled as "email address collector".
A landing page could be presented as any page that supports the purpose as discussed earlier. To be honest, from the homepage to thank you page, any type of web page with a certain purpose can accomplish this goal of a landing page.
Determining what the customers or visitors have to take a look at first can predict the layout of a landing page. This page contains a minimalist layout with the inclusion of CTA features in it. For any field like IT, marketing, etc., these pages are going to be a big boon for pulling out a target audience.
In the upcoming description, it is all about how landing pages differ with their layouts but never fails to attract an audience.
1. Click-through landing page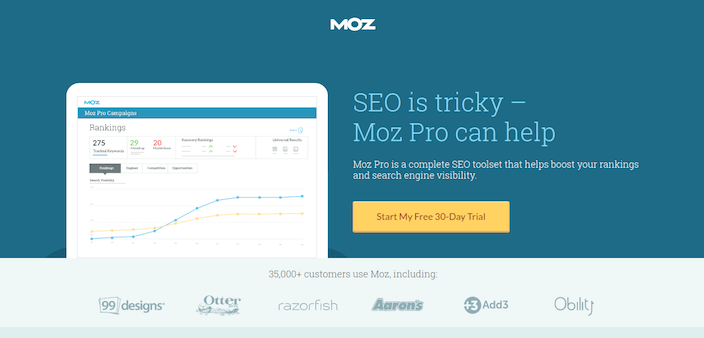 This is a straightforward page with no off-page navigation. The only switch on a button homepage is the link that takes the visitor to a purchase page. A click-through company website does not need to be long, but it should explain why the visitor could perhaps buy something. A click-through main site must include an article title, a list of perks, some sort of visual, and a button with a call-to-action. It might also include videos, customer reviews, business contact information, and additional copy.
2. Squeeze page
The classic landing page is the squeeze page. The squeeze page, also known as a lead generation page in section, aims to extract information from the visitor. A squeeze page typically has a call-to-action button that directs visitors to publish their additional data and no other connectivity. The visitor's information can then be used by the company to track them of email campaigns, text message brand management, or marketing via social media initiatives. A typical squeeze page includes a news item, copy, one or multiple images, and an establish. The best squeeze chapters include persuasive copy the about offer as well as an easy-to-find and fill-out form. The update should also be visible and easily accessible.
3. Video landing page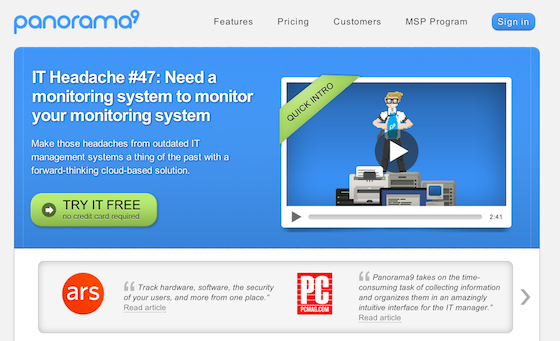 A few really organisations hardly end up making the proposal or form accessible after the visitor has watched all — or at least a satisfactory component of — the video to action to watch it. The clip should clarify the benefits of the item or customer experience and drum up interest in it. It should be brief, but not so brief that perhaps the viewer shows no interest. A video main site should have an article title and a video, but additional copy and visuals can also help. They can be used to protect expensive products or content.
4. Long-form landing page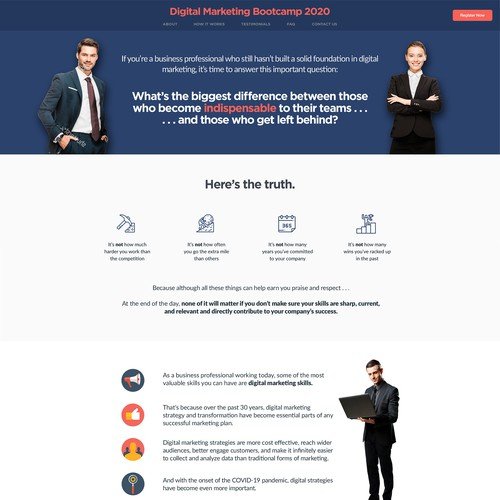 One such sort of landing page necessitates incredibly well-written and purposeful subject matter. It ought to have a storytelling element to lead the reader through the printed versions and keep them intrigued. A lengthy webpage typically has a word count of over 7,000. The document can be divided into sections, summaries, entries, or pull quotes. Testimonials are also common in long-form sales letters.
5. Product details page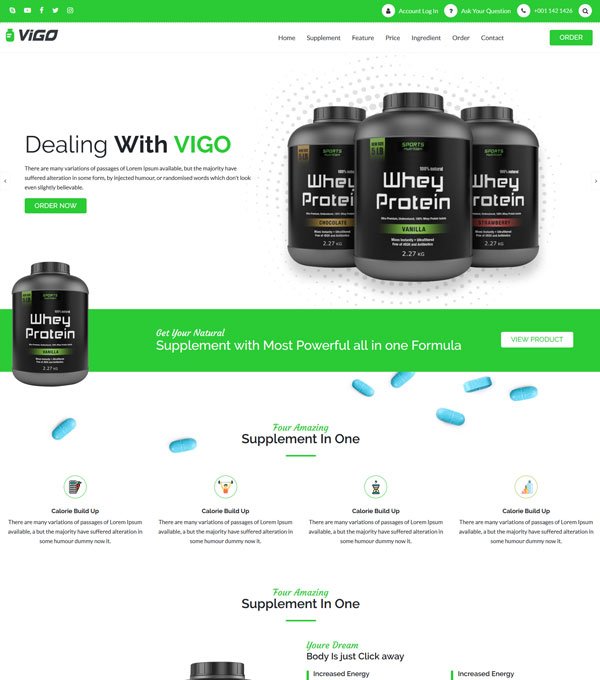 People visiting could indeed peruse all of the documentation then choose to buy the item or notify a sales associate to grasp more about this offer. Most landing pages have no way to leave the page, but a brand fan page is an exception. It may include external navigation, such as a website menu. This type of landing page typically involves a photo of the product as well as important information about the offer. Testimonials and other methods of social concrete evidence are also important components of a decent product pulldown menu.
Top 10 Best Landing page Builders
With the help of gorgeous, responsive templates and a drag-and-drop live editor, create landing pages for WordPress that convert well. Simple custom form addition will encourage leads to complete them.
Gather data directly in Elementor or incorporate your preferred tools. Create as many landing pages as you want and manage them all with ease using one robust platform. No further expenses, integrations, or plugins are required.
Pick from a range of completely responsive, high-converting landing page layouts. Increase the size of your audience, advertise a new line of goods, host a contest, and more.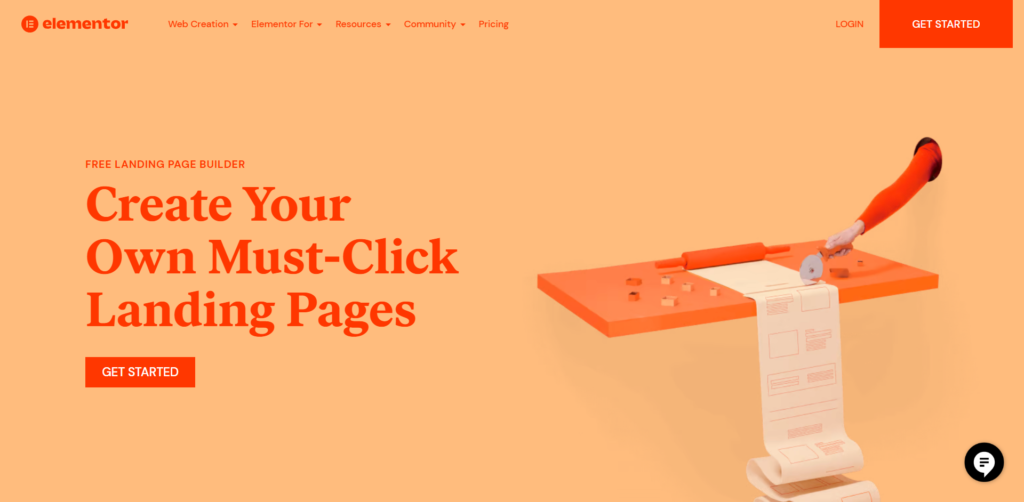 Features
Intuitive building
Lead collection and integration
360-degree marketing solution
Pricing
Starts with certain in-app purchases
Utilize the Landing Page Builder to Increase Lead Conversion. Drive targeted traffic to your website, including through lead generation, coming soon pages, eCommerce, product releases, and other channels. Customize free landing pages to your needs.
Use the landing page that has the highest conversion rate as a model for additional pages or client projects. Quickly create dynamic web pages that use content from your database collections to automatically populate and refresh them.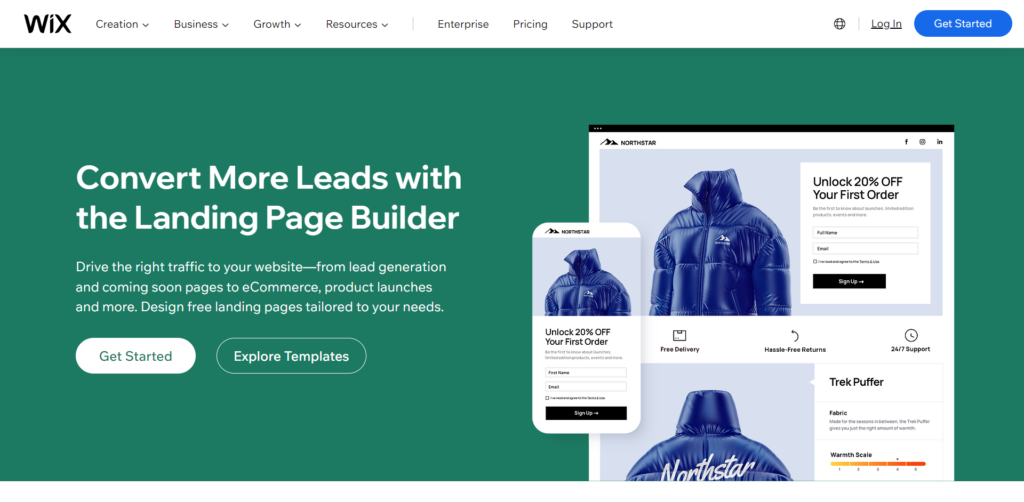 Features
Drag and drop functionality
Data optimization
Secure data protection
Reusable function
Pricing
Starts free with in-app purchases
Unbounce is an AI-powered landing page builder with smart features that allows you to quickly create beautiful, high-performing marketing campaigns. Unbounce landing pages have assisted companies in converting billions of visitors into leads, sales, and signups. (Literally.)
Unbounce, by combining that data with AI, allows you to create custom landing pages twice as fast as traditional builders.
Features
Collect leads and signups
Design your pages down to the pix
Get more with popups and sticky bars
Pricing
Starts with in-app purchases.
Without the aid of designers or IT professionals, you can easily create and test stunning landing pages that generate leads and look amazing on any screen. To increase the effectiveness of your landing pages, personalise the content, call-to-actions, and forms you display for each visitor.
Show different content in real time depending on a visitor's location, source, device, lifecycle stage, or any other contact information you may have in your CRM.
Utilize dynamic forms that ask different questions each time to learn additional details about prospects. By personalising the content of landing pages for each visitor, you can provide them the best experience possible.
Features
A WYSIWYG editor that makes building professional-looking landing pages easy
Built-in personalization so that your customers always feel like you're speaking directly to them
Analytics to understand who is coming to your landing pages and what they're doing when they get there
Extensive template library for quick and easy design
Integration with HubSpot's sales CRM software or with Salesforce to keep customer records clean and up-to-date automatically
Pricing
Starts free.
Free landing page creator with no code and unlimited CRM. Mobile-friendly and SEO-optimized templates that are tailored to the industry. Web forms, widgets, and effective sales and marketing automation for improved customer experience.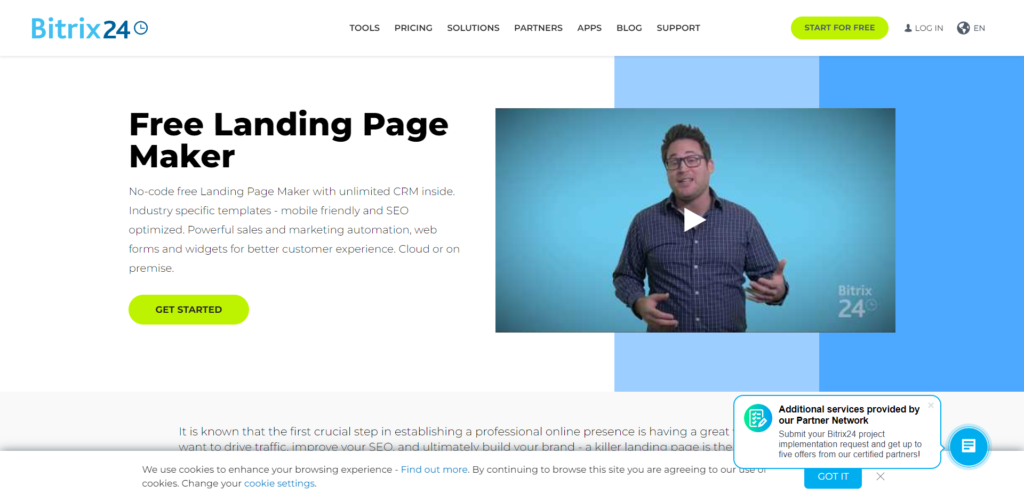 Features
Capture forms
Live chat widget
Fully featured CRM
Quotes and invoices
Product catalogue
Pricing
Starts free with in-app offers
To promote your product, increase organic traffic, and increase lead generation, create responsive landing pages. You're ready to go after you add a personal touch!
Join the hundreds of happy brands, business owners, independent contractors, and bloggers using Ucraft for their ad campaigns by starting to develop your own distinctive landing pages with our free landing page creator.
Features
Team collaboration
Drag and drop functionality
Easy to access
Initial learning curve
Pricing
Starts free
You may be losing out on countless potential clients if you aren't employing a potent landing page builder to sell your goods or services. Let's discuss how to create a landing page that is both responsive and has a good conversion rate.
Few individuals are aware that there is more to it. With EngageBay's free landing page builder, you can create responsive landing pages in a matter of minutes. program that is simple and easy for creating landing pages.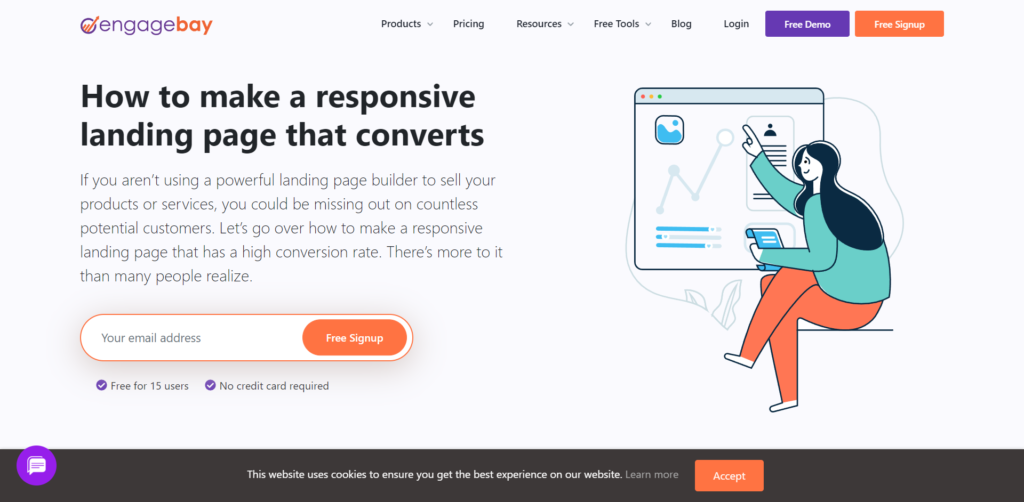 Features
Drag and drop functionality
Easy to use
Secure data systems
Customizable themes
Pricing
Starts free with in-app purchases
Grow your company with confidence by using high-converting landing pages that are simple to create on your own. Create professional-looking landing pages quickly and without the need for outside assistance.
A landing page that is pertinent and specially created for a given target demographic should be matched to every advertisement and campaign. For optimum persuasive power, forget "one size fits all" and tailor your material for each audience.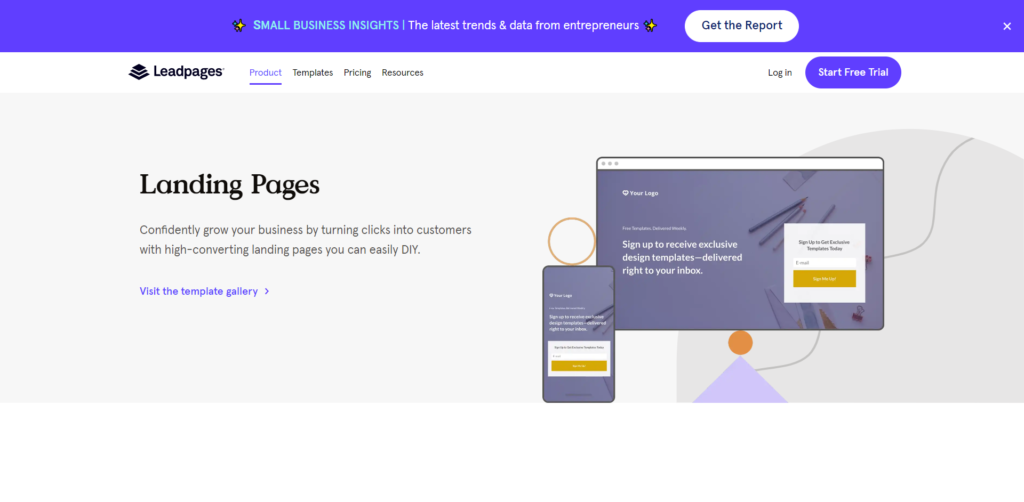 Features
Built-in conversion guidance
Mobile-responsive, high-converting templates
Features & functionality to fit any need
Unparalleled page load speed
Pricing
Starts with in-app offers
Swipe Pages, the landing page builder for ROI-oriented marketers, enables you to quickly design AMP landing pages that are mobile optimised and ridiculously fast without writing any code.
In order to give customers a quick loading experience, AMP (Accelerated Mobile Pages) are pre-loaded and served from Google's cache. Utilizing the most cutting-edge landing page builder, increase your exposure and conversion rates.
Features
Low bounce rates
Better conversions
Drag and drop functionality
More of templates to use
Customizable domain
Pricing
Starts with in-app purchases
Use personalised landing pages to draw in and convert visitors. This free drag-and-drop builder allows you to choose a template and customise it. Create, advertise, and improve landing pages all in one location.
No coding is necessary! Start directly profiting from landing pages. Sell digital goods and subscriptions including e-books, digital downloads, and paid newsletters with the Stripe integration.
Integral transactional emails for receipts and more are available when setting up one-time or regular payments. Allow participation by including questionnaires and quizzes. Use advertising pop-ups to draw attention to content and encourage action.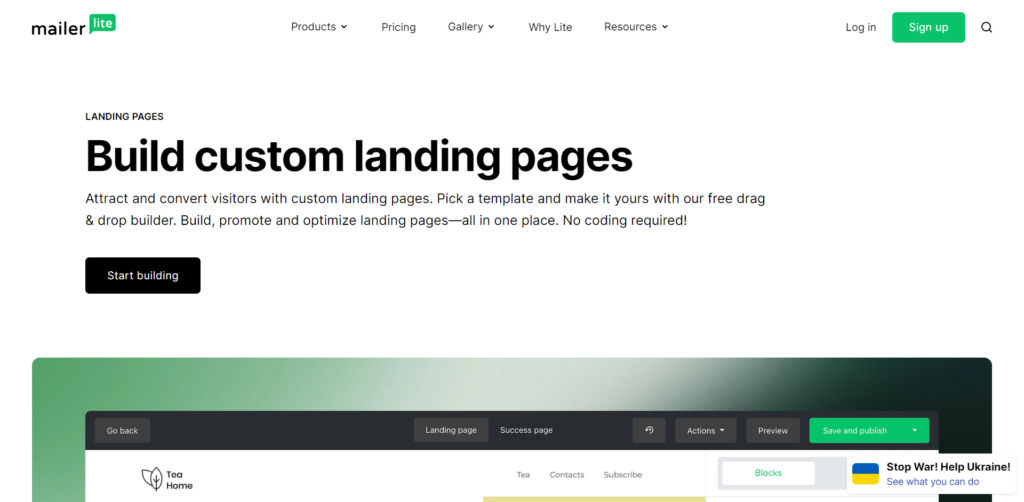 Features
Click heatmaps
Google analytics
Stripe analytics
A/B testing
SEO optimization
Pricing
Starts free with in-app purchases
The Bottomline
Landing pages help benefit the business, increasing the prospects of their list. However, it depends upon the element as well to fetch new attention. An unorganised and unsystematic landing page will no longer be helpful unless you know the way to operate it. Spin Wheel, discount codes, and popular sales products are certain strategies that many include in their landing pages. Try adding an element in such a way that you could collect information from them.
This information can be optimised wisely to send frequent notifications about hot sales, faqs, etc. A good landing page also cross-checks the working call-to-action items like buttons to fetch the best landing page. Try researching from a 360-degree view, analysing the pros and cons of each builder. The best landing page would accompany maximum benefits with minimum disadvantages. This article has illustrated the importance of a good landing page and sorted some of the best landing pages.