A business's foundation is not an easy task. Additionally, promoting a company has its own difficulties. No matter the industry, the majority of startups share little capital. Because they are operating on tight budgets, the majority lack the essential marketing tools for effective marketing efforts.
You may be considering how to spread the word about your outstanding service or product. Don't worry, most of them are either free or inexpensive as we lead you through the top marketing tools for startups. Regarding the paid ones, they are designed to be affordable for small, early-age businesses.
Let's begin by explaining why every business and startup should use marketing and business tools to automate their processes.
So let's begin immediately!
Benefits of Using Marketing Tools for Businesses
As a businessman or a startup venture owner, you might wonder: why must we use marketing tools that are more often than not, quite expensive, taking away from valuable business capital? The answer is that they are simply indispensable for getting a business on its feet and thriving.
Business and marketing tools for startups can assist a business or marketing professional in achieving their goals, including raising brand awareness, brand building, increasing lead generation and sales, and obtaining vital customer & market data.
Marketing tools can let you focus on building your business by taking care of some of the heavy lifting. So, here are some very useful marketing tools for startups & businesses.
👉 Social Media Management & Marketing Tools
For startup businesses, social media platforms are a go-to marketing strategy. It is free to start up and makes it simpler than traditional marketing to reach a larger and more diverse client base. Due to the growth of the creative economy, marketers may now approach certain influencers to advertise their goods and attract more customers. 
The difficult task of organising, producing, and routinely releasing content falls to social media marketers. They may make their tasks easier and have more time for creativity and strategy by using the marketing tools that are described below. View the hand-picked collection of social media marketing tools for entrepreneurs.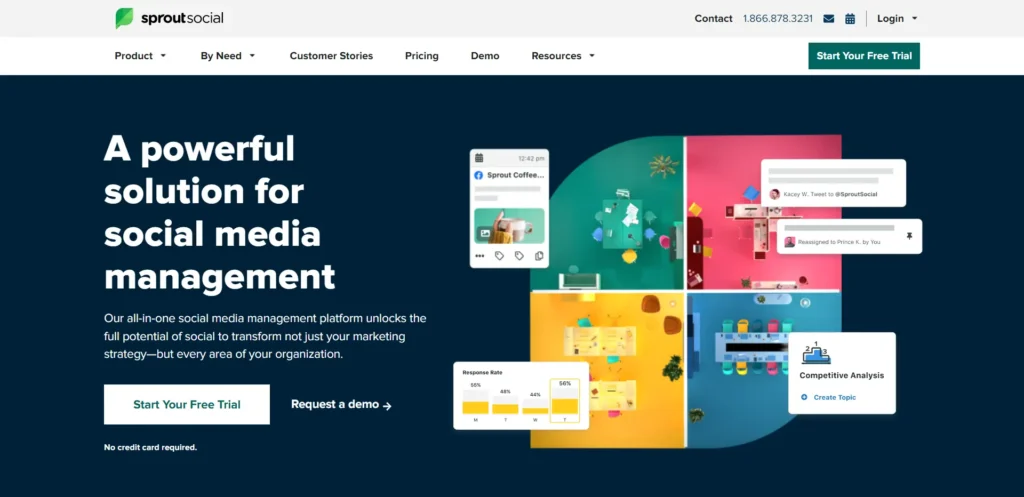 Sprout Social is a platform that incorporates a number of social media functions, including scheduling, monitoring, and reporting.
One of the few social media management marketing tools with customer relationship management (CRM) functions is Sprout Social. Complete client profiles allow you to better service them and cultivate stronger connections with them.
The greatest praise for Sprout Social comes from its amazing reports. The reports are so wonderful and stunning that many social media managers would download them and send them directly to their bosses or clients without any alteration. Paid subscriptions provide a 30-day free trial and begin at $89 per user per month.
Startups may manage their social media accounts by using the social media scheduling application Buffer. Teams find it simple to use as it has a clear interface.
Its major advantages include assisting you in enhancing, what functions well and poorly for your team as well as assisting you in enhancing the material you produce. The scheduling tool enables you to plan out your postings in advance so that you can concentrate on other pressing duties. Buffer also provides you with information on the reach, engagement, and follower growth of your posts.
In the long term, Buffer's pricing can be too costly. Other marketing tools provide their Buffer Reply and Buffer Analyze for free, but it demands a separate membership. The cost is $5 per social channel every month.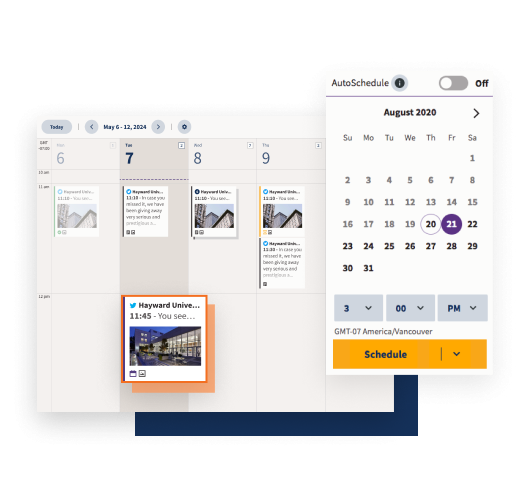 One of the best social media management marketing tools available is Hootsuite, which gives marketers control over all of their social media efforts. You can plan, design, and schedule all of your social media campaigns rather effortlessly if you have this software on your side.
With Hootsuite, you can also manage your social media staff successfully. You can restrict a team member's access and specify various authorization levels for each team member. The permissions can be controlled independently at the organisational, team, and social account levels. For anyone who wishes to combine and control many social media accounts from a single spot, Hootsuite is the best option.
There are four distinct price options for Hootsuite:
Professional – $29 monthly for 1 user (10 social profiles)
Team – $129 monthly for 3 users (20 social profiles)
Business – $599 monthly (five or more users) (35 social profiles)
Business – Special price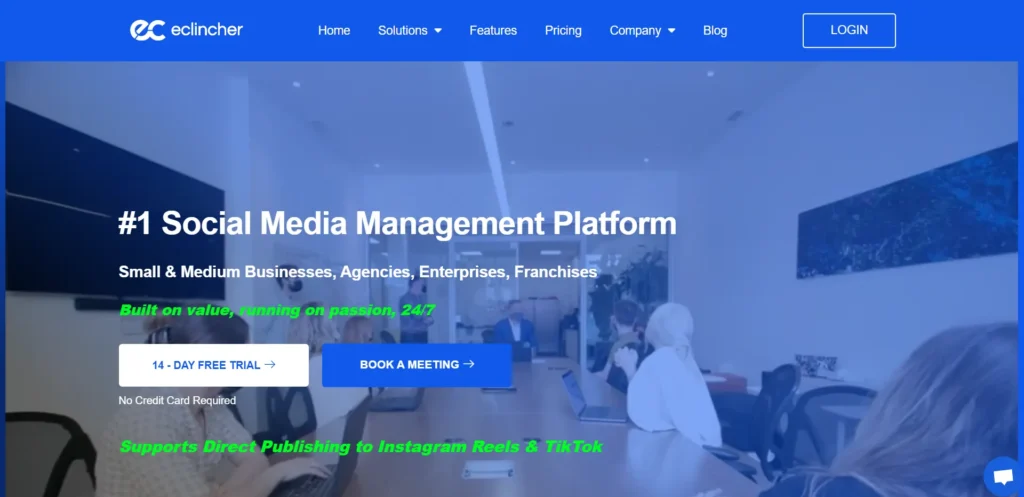 You may schedule and publish posts, respond to social media messages, track and analyse your online behaviour, and more with eClincher, as with most of social marketing platforms.
The features of eClincher that set it apart from competing applications include the ability to auto-post using smart queues and RSS feeds, a media library for your photographs, and the ability to look for social media influencers.
Plans begin at $59 per month and include a 14-day trial.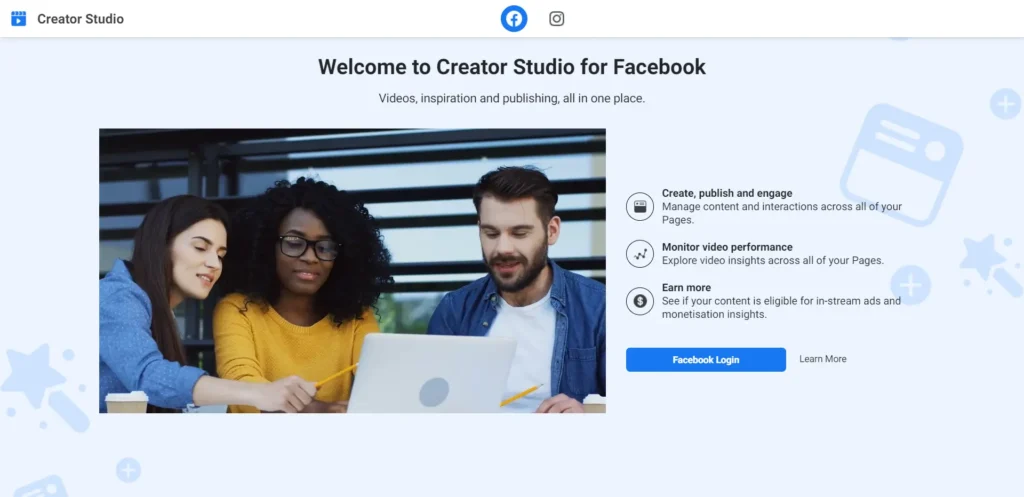 Marketers and content producers can organise, draft, and schedule their Facebook and Instagram posts using Creator Studio, Meta's free dashboard. Creator Studio allows anyone with a Facebook account to publish their posts.
It provides metrics and information on how well your postings do on the apps. You may set up marketing tools for monetization and monitor your revenue. The fact that you may only publish posts on Facebook and Instagram is the Creator Studio's lone drawback. You will utilize additional marketing tools if you wish on using Twitter or any other platform.
Creator Studio is cost-free. After you register for Facebook, you can use it.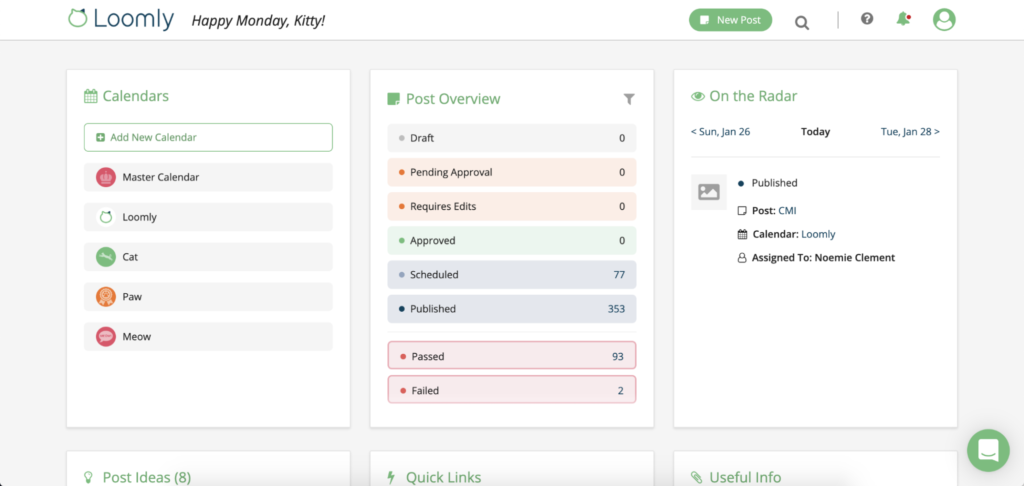 Loomly's self-described "brand success platform" is an efficient tool for small branding teams who want to brainstorm and collaborate on content.
Content scheduling and idea integration are made simple with inbuilt calendars, proper workflows and deadlines. Loomly finds and curates new content for users based on trending themes and social media as an extra bonus.
The minimalistic, clean layout is easy to use and accessible to users who aren't really tech-savvy. The platform's affordable cost appeals to small businesses that wish to better manage their social media presence.
Pricing: starting from $26 per month
👉 CRM Tools
Customer relationship management (CRM) is advantageous for all business types, but notably for startups. Startups want a more adaptable CRM that is jam-packed with capabilities that will grow with their business's needs, at a low cost, and with low-cost subscription options that include automation marketing tools to increase sales and gather leads. Check out the list of the top CRM tools for startups & businesses below.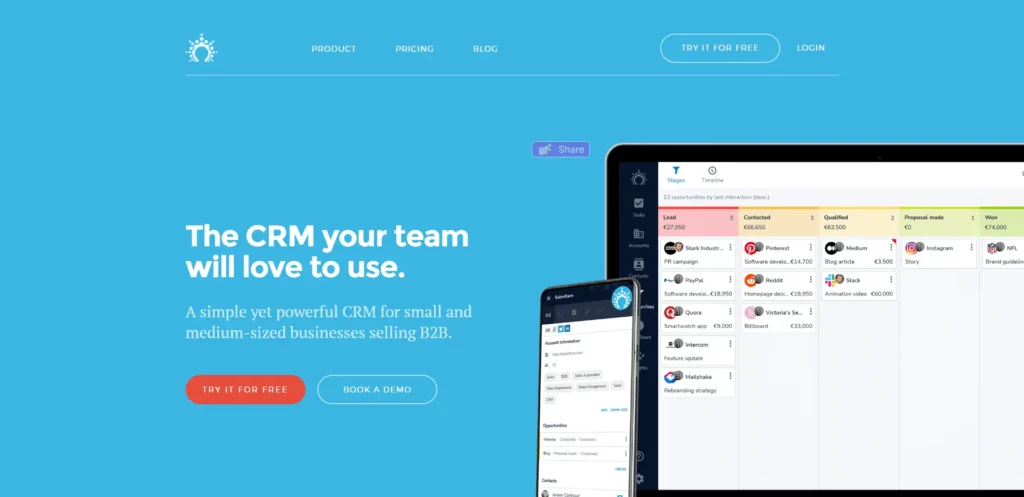 Since it was created exclusively to manage and arrange your B2B business, Salesflare is a B2B sales CRM platform. Salesflare has ana ability to track everything automatically. Furthermore, their CRM generates contacts for you automatically, enhances them with information such as email signatures and detailed client timelines, and prompts you to follow up.
Your outreach can be far more effective if you use the built-in email sequence feature in the Salesflare CRM, which enables you to send personalised emails at scale. Additionally, if you frequently use LinkedIn, you'll value their LinkedIn sidebar, which enables you to quickly establish contacts from LinkedIn and locate their email.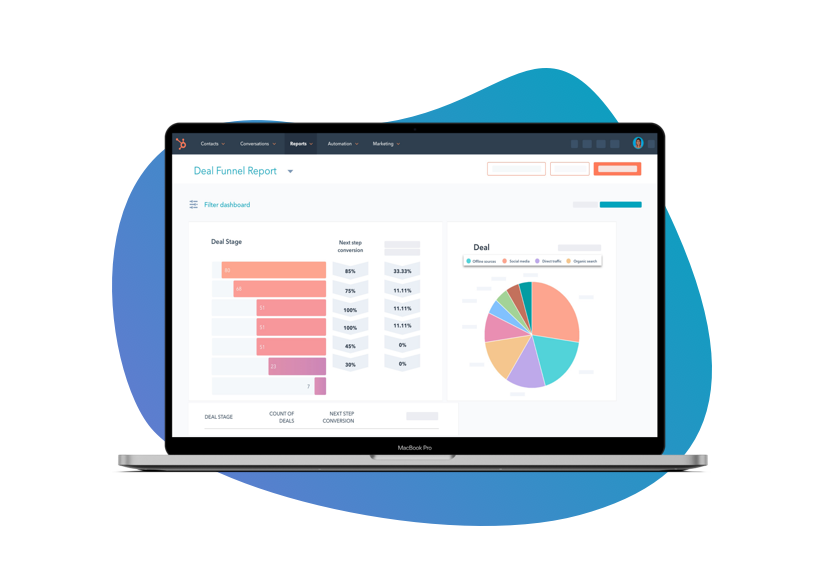 With just one tool, marketers can complete all of their marketing tasks with HubSpot's all-in-one marketing solution. Email marketing, CRM, CMS, operations, and sales are all included in this platform.
It definitely is among the greatest pieces of software available right now. To use this program, you don't need any coding skills. You may plan emails up to a year in advance using your own HTML emails or one of Hubspot's templates. Hubspot also provides automated marketing and sales workflows, eliminating the need for manual manpower.
The marketing package from HubSpot costs $45 per month when invoiced annually.
👉 Project Management Tools
It's usually advantageous to have a project management tool on hand when launching a product or service. No matter how dispersed your teams are, you can always finish your projects within schedule and budget with the proper solution, from gathering requirements to tracking problems to allocating jobs.
You must manage several jobs in a startup setting where the product can quickly transition from an MVP to its final iteration. In these circumstances, you want a solid project management solution that can grow with your business. Here, we've compiled our selection of the greatest project management programs for new businesses in 2023.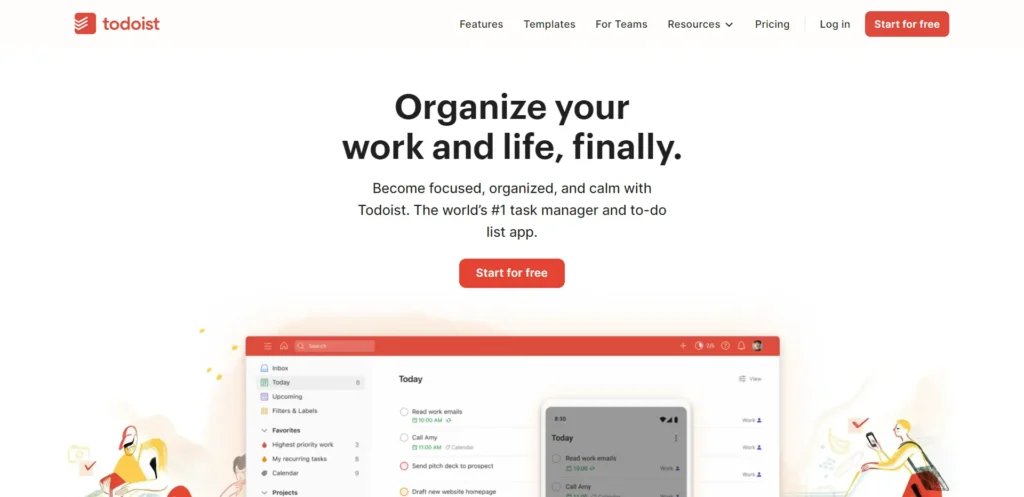 For effectively organising a project's tasks and completing your projects on time, the Todoist app is the best choice. Using it, you can make dynamic to-do lists so you can keep track of all your tasks. You can easily prioritize and organize your tasks using Todoist to maintain yourself on schedule.
You may quickly create new tasks and categorize them using the fast add option. Additionally, the task view makes it very simple to examine the information, including subtasks, new comments, and the task due date. Additionally, you may assign tasks to your teams straight from the Todoist app by bringing your teams there.
The todo app is excellent for simplifying all project duties and maintaining excellent organisation for your daily job.
Todoist offers two premium packages:
Premium – $3 a month per user (billed annually)
Business – $5 per user per month for businesses (billed annually)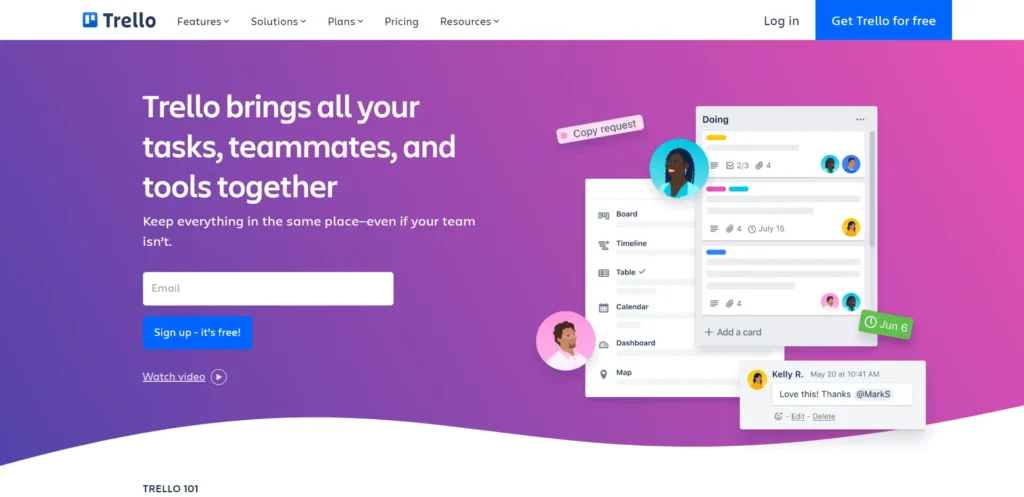 Trello is essentially a task management tool rather than a project management tool. Its user-friendly drag-and-drop capability makes it a useful tool for small teams, startups, and even independent contractors. The platform allows users to conduct over 250 programming commands monthly and offers a no-code business automation builder.
With Confluence, Slack, Cloud storage, Onedrive, and other third-party applications, Trello is flexible and integrates nicely. You would need to transition to a more capable project management solution if your team expands and your tasks get bigger, though.
It costs nothing to use Trello. There is a 14-day free trial available for the premium subscriptions, which start at $5 per user each month.
👉 Content Marketing Tools
A software system known as a content marketing tool aids content marketing teams in the planning, conception, collaboration, and creation of material that successfully raises brand recognition, enhances lead generation, and generates income.
They synchronise and coordinate the whole content creation process, from conception through evaluation of the effect or ROI (ROI).
The planning, development, distribution, and analysis of marketing content may be done by marketers using content marketing tools in a scalable, multichannel, and data-driven manner. They assist marketers in calculating the cost of their efforts.
The platform also frees users to concentrate on producing high-quality content rather than on procedures, approvals, or financial losses. By enhancing brand management, the effect of the content, and income, may help the firm as a whole.
A significant resource for those that want to understand their industry better is BuzzSumo.
It's reasonable to suppose that when you launch a firm, you have some knowledge about your sector and key rivals. You'll discover that you have access to a wealth of information if you look around more.
You don't need another content marketing tool by your side if you want to understand your competitors better or find out what kind of content works best for your audience and search engines.
Each result also has high-level information attached to it. This knowledge may be useful in a variety of situations, for instance when you are writing blog posts.
Why make an educated assumption about what is succeeding in your niche? Use BuzzSumo to provide a completely accurate response to this query.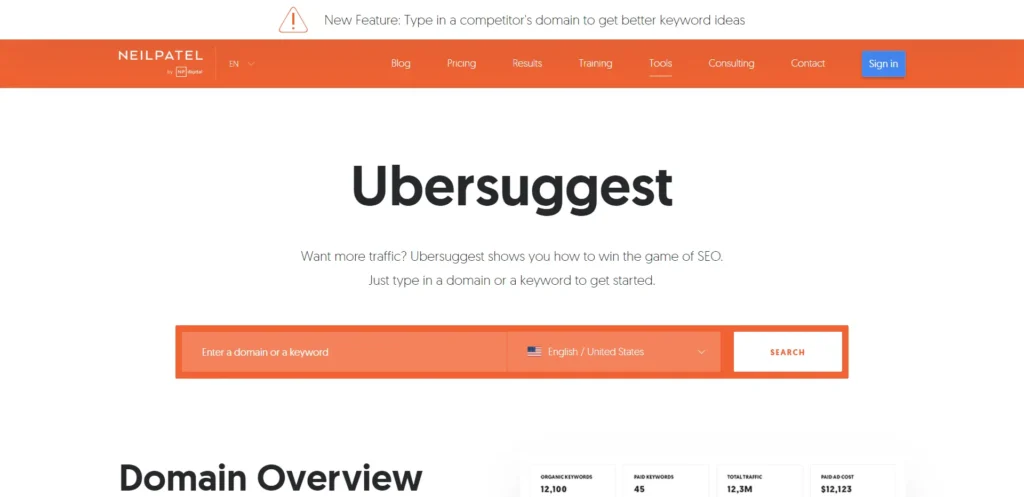 In addition to being a difficult undertaking, keyword research may be costly due to the cost of premium keyword research marketing tools. Ubersuggest isn't your standard free software, therefore it won't provide you much in the way of benefits.
The interface of this digital marketing tool is straightforward to use, making it simple for newcomers to access the data they're looking for. Starting with a root term or domain that you wish to study is the first step. You may upgrade to a premium program or receive up to three free searches each day using the free version.
If you're considering launching an ad campaign around a certain phrase, Ubersuggest offers helpful keyword data such as overall search traffic difficulty and paid difficulty.
It shows historical statistics that are useful for figuring out seasonal keywords or ones that are popular right now but might lose popularity later.
In order to update existing material or create a content marketing strategy, you also receive keyword ideas and suggestions that are pertinent to the one you're searching for.
Overall, Ubersuggest is a fantastic free tool for keyword research that is a wonderful option for new users and has enough value to be used on its own.
👉 Data Analysis Marketing Tools
Most technologies that automate a portion of your marketing plan also provide you access to reports so you can evaluate and communicate the success of your efforts to other company personnel. What if you desire a more comprehensive assessment of the state of your marketing? The role of data analysis tools here comes in to analyze and provide you with all the necessary information for your decision-making, such as demographics, interests, behavior, and many more.
Google Analytics is a tool that measures the effectiveness of your website and app. It keeps track of a user's activity on your website from when they visit it until they leave. Additionally, it shows how long they stayed on your website. For e-commerce startups, Google Analytics is especially helpful since it offers you a comprehensive understanding of your consumers' purchase habits.
Although Google Analytics has a high learning curve, if you grasp it and are familiar with the metrics that are effective for your website, it will become your go-to tool for marketing.
Google Analytics is free to use.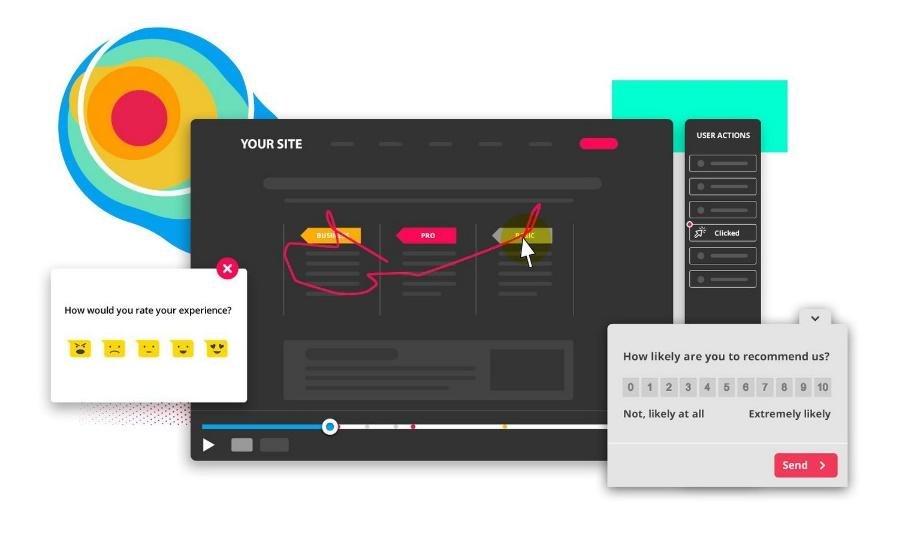 It is a web analytics application, similar to Google Analytics. In contrast, Hotjar provides information about how users interact with your website, such as clicks and scrolls. You can see how users connect with each other and, more crucially, where they drop off.
Hotjar was created to complement the insights you obtain from Google Analytics: by combining the two, you can answer questions about your users' behaviour and needs that Google Analytics alone would never be able to answer. Currently, 900,000 websites rely on this platform.
Heatmaps – This visual representation helps organisations identify which parts of their websites are working effectively and which parts want improvement. One of the greatest survey methods for client retention is offered by Hotjar.
Session Recordings – This feature records every mouse movement and click made by any visitor as they surf your website.
35 sessions on Hotjar are cost-free to utilise per day. Additionally, if you need 100 daily sessions, you may choose the "Plus" plan, which starts at $39 per month. Hotjar's 'Scale' and 'Business' package information is now accessible in full on its page of pricing.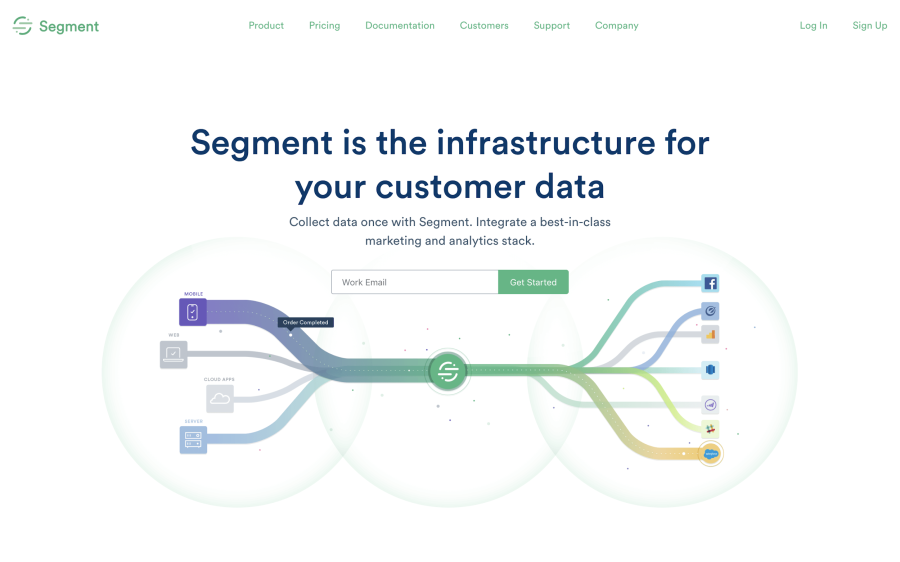 Segment allows you to gather data from any platform, aggregate it in Segment, and transmit it to hundreds of marketing, analytics, and data warehousing tools. Segment allows your company to coordinate and draw insights across numerous business units and teams with over 200 source and destination interfaces.
Pricing: Free, up to 1,000 Monthly Tracked Users; paid plans start at $120 per month
Bitly allows you to construct short links that trace every click, tap, or swipe as they go across the web. Bitly can be integrated with popular social media platforms and campaign management sites to ensure that all of your interactions and messaging are tracked correctly.
👉 SEO Tools
If you want your website to appear prominently in search engines as a developing startup, it is always an advantage if you invest in a search engine optimization (SEO) tool well in advance. Focusing on enhancing your site's SEO is usually useful because the majority of startups lack the funds to engage in advertisements. For your startup, you might want to think about the following SEO marketing tools.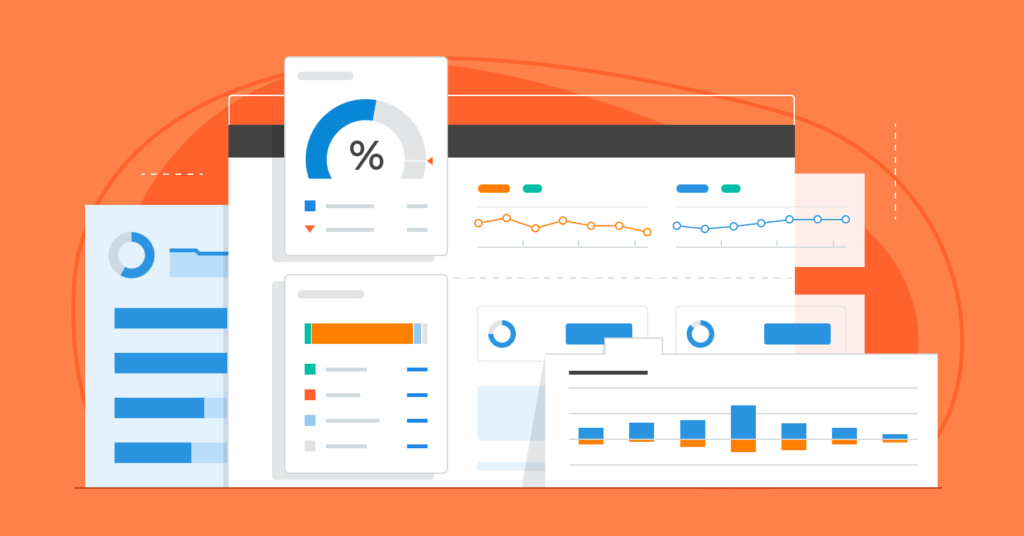 SEMrush is the marketing tool for you if your startup has the funding to purchase an all-in-one solution. With SEMrush, you can analyze your website's SEO, find new keyword opportunities, undertake rival keyword research, market research, audit your website, and more.
SEMRush also aids content marketing by creating ideas based on the volume of searches for specific keywords. It includes content generation templates, as well as rules on keywords to include specifically in the content and reference sources to evaluate while using it. This makes content creation a breeze.
It is a crucial tool for new businesses to comprehend how their rivals rank in search engines.
Start with free, pricing for SEMrush starts at $99 per month for small teams and $191 per month for SMEs and expanding agencies.
Ahrefs may be thought of as the all-in-one tool you require to rank your website higher and get more visitors. You may audit and improve your website using Ahrefs, research keywords and content, examine rivals, and monitor your ranking advancement.
Furthermore, Ahrefs is a powerful backlink analyzer. While SEO and link-building tactics have evolved tremendously, they remain a critical part of organic growth. Knowing who links to the most heavily-trafficked sites in your industry is a way to build your own quality links. Ahrefs employs crawling software to simulate how a search engine perceives websites, allowing you to observe networks of inbound links and how better link management can help you tap into that traffic, making it a very powerful marketing tool for startups.
Start with free, pricing depends on where you subscribe, Ahrefs' plans start at $99/month with extra taxes.
👉 Startup or Business Launch Marketing Tools
Being an entrepreneur and starting a business are difficult tasks. Your path from inspiration to execution may be impacted by a variety of circumstances. While some startups succeed immediately away, others have trouble taking off. Look at the marketing tools for startups that will help your firm achieve the recognition it deserves to assist your startup to find the proper investors, consumers, and debut in the market.
A useful destination for new companies and startups is Product Hunt. It displays all the latest items so that tech fans may look them over and talk about new websites, programmes, and other gadgets. You may introduce your product on Product Hunt as a startup owner. Users may vote on a product and leave comments about it, similar to how Reddit works. Customers can even purchase a product at a discount.
To add your product to the website, sign up for a free account on Product Hunt and follow the onboarding instructions.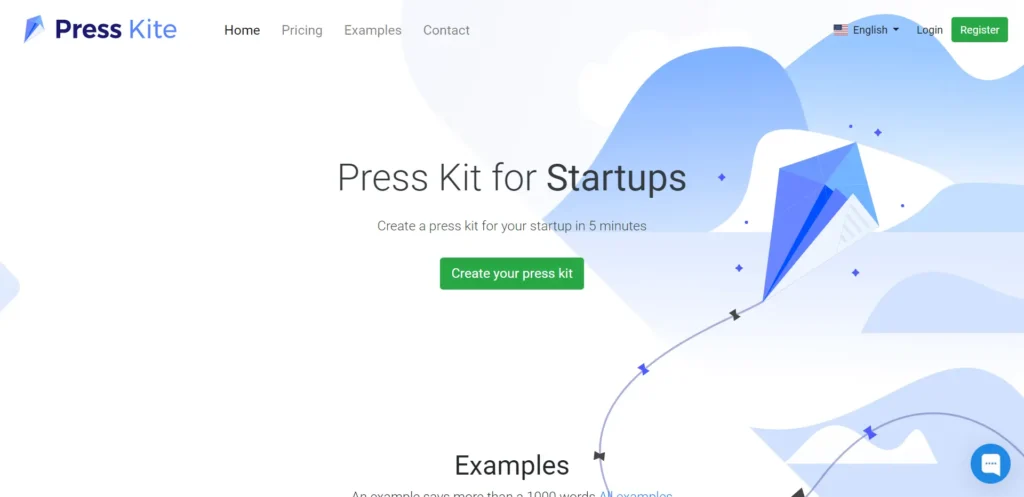 When startups are prepared to introduce their products to the market, they require press kits. One such product that new marketers might use is Press Kite. When your company is promoting the debut of a product, Press Kite prepares a press kit that contains a brochure, media releases, logos, pictures of personnel, and more to send to a journalist.
A 14-day free trial with a 100% money-back guarantee is available through Press Kite. They offer three packages, ranging in price from $9 per month with basic features to $99 per month with premium features.
👉 Digital Advertising/Marketing Tools
It may be a nuisance to manage all the many ad campaigns you're running across each separate network if your organisation invests in PPC marketing campaigns on websites like Google, Bing, Facebook, Twitter, or LinkedIn. You then need to attempt to report on the outcomes of all of them in addition to controlling them. What a battle. For that, fortunately, there are marketing tools.
No matter how big or little the business is, Google Ads may be used to promote it. Despite the fact that many marketers believe Google Ads is too expensive, it is one of the most effective digital marketing platforms that may help grow your business.
The benefits of Google Ads include driving website traffic, through a click-to-call button, you may increase consumer calls and foot traffic in your stores.
To utilise Google Ads properly, people must first become familiar with it; else, they will waste their money (Learn to create Google ads here). The nicest thing about Google Ads is how simple it is to calculate return on investment (ROI).
Furthermore, the platform is much quicker and simpler to use thanks to new artificial intelligence technologies. You may get outcomes in display advertising more quickly with the use of AI features.
You may target your consumer base based on a variety of criteria, such as age, gender, geography, occupation, etc., thanks to the numerous targeting choices. You won't find this in other digital marketing tools, therefore it stands out.
The ability to access Google Agencies Account Strategist is very crucial since it allows you to learn about the newest services that Google offers. Additionally, having access to this also gives you access to certain beta testing.
By consolidating all of your PPC campaign information into one location, AdStage eliminates the burden. You can automate, build, and manage your campaigns with AdStage on all of the main PPC platforms, and you can then analyse your performance. AdStage is essential for both PPC specialists and beginners since it has extensive automation capabilities and visual features.
👉 Content/Graphic Creation Tools
There are undoubtedly a tonne of different marketing tools available in the realm of content production that you can utilise to produce different kinds of content. The possibilities and marketing tools are limitless, whether it be for social media photos, logos, blog articles, or ebooks.
For creating graphic material that can be utilised in numerous marketing efforts, marketing teams typically turn to Canva. The biggest feature of this application is that it provides high-quality design templates that let you produce stunning graphic material without needing to have a strong background in graphic design.
Furthermore, It also provides an easy and aesthetically beautiful approach to create your own logos, presentations, photos, or graphs based on the demands of your organisation.
Furthermore, Canva eliminates the requirement for a professional designer by allowing you to create the precise graphic you want to utilise their enormous picture library. You can simply develop captivating designs for your marketing initiatives with Canva.
Canva has three price tiers:
Free
Pro – $9.95 a month per user (billed annually)
Enterprise – $30.00 monthly per user (billed annually)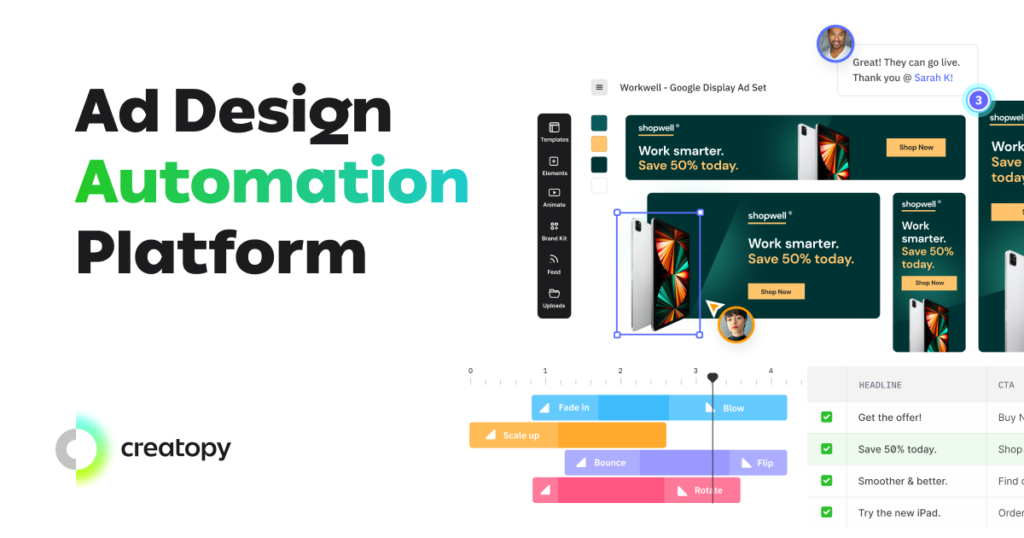 Adding some graphic design tools other than Canva to your repertoire must be something to look into. Creatopy stresses a number of aspects that are unique to marketers like creating ad copy, team workflow.
The platform's designing sets and branding kits, allow you to collaborate and work with other users and keep your brand creativity organised. This is especially useful for agencies with multiple clients and social media accounts to manage. Meanwhile, the ability to update the same design and change to other forms, like desktop banners versus mobile in one click saves a lot of time.
Pricing: Start from $17 per month
👉 Email Marketing Tools
A successful customer acquisition and retention strategy includes email marketing. Email marketing is a helpful tool for startups to increase ROI, communicate with consumers, promote products and services, and learn about client preferences, among other things. Here are some email marketing tools to assist your company get new clients and keep them around.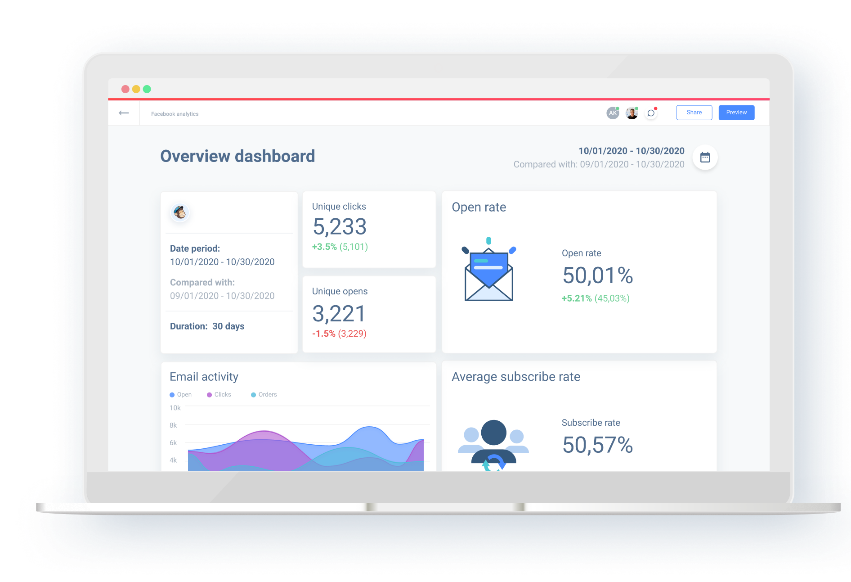 With more than 12 million users, MailChimp has established itself as one of the leading global suppliers of email marketing services and digital marketing tools.
Although there are alternatives, this tool is still among the finest for the many benefits it offers.
You may locate all of your queries' marketing tools fast thanks to self-service support alternatives. It offers a free package for those that send no more than 12,000 emails each month and have less than 2,000 subscribers.
It's unlikely that you will have more than 2,000 members when you first launch your company. Due to this, you may begin utilizing MailChimp early on while getting familiar with email marketing by using the service for free, and then switch to a premium subscription.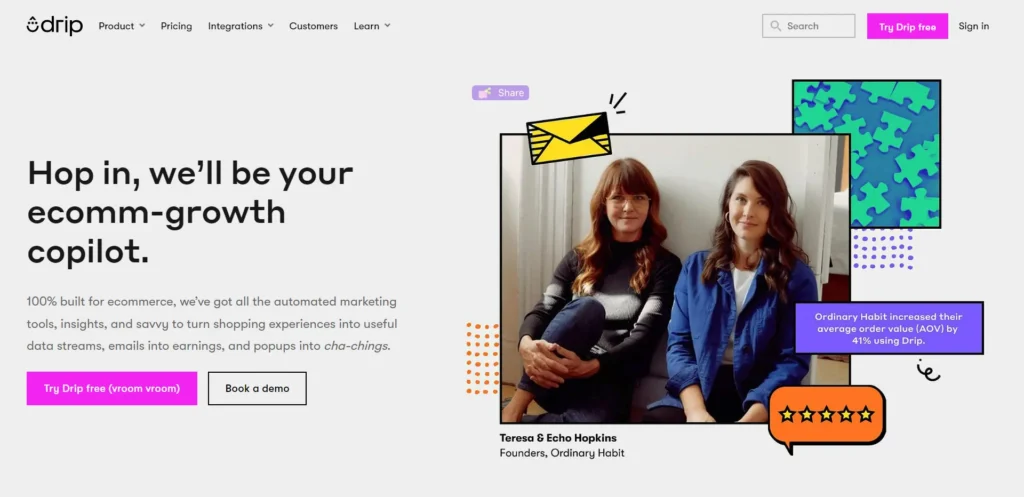 Drip is a top-notch email marketing solution designed exclusively for digital marketers, bloggers, and eCommerce businesses. It executes multi-channel marketing strategies that increase revenue without requiring any code.
Drip offers split testing capabilities, marketing automation marketing tools, email segmentation, list groupings, and a WYSIWYG drag-and-drop builder for automation processes. With the help of these capabilities, you may more easily target and connect with your consumers in order to meet your sales goals.
Drip's does not request your credit card information and offers a 14-day free trial. Its entry-level package is $39 per month.
👉 Outreach/Automation Tools
For businesses, automation is nothing new. A tool that simplifies your life and saves you time is excellent, whether you want to save time spent on marketing duties or just reduce time lost on routine tasks like storing emails and files to spreadsheets.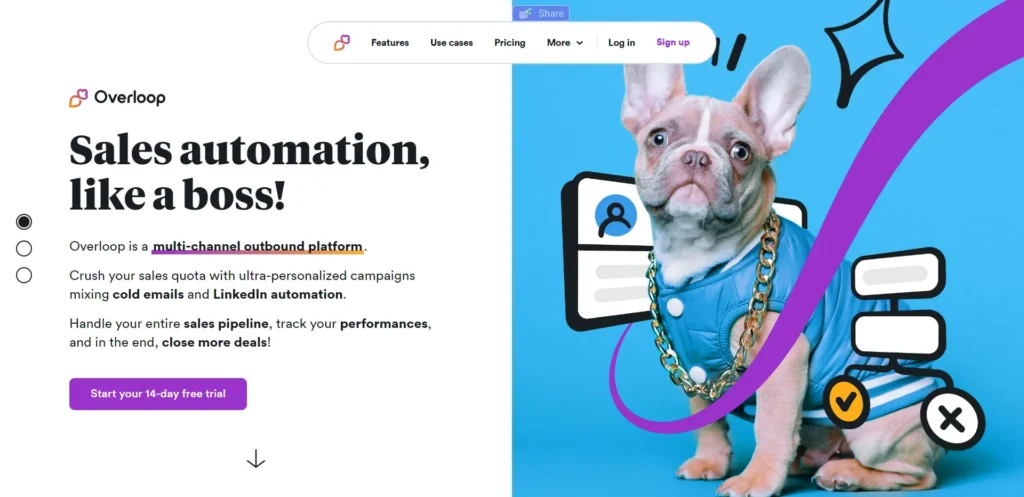 Every capability you'll want to manage a multi-channel outbound campaign is available in Overloop. Chrome extension, cold email outreaching, email finder, LinkedIn contact import, CSV import, custom fields, and contact management are just a few of their list-building and contact management marketing tools.
Overloop provides multi-channel campaigns, customised cold emails at scale, LinkedIn automation, templates and variables for tailored messages, email thread functionality, and email monitoring as part of their outbound features (their core competency).
In addition, Overloop boosts sales productivity and provides comprehensive reporting; for more information, see their website. Paid packages begin at $99 per user per month.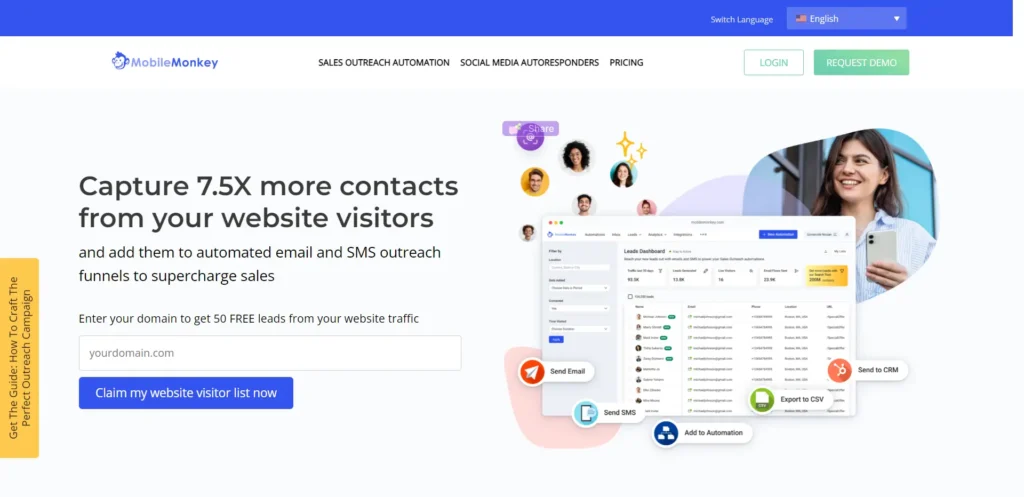 With MobileMonkey, your consumers can talk with you and you with customers automatically, making it an essential chat marketing automation solution.
Any firm that wants to engage with its consumers should set up a customer chat system because 75% of customers say it's better than email or phone communication.
Because it integrates with all of your consumers' preferred messaging platforms, such as: MobileMonkey is a fantastic option for marketing and customer service.
Everything you require for customer chat, including Instagram marketing tools, Facebook messaging lead advertisements, and live chat, is available on one platform with MobileMonkey.
MobileMonkey makes it simple to build up automations to answer, gather lead information, and push leads directly into your other marketing platforms. You can utilise one inbox to monitor and respond to incoming messages from all of your messaging accounts.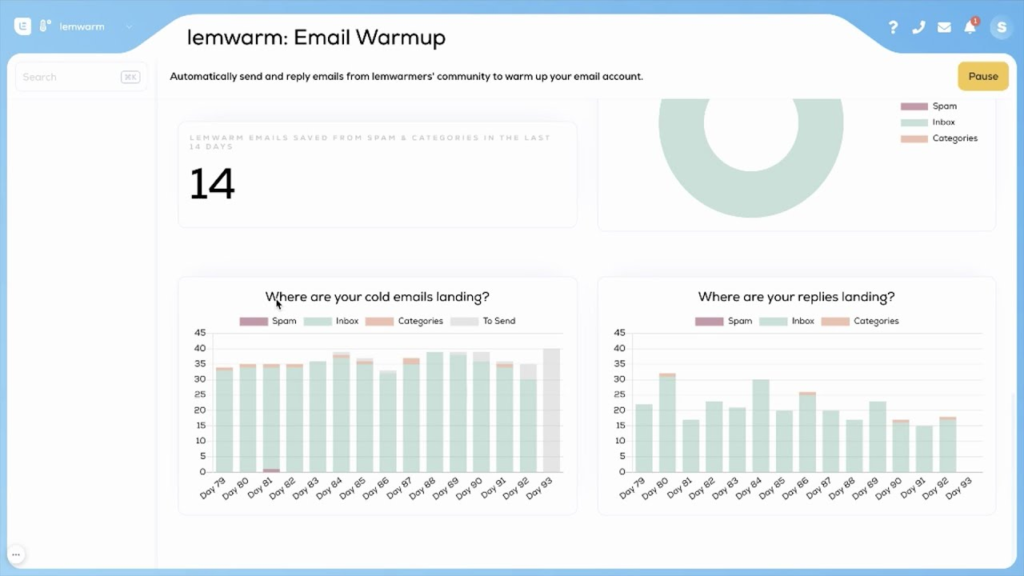 Lemlist is an amazing outreaching tool to send personalised emails to your prospects. It emphasises the optimum times to send your messages (and how often) for more opens and clicks.
Lemlist might be an eye-opener in terms of how to warm up your list, rather than second-guessing your marketing efforts. Personalization technology makes your outreach emails sound less automated, and later follow-up emails encourage greater responses from cold business prospects, among other pros.
As their website correctly proclaims, "Social proof is the holy grail of marketing", Fomo is a tool that allows you to enhance conversions by leveraging the power of social proof. Fomo displays brief notifications as customers and prospects are visiting your website, alerting them to other visitors on the site as well as some of the transactions those other visitors have done. Through social proof, you can instantly give your website and business credibility by showing prospects what other consumers are doing and buying.
Pricing: Plans start at $39 per month.
👉 Video Marketing Tools
Perhaps your plan is to simply embed a YouTube video on one of your landing pages or blog articles. But what follows that? Before your video even starts, another person's advertisement appears on your landing page. Your conversion rates, brand, and user will all suffer as a result. Fortunately, there is a fix.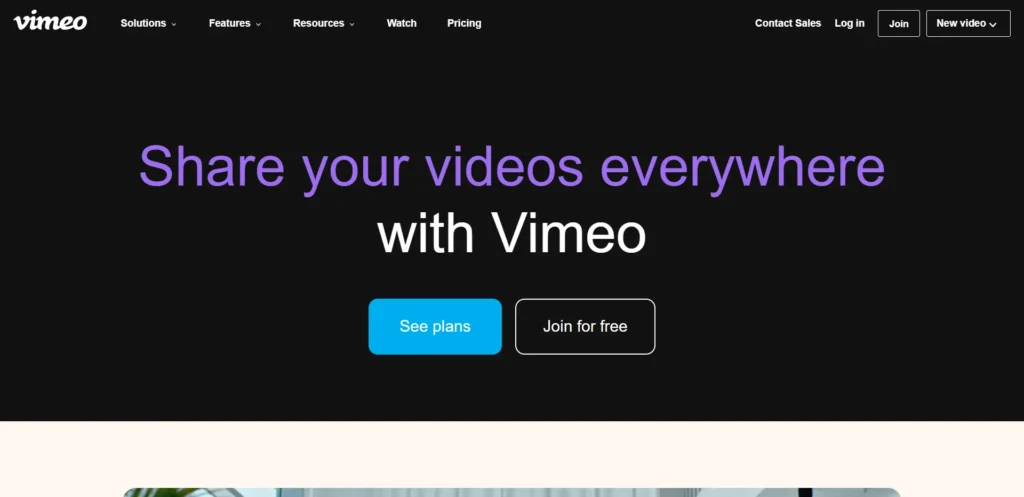 According to a recent study, 55% of internet video viewers are attributable to marketing video production businesses. Businesses can make movies more quickly thanks to Vimeo Business, which saves them time.
With its enormous 7TB storage and amazing cooperation, publishers can easily produce, save, and embed videos everywhere on the internet. With Vimeo Business, you can quickly and easily add graphics, rearrange video, add titles, and do much more. On the internet, movies of any size may be edited and published.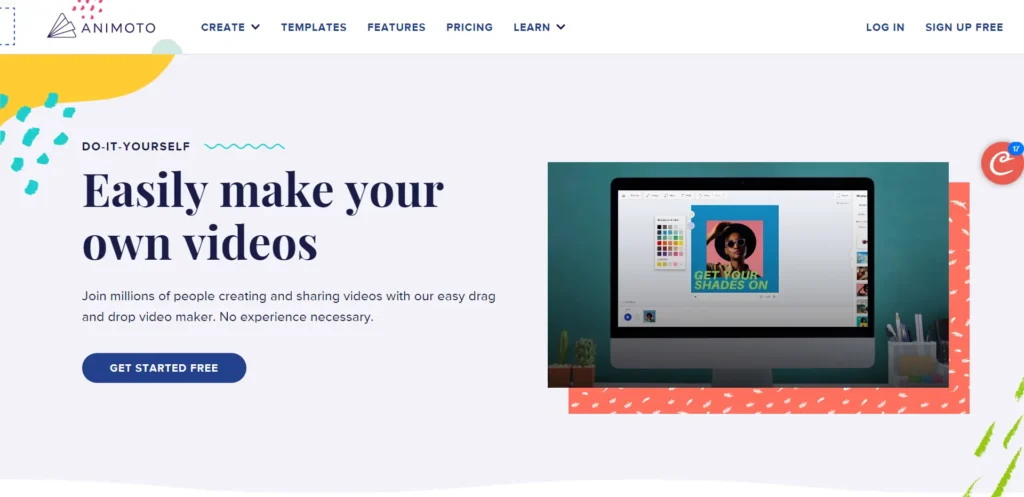 A great animated marketing video tool for creating captivating business videos is Animato. Inside Animato, marketers may work with a variety of expert designs.
You can use it in a lot of music videos as well. With Animato, you can add photos and characters, change colours and fonts, and do much more to produce HD films.
👉 Lead Generation Tools
If you're motivated to generate demand, you undoubtedly have your sights set on the goal of turning random website visitors into leads with email addresses that you can effectively nurture. For the purpose of gathering lead information for crucial offers and opt-ins, landing pages are a need.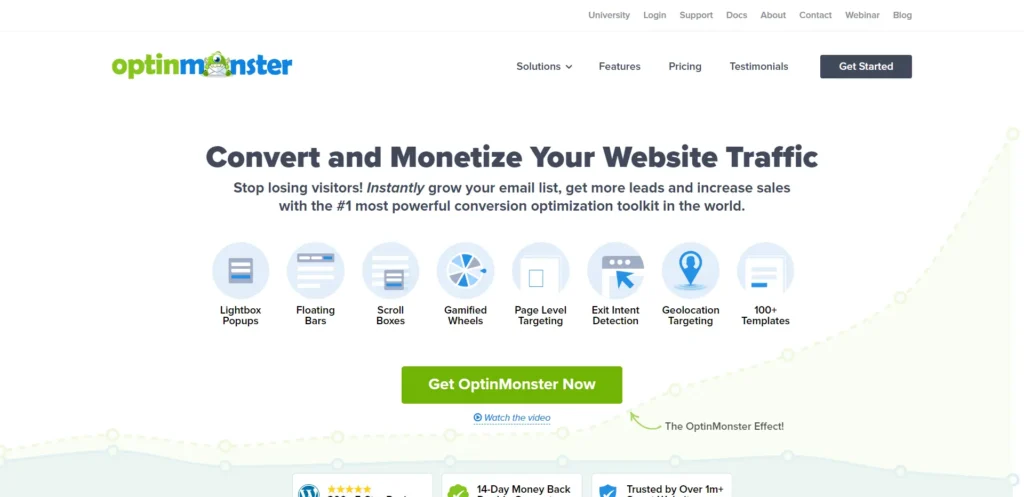 With OptinMonster, you can convert your website traffic into leads.
Using the most potent conversion optimization software available online, you can improve sales, quickly expand your email list, and get more prospects. Including OptinMonster in your marketing plan can help you succeed with lead generation. For usage on one site, plans begin at $16 per month.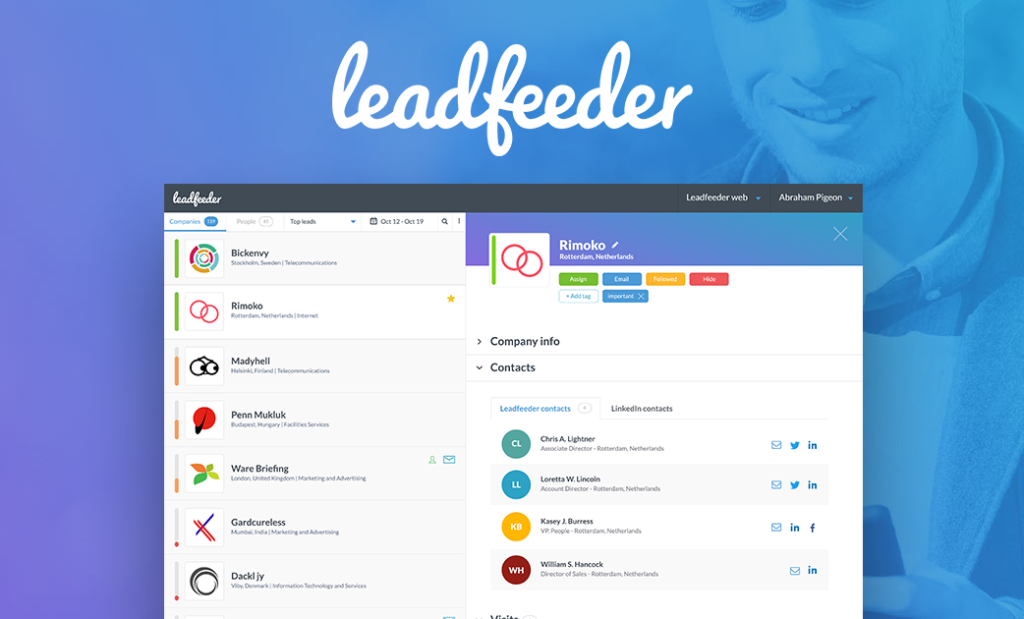 Even if they never fill out a form or contact you, Leadfeeder can let you know which companies visit your website. Leadfeeder also provides you with contact details for the company's workers. This allows you to contact visitors who have not inquired about your product or schedule outreach to potential future leads in your sales outreach pipeline.
The names of the companies that visit your website are identified quickly by Leadfeeder. It transforms anonymous traffic into real firm identities and displays the precise behaviour of the businesses that visit your site.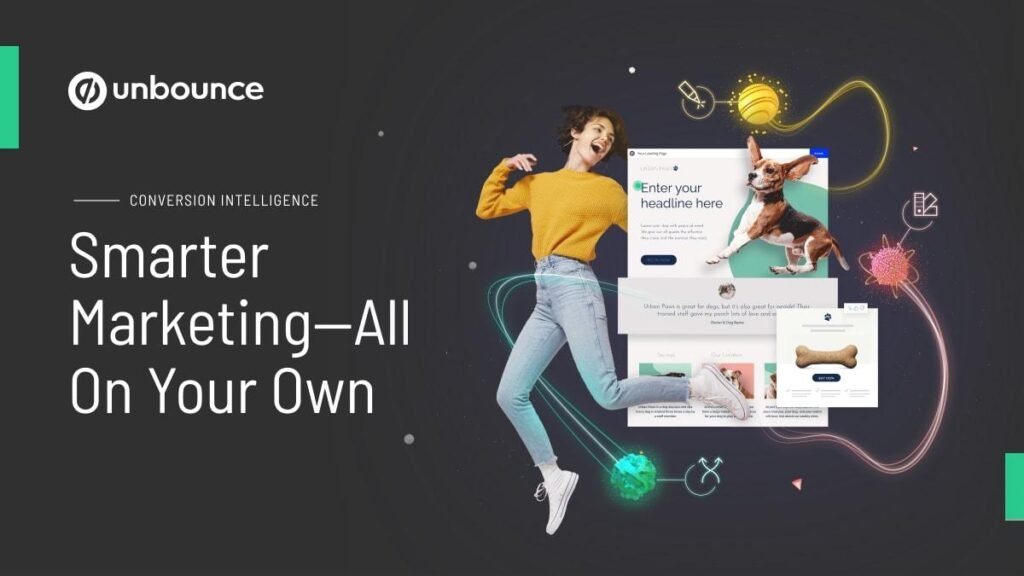 Unbounce makes creating high-converting landing pages for campaigns and events a breeze. You can quickly create landing pages through their builder that are geared for data capture and lead generation using a simple drag-and-drop builder. You can also use A/B testing to guarantee that your landing page copy and layout are always optimised for lead acquisition.
Pricing: Paid plans start at $99 per month
👉 Event Marketing Tools
Whether your company hosts conferences once a year, weekly customer and prospect events, or just sporadic community outreach parties and events, it's critical to be prepared with the greatest event marketing tool at your disposal. After all, face-to-face gatherings are among the ideal occasions for interacting with prospective clients and developing memorable brand experiences for your community.
Swag.com provides the versatility and personalization needed to make your event swag stand out. Choose from a large selection of brandable garments, electronics devices, drinkware, office supplies, and more. These things are all name-brand (not the knockoffs you frequently see at events).
Swag.com's distribution platform is ideal for hybrid events. So you can ensure that your virtual guests get the same event experience as those who are in attendance in person, you may really mail swag boxes to each of their houses. Discuss departing a lasting impression!
👉 Collaboration/Communication Tools
Without access to your coworkers and communication with them, where would your workday be? It must be quite frustrating. Having the finest internal communication marketing tools is essential since marketers cannot avoid interaction when it comes to working together with members of the team and throughout the organization.
With the help of the effective messaging tool Slack, you and your team members can communicate swiftly and without the inconvenience of email. However, it goes beyond AOL Instant Messenger 2.0.
Slack provides robust features and connectors that enable you to incorporate all of your other everyday marketing tools right where you're currently interacting, like Trello, Gmail, Giphy, and so many more. You may open channels between several teams, or you can only talk with a few selected coworkers. Working remotely and in person is now simpler than ever thanks to Slack.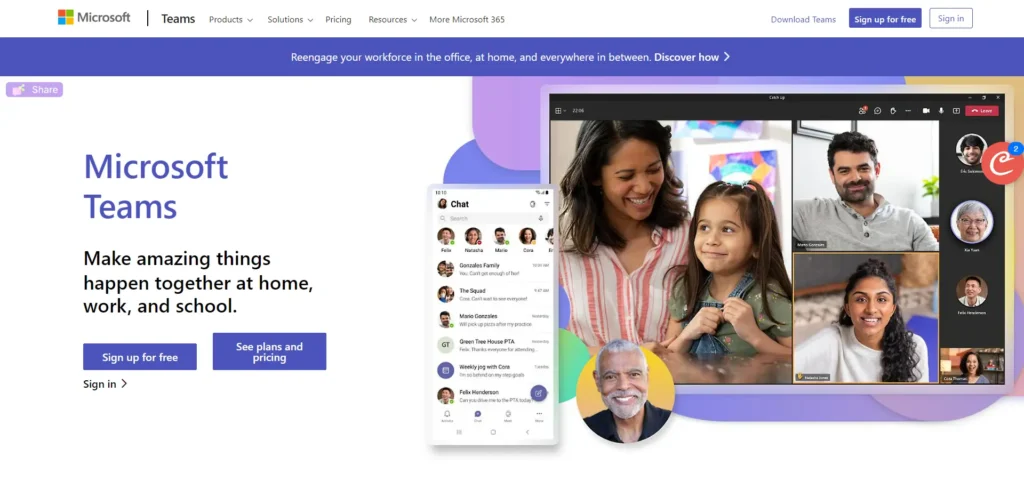 Web, iOS, and Android smartphones are the platforms.
Voice/video conferencing, team chats, private discussions, animated GIFs embedded in-line, tabs for commonly used documents, an open API, @mentions, customisable alarms, and multi-factor authentication are among the features.
Integrations include, among others, Microsoft OneNote, Microsoft Word, Microsoft PowerPoint, Trello, Asana, Cisco WebEx, Microsoft Office 365, Microsoft Planner, Microsoft Excel, GitHub, SurveyMonkey, and Zendesk.
Price: starts at $5 per month.
👉 Digital Signature Tools
These tools are intended to keep things organised and provide you the flexibility to customise things as needed.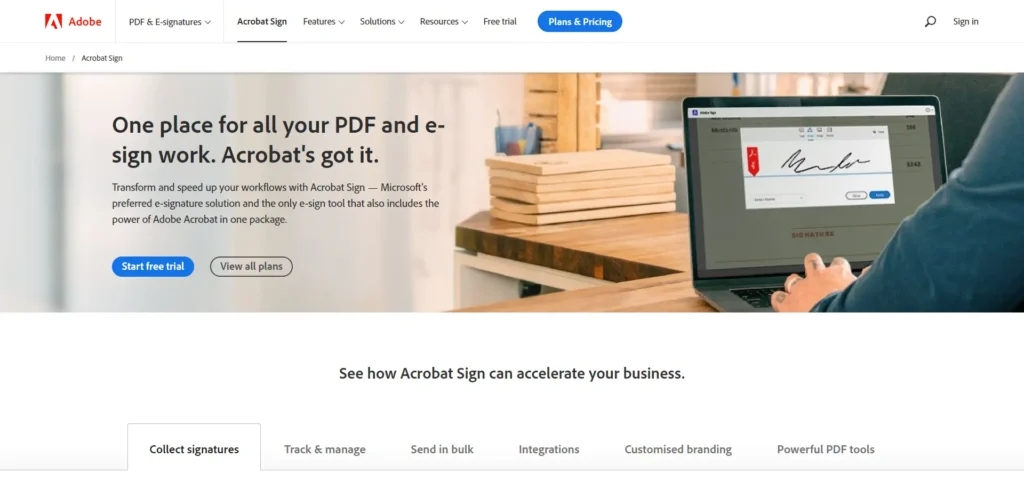 Adobe Sign more than qualifies as one of the essential marketing tools for digital marketing. It is a cloud-based electronic signature tool that enables you to use less paper, gain signatures quickly, and save time. Using a desktop or mobile device, you may transmit papers, sign them, and control the entire process.
Additionally, there are integrations to keep track of all the signatures you've gotten so you can go back in case you misplace something crucial.
This straightforward yet practical solution addresses a significant issue that many organisations face. As more individuals work remotely, it's possible that they don't have access to printers and scanners. This causes delays in your business and may irritate clients if you are unable to fulfill their requests because you are awaiting approvals and signatures.
You may use Adobe Sign on any device and from anywhere. On a mobile device, someone may sign with their fingertip while driving to a meeting. There is no requirement to print, scan, or fax anything. It's all digital, secure, and safe.
Conclusion
So there you have it. This was our list of marketing tools and applications for improving businesses and startups in all fields and genres. In addition to this, there are several more marketing tools available on the web that may assist you in embracing and empowering effective marketing in each business or startup.
Start by doing a quick, five-minute inventory of your business requirements to determine which of the marketing tools would be the best fit for your business or startup.