Social media has become oxygen of today's generation. Because of this, it has emerged as the most crucial tool for businesses to grow. It promotes brand awareness, strengthens relationships with target audiences, and improves sales. So for every business, it is essential to have a strong social media strategy.    
What is social media marketing (SMM)?
Social media marketing is making use of social media platforms to promote a brand/ service. SMM involves a purpose-built data analytic tool which helps marketers track the success of their efforts. Social media websites let marketers use different varieties of tactics to promote their content.
Through digital marketing, marketers can focus on their target audiences more efficiently than traditional marketing. Some metrics used to measure the success of social media marketing are Google analytics (measures website reports), ROI, customer response rate, a campaign's reach, etc.
15 Best Digital Marketing Strategies for Small Businesses in 2023
Advantage of social media marketing:
Enhanced brand awareness – Many businesses consider gaining brand recognition a very essential marketing goal. Social media marketing allows businesses to promote their brand among a broader audience. Sharing relevant content on your social media platforms is crucial for enhanced brand recognition.
More organic traffic – Integrating social media into your marketing strategy provides an opportunity to earn new customers. Sharing relevant content on different social media platforms enables users to organically reach your brand.
Higher ranking on search engines – Search Engine Optimization has a great impact on social media. Try to advertise such content which is more popular as it can drive decent referral traffic to your website. Moreover, social media posts have the ability to grab influencers' attention who might popularise your brand and provide backlinks. This will ultimately increase your rankings in SERPs.
Enhanced conversation – Promoting products/ services on social media is a good way to generate sales. People generally trust companies that have an active social presence.
Customer support – The best thing about social media is that you can provide instant customer support to any queries from the customer end. Listening to the customers and providing them with the best support in less time will help a brand establish brand loyalty.
Low cost – Creating a social media profile and sharing high-quality content is a completely free process. Further, a brand can invest in paid promotions which will increase their ROI.
Keeps you updated about the activities of your competitors, their tactics, campaign on social media platforms and other data. This data can help you bring in some changes in your marketing strategies to stand out of the crowd. You can even target the dissatisfied customers of your competitors which can yield you good results.
What is Growth Hacking: 15+ Growth Hacking Strategies to Boost Conversions
How can you use social media to generate leads and enhance sales?
Social media platforms are excellent ways to generate leads and enhance sales of products promoted by the brand. Here are some tips as to how to use social media for better results:
A well-designed strategy involving goal determination, what all social media channels to be used and the type of content to be shared, will make your brand more effective.
CTA (Call to Action) – It motivates the audience to stay engaged.
Selling products through social media accounts – Through your social media profile, the visitors can browse product information, like price, features, etc. more easily. This can generate direct sales through your platform. This step is not for digital products.
Campaigns/ competitions – People generally find interest in brands that offer discounts or prizes won in competitions. You can also organise interesting campaigns supplying free trial stuff to the visitors.
Planning committee – The company should have a planning committee which will draft plans for designing their content based on its product relevancy and when to be published.
Purchasing advertisements on social media platforms is a good way to promote and develop the brand.
What is Meme Marketing & How to Develop Meme Marketing Strategies?
Examples of social media marketing:
Wendy's – To increase brand visibility, it's essential to showcase branded images on your social media pages. Branded images include creating interesting colours and themes, customising your brand logo.
Warner Bros. Studio Tour – Social media lets a company include additional essential details on its social media profile page.
McDonald's – To expand your reach on social media platforms efficiently, the brand can jump into trending topics and events which already have a large following.
Snickers – Including exciting contests on your pages can add engagement to your social media page.
Coca-cola – To connect with customers, you can use emotional and personalised messages to market your products/ services.
Samsung – Including relevant videos in your social media accounts can be an effective marketing strategy to promote your products/ services. Videos put a huge impact on the purchasing decisions of the users.
Social media marketing tools:
Managing your brand through social media can be a tough and time-consuming task. The company has to monitor tracks, create and share posts, launch ads and campaigns, communicate with the audience and give quick solutions to the customers, etc. So, there comes the role of optimization and the concept of SEO and SEM. Let us look at some of the optimization tools which can help you minimise your effort without compromising with the results:
Social media monitoring tool – Monitoring social media allows you to collect significant data about your audience, their interest and behaviours. This can help you customise your marketing strategies. Monitoring social media also helps to build a reputation in the market.
Buffer – It's a social media management platform trusted by small businesses and individuals to help drive meaningful engagement and results on social media.
Hootsuite – One of the biggest social media management tools used by more than 15 million people and companies. This has many features in one platform, like measuring social ROI, running social media ads, scheduling content, etc. It is capable of maintaining multiple accounts and keywords, connecting with several social networks and scheduling its posts.
Agora pulse – It's yet another all-in-one social media management platform with features like responding, scheduling, curating, etc. It also has competitor analysis and Facebook contest apps at affordable cost.
Sendible – A social media management tool for agencies with many clients. It allows you to customise your dashboard with reference to your brand. It has a graphics editor, royalty-free image search tool, YouTube search and some automation for those who want to avoid repetitive tasks.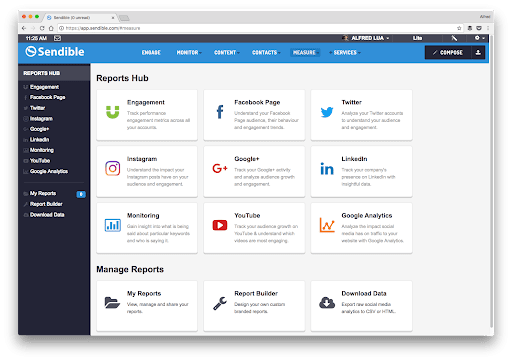 Social pilot – Easy to use social media management tool for teams and agencies. It fits all social media features in a simple dashboard and offers it at affordable rates. It suggests content from different industries like beauty, fitness, health, etc. helping you find the relevant content for your brand.
MavSocial – This tool mainly focuses on visual content. It has all the usual features of monitoring, scheduling, and reporting. Along with those features it additionally has a digital library where you can use, manage and edit your social media posts and blogs and also it provides a search engine where you can browse through millions of stock images.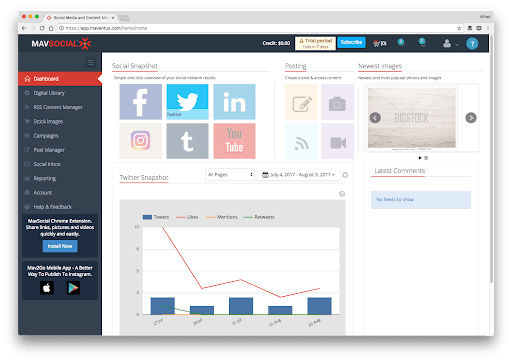 Crowdfire – It simplifies social media management. It allows you to manage your Twitter account and suggest posts for sharing, along with the basic features. It lets you create social media posts for every update you receive on your website.
What Is Event Marketing: an Ultimate Guide & effective Strategies in 2023
Social media platforms and their strategies:
Let's look at some social media platforms including their audience type. 
Facebook – This platform witnesses approximately 1.79 billion active users on a daily basis. Due to its wide audience, Facebook is beneficial in both B2B and B2C contexts. It has an inborn ability to connect users with products and services. It displays an advertising option too. Running Facebook ads can help you increase your conversation.
LinkedIn – This platform has seen tremendous growth over the past 10 years. LinkedIn is a professional social media network where industry professionals share content, promote their brands, and connect with each other. The contents shared are usually very informative and educational. Many businesses consider LinkedIn as the gold standard for B2B social media.
Twitter – It has an audience base of 126 million active users on a daily basis. It gives emphasis on giving real-time information. Twitter is a strong customer service channel.
Instagram – It contains eye-catching content and inspires creativity. Over 1 billion people use Instagram each month. Having a business Instagram account yields you rich analytics. It gives the brand the opportunity to connect with a huge audience, showcase their products, and increase engagement through giveaways. 
YouTube – It is the second biggest social media site with 2+ billion active users monthly. It is owned by Google and is the second-largest search engine after Google. Using the platform smartly can generate huge traffic for a business. 
Pinterest – Has 416 million monthly active users, mostly millennials. It mainly focuses on providing inspiration to people. The platform is ideal for visual advertising. IKEA is a global brand which successfully uses Pinterest.
What Is Influencer Marketing? The Ultimate Blueprint to Develop an Effective Strategy
Social media marketing strategies:
One of the major strategies in social media marketing strategy is developing content which a user can share with his family and friends. Social media strategy involves creating sticky content, which means such content gets the user's attention and encourages the user to conduct a desired action like buying the product or sharing the content. Let us look into the following 5 social media marketing strategies.
Set SMART goals – Basic step for a successful marketing strategy is to establish your primary objective. A clear goal is essential to measure your success. So the goals have to be S (specific), M(measurable), A(attainable), R(relevant), T(time-bound). A business may set other goals like increasing brand awareness, driving organic traffic to its website, improving online sales, improving customer service, etc.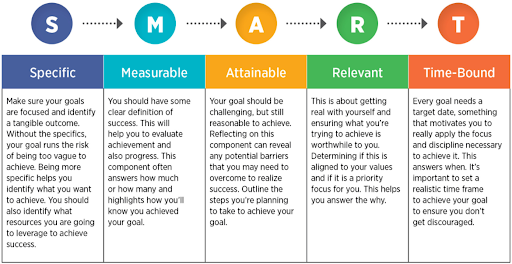 Research your audience – Next step is to find and know about your audience, categorising them differently based on their age, interest, etc. This way you can reach your target audience easily. This will also help you to create content ideal for your target audience. Social media analytics can further help you to know your audience well and how they interact with your brand. Also, select the appropriate social media channel for your audience. 
Create your social media accounts – Once you choose your desired social media platform, the next is to create an account of yours in it. Set up your profile well so that the user gets to know you well. Also include keywords that are most searched for your business. Include your company logo and customise it smartly. Before posting your material, you should understand your competitor's approach toward social media. Based on the conclusions you draw from such an investigation, you can adapt your social media marketing strategy more efficiently. Choose social media management tools, discussed earlier, to manage social accounts in real-time.
Create authentic and engaging content – Here comes the main part of the social media marketing strategy- "CONTENT". By now you have known that to engage your audience, you have to create content, which is organic in nature. For maintaining consistency, you should choose proper themes for your content. Long-form or short-form video production are also essential for creating engaging content.
Optimise your results – Tracking results is the best way to know how things are working for you. For this you have to monitor your social media metrics including data like the amount of engagement, the number of likes, shares, etc. You can even have your own analytic tool.
Bottom line:
After reading the article, you now know how essential social media is for a business to grow. So start planning your strategy from today, know your competitors and stand out of the crowd like a boss.
FAQs related to social media marketing:
What is social media marketing (SMM)?

Social media marketing is making use of social media platforms to promote a brand/ service.

What are the Advantages of social media marketing?

1. Enhanced brand awareness
2. More organic traffic
3. Higher ranking on search engines
4. Enhanced conversation
5. Customer support
6. Low cost
7. Keeps you updated with trends

How can I create social media marketing strategies?

1. Set SMART goals
2. Research your audience
3. Create your social media accounts
4. Create authentic and engaging content
5. Optimise your results