Email marketing is one of the most cost-effective ways to generate new business, develop customer loyalty or keep in touch with contacts. However, many people are not sure where to start when it comes to building an email marketing campaign. This article is a comprehensive guide on how to approach email marketing. It covers everything from setting goals for your campaign, crafting the right subject line, and writing an effective email.
Why email marketing?
Email marketing is one of the best ways to reach potential customers because it's inexpensive and can be personalized. Email is still one of the most popular marketing strategies in the world, and we may never know when its popularity will decrease.
The purpose of email marketing
Email marketing is an inexpensive and highly effective way to reach customers that have shown interest in your product. It is a great way to sell more products, increase brand awareness, and generate customer loyalty. And because it's so accessible, email marketing is one of the most popular digital marketing channels used by today's brands and marketers.
Email marketing types
There are 3 types of email marketing that you can do. The first one is transactional, which is all about customer service. The second type is relationship marketing, which focuses on nurturing relationships with your customers. The third type is promotional emails, which are the most common and sometimes the most successful.
Choose the best free email marketing tools
There are many email marketing tools you can use for free. However here I am going to list the 5 best tools to do email marketing for free. Yes of course it has some limitations, but you can create a professional email marketing campaign for free by using these tools.
How to create the perfect email campaign?
I've compiled a list of email marketing strategies that'll help you design the perfect campaign. One crucial aspect is timing. Everything in the email should be timed correctly and in accordance with what was promised in your subject line. Another important thing to do is test everything. You want to make sure that everything works on all devices before submitting any bulk emails to your subscribers.
Writing a compelling subject line
A good subject line will be concise and to the point and will give the recipient a concise snapshot of what they can expect from your email. A strong subject line should also make it easy for your recipient to identify with the message you are sending.
Email design (Subject Lines, From Line, Body Text)
Subject Lines: The subject line is the first thing a recipient sees in their inbox. It is how you catch their attention and convince them to open your email. You have a mere few seconds to capture their interest so you want to make sure your subject line is a concise, compelling message.
From Line: From email address, sender name, and sender title are all required for this field. Make sure you use the ones that show what your business is professionally – this will help give your email credibility.
Body Text: This should be where you share the details of the offer or sale you
Sending emails (Sending Frequency, Call to Actions, Frequency of Engagement)
Sending emails is an important part of an email marketing strategy. The frequency or how often you send emails will depend on the type of campaign that's being run. Typically, weekly emails are sent with a number of other emails in between. Call to actions are what prompts the recipient to take action, which understandably depends on the content of the message itself.
Content (Value Proposition vs. Pushy Sales Tone)
There's a lot of confusion about what an email marketing strategy is and how it can be used for business growth. Most people use the term in reference to a general "plan" or "idea," but it could also refer to a series of tactics that use email as the medium. The biggest question I get about email marketing is whether such campaigns should focus on quality content or sales language.
Building relationships with your audience
Relationships are the most important thing in business. The more you know about your customers the better your campaign is going to be. It is imperative that you stay on top of your email subscribers and learn as much as you can about them. You want to make sure that they understand how serious you take their privacy, the importance of their input and how they fit into your company's plan.
Creating an irresistible offer
The best way to create an irresistible offer is to speak directly to your customers' pain points. What are they looking for? How will this product solve their problems? If you're not sure, do some research and try to figure out what they're looking for. Then create an announcement email that addresses the email lead's needs and successfully promotes your new launch and products.
Images in email marketing
Images are really important in email marketing since 67% of people delete emails without reading them. The least you can do is take the time to create images that are relevant to your campaign.
Tracking & reporting
Tracking and reporting are one of the most important parts of email marketing. It helps you see your past campaigns so that you can improve them for future ones.
Ways to build email subscriber lists
There are two main ways to build an email subscriber list. The first is by offering something of value for free in exchange for an email address. For example, you can ask people to enter their email address in order to receive the "Top 10 Ways to Save Money" e-book. Once they type in their email address, they are added to your subscriber list and will receive periodic updates from you.
The second way is by asking visitors who are not currently customers to subscribe to your mailing list when they take a specific action on your website, such as filling out a form or signup for.
You can also use some free tools to generate random email id & subscriber lists. However, this is not a legit method, but if you don't have many audiences so you can use it initially. But before going to use this, make sure to validate all emails to check their existence. Because if emails ids will not be validated, in this case, your email spam score will increase and ultimately you will get banned from that platform, which you are using for email marketing.
Apart from that, you can also do email scraping to create an email and subscribers list by using some google commands and chrome extensions.
For this method, firstly you have to install the Email Extractor chrome extension and then use the given command below on Google SERP
Chrome extension tool to extract the email: Email Extractor
Command 1: intext:@gmail.com "keyword" city
[Replace the keyword, with your business category or keyword, and instead of Gmail, you can use any other email, like Hotmail, Yahoo, and so on by replacing the hotmail.com]
Hit the Enter and click on the installed email extractor extension, you will see the complete email list.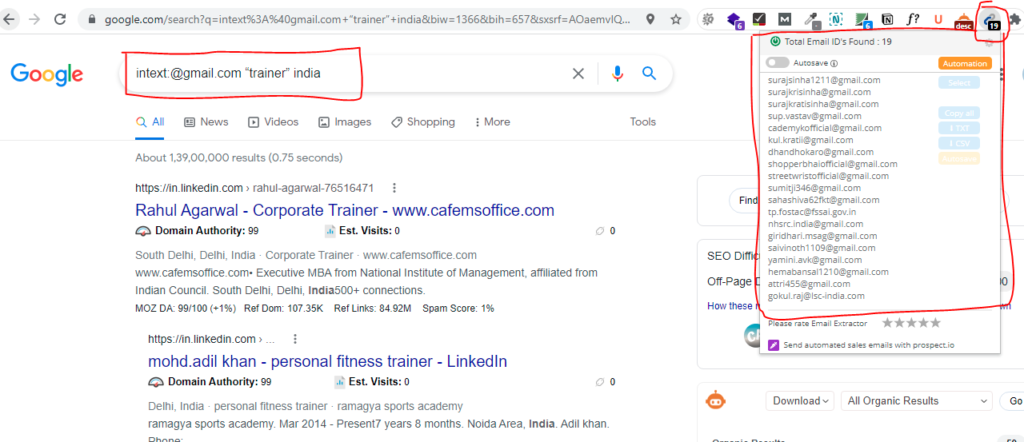 Command 2: site:facebook.com "keyword" "country" "@gmail.com"
In this command, you can use any third-party platform or social media platform to collect the emails. for example, if I want to extract emails from Facebook for trainer in India, so I will use like that –
site:facebook.com "trainer" "India" "@gmail.com"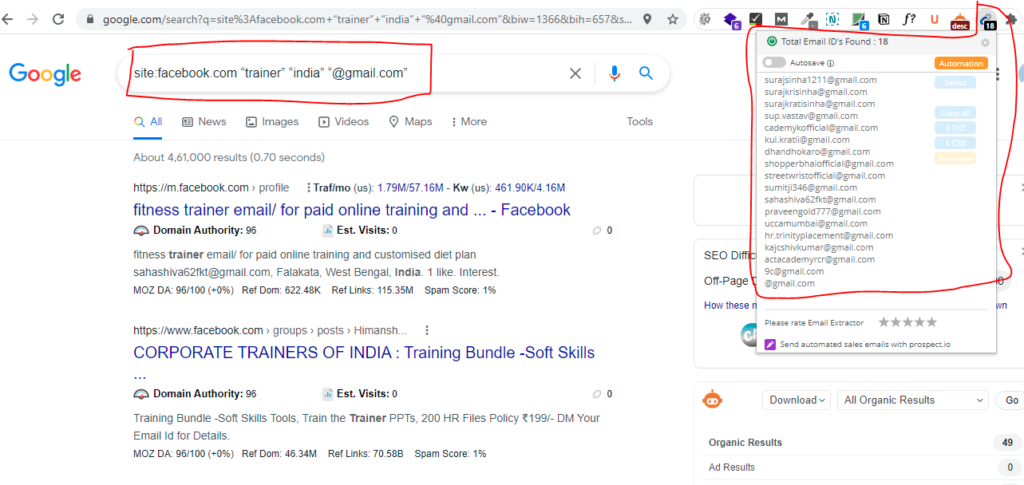 Optin pages (What is Optin Page, Create an Optin Page)
An optin page is a web page that you create and use to generate leads for your email marketing campaign. There are many different types of optin pages, all with different objectives and purposes.
Things, you should avoid in email marketing
As per the above points, you have completely understood that email marketing is one of the best marketing segments when it comes to generating leads and increase awareness. However, there are such things you should avoid strictly while doing email marketing.
Not Starting With The Receiver's Name
Using A Free Email Account
Using A Link Shortener
Not Using a Descriptive Subject Line
Not Going Straight To The Point

Conclusion
In this article, I have discussed the importance of email marketing and some of its best practices. To conclude, email marketing is an invaluable part of any business as long as you follow the tips discussed here.
FAQs
Which are the best and free email marketing tools?

• Mailchimp
• Mailerlite
• Convertkit
• Sender
• Sendinblue

What to do after getting a response through email?

• Immediately add that person for future promotion
• Track why that person call you
• Ask him if he/she is interested in future offers

What things do you need to avoid in email marketing?

• Not Starting With The Receiver's Name
• Using A Free Email Account
• Using A Link Shortener
• Not Using a Descriptive Subject Line
• Not Going Straight To The Point
• Always use the un-subscription form