Looking to start a textile business? The first thing you need to know is why you should either go for it or not. Here are some stats and facts that will help you make a better decision when starting a textile business.
Around 24 million metric tonnes of textile fibres were produced globally in 1975. That amount has nearly quadrupled by 2021, topping 113 million metric tonnes and by 2030 is anticipated to reach 149 million metric tonnes.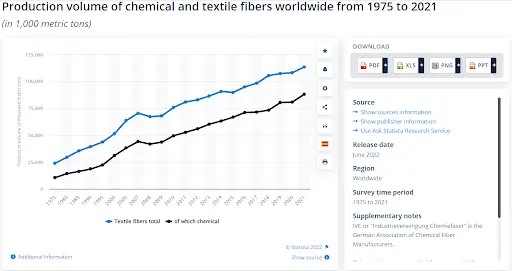 A total of 25.4 million metric tonnes of natural fibres, such as cotton or wool, were produced; the remaining 88.2 million metric tonnes were made up of chemical fibres. Chemical fibres include man-made cellulosic fibres like viscose or rayon as well as synthetic fibres like polyesters or polyamides.
The market for textile fibres is dominated by polyester.
In the middle of the 1990s, the output of chemical fibres overtook that of cotton, and in the subsequent 20 years, it has more than doubled. About 62% of the world's total fibre production in 2020 was made up of synthetic fibres.
52% of the market was accounted for by polyester alone, compared to 5 and 5.2% for polyamide and other synthetics, respectively. A few more synthetic fibres are polypropylene, elastane, and acrylic.
Although the need for more responsible resource usage is increasingly understood, the most recent projections indicate that fibre output will significantly rise over the next years. By 2030, there will be 156 million metric tonnes of fibre produced worldwide, up 43% over the amount produced in 2020. This corresponds to a production per person of about 17 kilogrammes in 2030 compared to a production per person of 14 kilogrammes a decade earlier.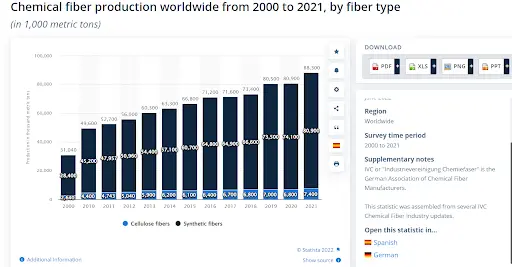 The chemical fibre business produced 88.3 million metric tonnes of product globally in 2021. Chemical fibres are produced using synthetic and organic ("natural") polymers. Chemical fibres are produced commercially for a variety of uses. For upholstery fabrics, for instance, polypropylene fibres are created. The bulk of textile fibres produced worldwide is chemical fibres.
The textile business has recently emerged as one of the most vibrant industries. We can only hope that it will gain strength in the years to come. It's time to act if you have been thinking to start a textile business.
Since textile companies provide materials to these related sectors, being in the textile business entails having tight ties to the fashion and design worlds.
There are four different sorts of textile businesses that you can establish before continuing with the procedure i.e, manufacturing, importing, exporting, wholesale distribution, and retail.
So, if you want to flourish in the textile sector, the first step is to decide what kind of material you want to sell. Make sure you are certain of your direction before moving forward with an idea.
Steps to start a textile business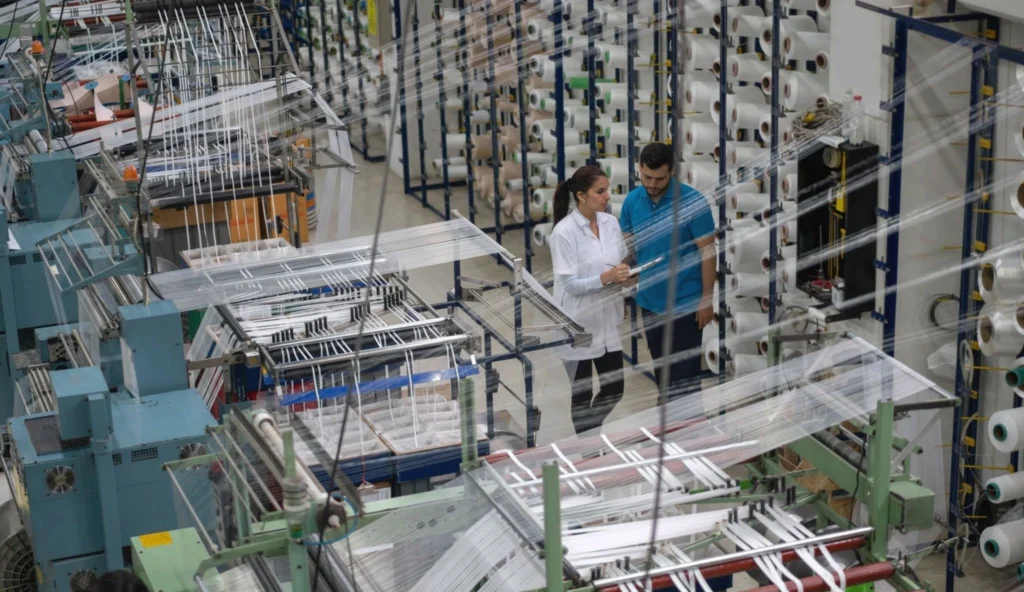 1. Research
This is a crucial action to do while launching any business. You should have an in-depth understanding of the sector before you enter it. For instance, if you want to work in the silk sector, you must be familiar with every aspect of it, from how it is obtained to how it is handled.
In order to understand the current scenario and the market for your textile business, you may also consult numerous sources and speak with industry professionals.
There is fierce rivalry since there is a steady need for textiles. Therefore, before jumping to start a textile business, you must investigate your rivals and ascertain what they are doing properly and wrong.
2. Industry Analysis
Once you are aware of all these aspects, compare them to determine which textile type is most popular in your region and where the raw ingredients are produced.
Additionally, you must be continuously informed about market changes and be able to predict when the market's tide will turn. In other words, you need to be aware of potential challenges both now and in the future.
If you intend to conduct business online, you will be up against some powerful market players with established brands and huge marketing budgets, such as Amazon.
3. Niche Selection
A common misconception about product sales is that "having more items will result in more consumers, and hence more money." For the majority of enterprises, notably the textile industry, this is not the case.
For instance, a stationery store may be a good choice for a firm with a wide range of goods. But it is usually advisable to focus on a single sort of cloth when it comes to textiles. You might, for instance, create a woollen company. Put your niche in mind.
When you concentrate on a single speciality, you can begin concentrating on a certain clientele and begin effortlessly reaching out to them and meeting their needs. Expanding your consumer base may be both time- and money-consuming.
By concentrating on a single speciality, you will be better able to comprehend the numerous facets of the goods you are offering, research the market, and target the appropriate demographic.
Do market research to find your speciality. Make a list of the goods that are in great demand and research the market for each one. You may determine the optimal market before you start a textile business by comparing the data you've collected.
4. Plan
It's time to create a business strategy now that you have a better understanding of the niche, competition and market. This will assist you in thoroughly comprehending your company and developing a plan for efficient functioning.
This strategy can also be used to get bank loans or investors. A business plan before you start a textile business, in other words, would serve as a roadmap for you as you developed your company. The following information should preferably be included in the business plan:
You must write out your own mission and your company's vision in a succinct summary before you start a textile business. This is your business strategy in its condensed form. You should be succinct in all of your explanations about your company.
➡️ Company Overview:
You should provide a detailed overview of your corporation, including the organization's leadership structure.
➡️ Market Analysis:
This part should include information about the market's size, your products, rivals, prices, and other factors based on your industry study. This part might serve as a summary of all the information you gathered throughout the stage involving industry research.
➡️ Analysis of the niche:
You should explain why the niche was chosen as well as its prospects.
➡️ Competitors:
List all of your rivals along with information on them, including business size, industry, weak points, and strong aspects.
➡️ Marketing Strategy:
This part has to include information on the kind of marketing you want to do as well as the budget for each channel you are thinking to have.
If you are planning to raise money to start a textile business, this part should include information on how much you are hoping to raise, what you are providing the investors in exchange, how you plan to use the money, etc.
5. Location
To keep and sell the textiles you will purchase from the producers, you need to rent or acquire a space. You would also need to rent or acquire land for a facility if you were thinking about getting into manufacturing.
A perfect location is crucial before you start a textile business. It puts you in contact with clients and vendors. Additionally, it lowers transportation expenses and guarantees convenience for your potential clients.
6. Capital & Funds
You'll need a sizable investment if you want to start a textile business. In addition to paying the site rent, you would also be responsible for the ongoing running expenses if you opened a textile manufacturing facility.
A textile machine, such as a fabric cutting machine for clothing cutting, a knitting machine for knitting yarn, a weaving machine for thread weaving, etc., would ideally be included in the initial cost. Retailers must either buy land or rent a space for their business.
To ensure a continuous sales cycle, you would also require money for inventory and stock upkeep. The majority of business entrepreneurs obtain the required funding through investors or loans. You do not need investors to start a textile business if you already have the necessary funds.
Having money is one thing, but utilising it correctly is even more crucial. Allocate the money to each activity or division in your company after dividing it into its component parts. Keep emergency money on hand.
7. Registering & Licensing
Since you now have a sound business strategy, take the appropriate steps to have the company registered. More specifically, choose a name for your textile company that is consistent with your brand.
To determine if it is in use or not, check online municipal and state directories. Register your company right now. Choose a business structure after that.
All of these business structures—a private limited, limited liability corporation, a trust, a sole proprietorship, or a partnership—are workable. The legal landscape could change as your company grows. So clear everything carefully before you start a textile business.
8. Get Suppliers
Now that you have the necessary cash, a license, and a business registration, you can begin assembling a list of raw material manufacturers (if you want to establish a manufacturing facility) or speaking with end-product producers if you intend to start a textile business i.e, launch a wholesale or retail operation.
Make a note of the initial stock cost that each manufacturer is charging. See who is responsible for paying the transportation expenses in the section there. You may pick the best providers for your company using all of this information.
Also, as soon as you've chosen the kind of cloth you want to carry, you should start corresponding with manufacturers and suppliers. When buying a large selection of high-quality materials, you must exercise prudence. If you'd want, you may also look into some speciality fabric shops or nearby weavers and hand-dyers of textiles. These textiles will enhance the value of your standard products.
9. Labor & Machinery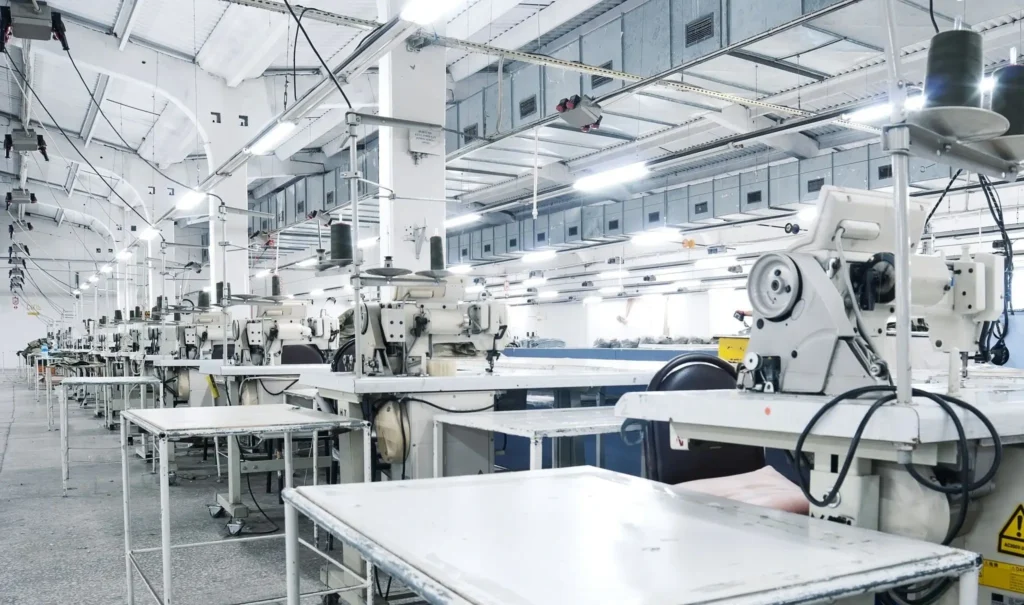 ➡️ Labor
The company's investment is crucial, but so is the assignment of qualified, semi-skilled, and unskilled labour that is required; the more workers there are, the higher the likelihood that the product will be of a high calibre.
Global market demand for the good would therefore increase, enabling you to earn a decent profit. So, think of good package and security that will attract workers and employees, before you start a textile business.
➡️ Machinery
Each sort of product, including fabrics, will have specialized equipment. For instance, trustworthy machinery providers must import the equipment required to make home textile curtains.
The capabilities of several devices, like sewing, lock embroidery, ripping, and bar-tacking machines, can be combined. Bobbins, different kinds of thread, and other accoutrements would also need to be bought.
10. Logistics
Both your manufacturing company and your import-export company will require their own logistical setup. Additionally, logistics for supplying the merchandise to the retailers may need to be handled as part of wholesale operations.
As a result, bear in mind to locate your production close to both the source and the target market, before you start a textile business. Your logistical costs will be decreased as a result.
11. Transportation
The cost of moving fabrics or textiles from the producer to your store would be included in the transportation cost. If you want to start production and start a textile business, you may save this cost by locating the plant close to your target customers.
12. Advertising & Marketing
You must inform individuals about the new business you are starting or want to start. Get the word out to as many potential purchasers as you can. If more people are aware of your business before it even opens, you can anticipate a successful launch and start a textile business. 
Online marketing and social media marketing are two of the most effective methods available today when you want to start a textile business. By employing these technologies, you may successfully connect with a big number of potential customers. You may start in this direction by opening a Twitter account or a Facebook page.
13. Organizing the Business
The installation of various machinery and the hiring of personnel to run the machines are crucial steps in the establishment of a manufacturing enterprise to start a textile business.
You will require a variety of equipment, from printing to packing, as well as staff to operate and manage the equipment. In order to determine which equipment is best for your needs, you might also speak with an expert. Make sure to install the devices carefully and give each one the appropriate room.
Make sure to pick a location to start a textile business that will draw customers. Make sure your store is spacious enough for customers to roam around and discover a variety of things. Use appropriate lighting to make your shop more inviting; this will help the fabric's colours and quality stand out.
Conclusion
Don't start a textile business without the necessary experience. A fascinating way to keep up with fashion and design is to work in the textile industry. Textiles will always be in demand as long as there are humans, but there is also tremendous competition in the market. You will start a textile business off to a successful launch by doing a comprehensive industry analysis and collecting relevant knowledge.
---