Are you confused about where to start your content creation journey: blog vs vlog?
Both blogging and vlogging exist to fulfill the same objectives: to deliver information that users will find educational, entertaining, or fulfilling in some way. However, vlogging is video content while blogging is the textual form of content.
What is a vlog?
A vlog is a shortened version of a video blog, meaning that the information is presented as a video. A vlog serves the same motive as a blog, except that the vlogger makes videos about the subject to express his or her opinions.
The vlogger must routinely publish fresh videos and keep the audience informed. The videos may cover a range of subjects, including daily living, social issues, business, tips and tricks, and more.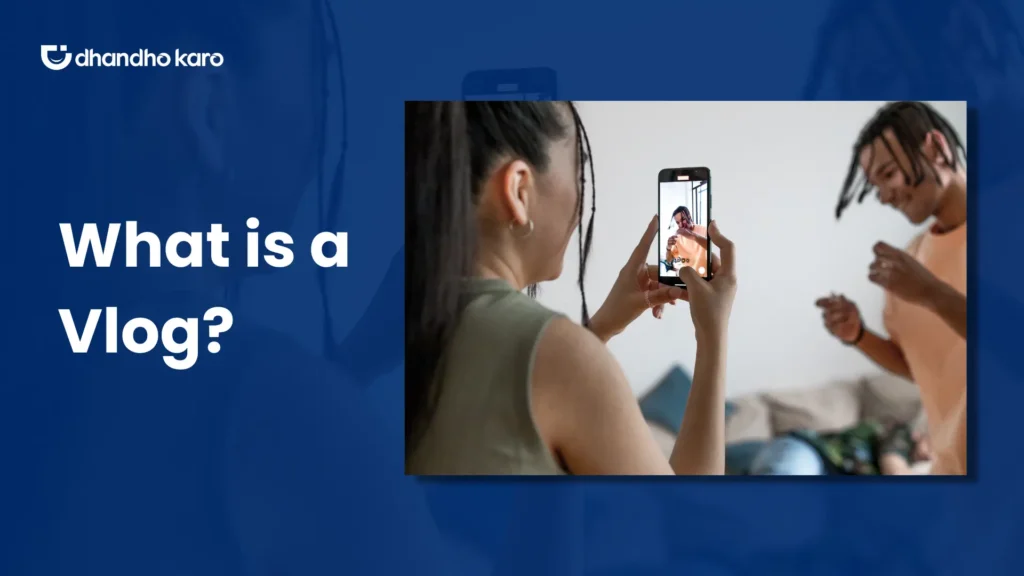 Prerequisite to start a vlog
Starting a vlog can be more difficult than starting a blog. More money and resources are needed. A professional camera is the first thing you require, and we all know how costly these cameras are. You need a smartphone with superior camera specs if you want to start a vlog using your phone.
A microphone is required next to the camera. The microphone should be appropriate for the style of your vlog and your voice should be clear. For instance, you require a portable microphone if you are a travel vlogger. However, you can use a table microphone if you record vlogs at home.
Vloggers who produce raw footage at home require a suitable studio. They must consider elements like background noise, illumination, and backdrop contrast. Everything ought to be in order.
A camera tripod or swivel is also required. Your needs and the kind of vlogging you do will determine everything. These are merely the prerequisites for starting a vlog. According to your level of experience with video editing, it is preferable to use a commercial video editor because free ones are inadequate and leave a watermark.
Pros and cons of vlogs
| Pros of vlogs | Cons of vlogs |
| --- | --- |
| Vlogging can be a lot of fun for you if you don't mind being in front of the camera. In fact, it can even become a part of the day that you eagerly anticipate. Additionally, you have the opportunity to expand your network and meet new people while vlogging. Working with them might also aid in the expansion of your YouTube channel. | Vlogging takes a lot of time. The script needs to be worked on, the video needs to be shot, edited, posted on social media platforms, promoted, interact with your audience, and much more. All of this can consume a lot of your time, and occasionally you can even discover that you spend longer than expected on each vlog. |
| Naturally, video content is more engaging than text-based content. YouTube is the second-most-visited website worldwide, according to statistics. Therefore, vlogging is your greatest option if you want to appeal to more visually and aural-based people. | The fact that it could take you some time to find your voice when vlogging is one of the drawbacks. It might be challenging to decide how to present yourself and what to say when you first start vlogging. You must establish your brand voice and stick to it consistently. |
| Due to how captivating video content, it's simple for viewers to become enamored with particular vloggers' channels. Additionally, participation in the material is simple, and real-time feedback is available. As a result, vloggers can quickly develop a devoted following that is eager to listen to what they have to say. | It's possible that occasionally someone will act rudely and illogically. And you must concede this, learn to deal with negative criticism, and proceed. Know your worth, learn how to handle offensive remarks, and keep vlogging! |
| Vlogging can be done in a wide range of methods and using a wide range of formats. You can create videos that are instructional in nature, Q&A sessions, unboxings, walkthroughs, etc. Vlogging may be really tailored to fit your brand, and you can easily modify the format to keep it interesting. | – |
| People might easily become engrossed in certain vloggers' channels since video content is so addictive, unlike blogs in blog vs vlog. Additionally, it is simple to participate in the material and receive real-time responses from the audience. This makes it simple for vloggers to develop a devoted following that is eager to listen to what they have to say. | – |
What is a blog?
A blog is a sort of website where individuals or groups of individuals can express their ideas, educate their viewers, and engage with them. A blog, as opposed to other websites, is updated often. Posts appear at regular intervals. Per day, week, or month, there may be one or more posts similar to a vlog, in blog vs vlog.
The core format of a blog is written content. To make the information more understandable, it also includes links, GIFs, infographics, videos, PDFs, audio, and photos.
A blogger is someone who publishes blogs, and they should all possess excellent writing abilities. Since words and text make up the majority of a blog's message, they are quite important.
Prerequisite to start a blog
You need a professional blogging website with a relevant domain name if you want to blog. To set it up, you must purchase a hosting plan. These are the two key components. After purchasing a domain and a hosting plan, you are ready to launch.
Domain Name: A domain is the name of the web address, like www.google.com, that is used to visit websites. You must pay for the entire year, which can cost as little as a few dollars or as much as thousands of dollars depending on the name. A straightforward domain can usually be purchased for under $15 per year.
A hosting plan provides you with storage space for your website's files. This is exactly like a purchased hard drive. So that your audience can visit the website whenever they want, you purchase a dedicated area for it. Depending on your website, it could be 5GB, 10GB, or anything else.
You can start utilizing a name and hosting plan for free instead of having to pay for them. But for a better experience, choosing a premium package is advised. In addition, you can run a free blog on platforms like Medium, Blogger, and other medium alternatives.
You can use these resources and buy from respective platforms to start a blog from scratch:
Pros and cons of blogs
| Pros of blogs | Cons of blogs |
| --- | --- |
| You may develop a website and share your articles, posts, and other content by including other perspectives, reviews, travel images, etc. As a blogger, you can create your own communities, which are closely tied to your interests, etc. | Building a dedicated base readership for a blog takes time, which is one of the major hurdles. Growing a blog post requires time and effort. When it comes to producing and posting content, you must be persistent and patient. |
| Bloggers don't need to spend a lot on blogging equipment. Although a laptop or PC is necessary, you don't have to spend a lot of money on one. Articles/blogs can be written at any time and from any location. Additionally, you might pay a freelancer to create an article on your idea if you feel unable to write a quality piece. | Of course, blogging requires enthusiasm! But it's insufficient. To develop and flourish as a blogger, you need passion as well as a clear vision and plan. |
| A platform for blogging has already been developed, and it doesn't require any specialized understanding of web development. | Well, there are times when writing is difficult for you or you experience a creative block. And at that point, it might be challenging to provide facts in a polite and engaging manner. |
| Content Creation is Simple in blogging unlike vlogging in blog vs vlog. Seeking content that is simple to produce? The one is blogging. There is no requirement to record, edit, and post a video. All you have to do to publish an article online is type it up on a blogging site. | – |
| Blogging is terrific for SEO. Blogging is the preferable choice if you want to increase the visibility of your brand online. According to research, one of the best methods to boost your SEO, which is essential for expanding your audience and being found online, is through blogging. | – |
| Effective Written Appeal is possible through a blog. Want to reach more readers that appreciate excellent writing and seek reference material? Your best option is blogging. | – |
| Blogging is a more successful strategy if you want to expand your email list. If people are reading your content online, they are more inclined to subscribe to your list. | – |
| Blogs have been around for a very long time. They are considerably more resilient than videos. This implies that blogging will continue to be relevant and helpful even as vlogging gains popularity. | – |
| A compelling kind of content, blogging may help businesses develop a devoted following and keep readers interested. By offering readers practical, actionable advice, blogging can assist businesses in gaining the trust of their audience | – |
How to choose what you need: blog vs vlog?
You must first consider why you are making a vlog or blog. You can choose a blog if you wish to share in-depth details, research, results, and other things that require in-depth explanations and visuals. You can add pictures, infographics, statistics, videos, and other reading-supporting media.
You can choose a vlog if you want to share your trip experiences, everyday routine, recommendations, collection, or anything else that is succinct and to the point. Interacting with your audience is simple.
You must determine the location of your intended audience. You should start blogging if you believe that most people look for your services, goods, or items on Google and other search engines compare to YouTube or video-based platforms.
Vlogging is preferable if the content is more likely to be found in video form.
For instance, how-to content is searched on YouTube and other comparable platforms because videos are more likely to be watched than text. In this situation, vlogging is the best option.
Your knowledge is really important. Your writing should be excellent for blogging. Although you can employ freelancers, nothing beats doing your own writing.
However, vlogging takes a lot of self and an interesting speaking style. Blogging is a great option if you are shy and don't want to be in front of the camera.
Simply put, you should choose a blog if your purpose requires language and text is the greatest medium for expressing it. If videos would be more suitable, the choice of vlogging is for you.
Conclusion
Before diving further into blogging or vlogging, it is important to take into account your individual preferences for content development.
Vlogging attracts a larger audience and can increase your popularity with your audience, although blogging is typically simpler and less expensive to start.
Both industries of a blog vs vlog are highly competitive in terms of monetization, and the top 5% of bloggers and vloggers typically make enough money to scrape out a decent living.
Although vloggers can earn more money after their videos go viral, in general, bloggers with a great understanding of SEO and content marketing have a better chance of generating a good income.