Are you still stuck in the long-lost era of handing over traditional paper business cards to potential investors and clients? Yes, it's time for an update, and what is better than also saving a ton of money alongside?
Traditional business cards have many limitations namely – cost and time-consuming, difficult to carry, difficulty to keep them updated, can't track their status, and so on.
Digital business cards are your solution for all! They are easy to update, cost and time effective, and help keep track of your sales team. What else can you ask for?
In this Blog, we will discuss the benefits of digital business cards, what to look for while choosing card apps, and a well-researched, personally curated list of apps that will help you choose the right one as per your business needs.
Digital Business Cards – Worth the Hype?
Convenient
Carrying and storing piles and piles of traditional paper business cards and still no luck with potential clients? That's probably because your business cards are either already in the waste bin or your clients have lost them along the way.
Digital cards are much more convenient, you only need to have a digital device within reach and you're all set! It's easy for your recipients too to save your cards on their devices until they're finally ready to use them.
Affordable
Traditional business cards are generously spent on by sales representatives throughout the year, most ending up in the trash if not all. Digital business cards do not require any material, thus cutting out costs.
You can also only use FREE apps if not a digital designer to create professional-looking business cards for your brand. This almost makes creating business cards free of cost, plus also nills the editing and updating costs that are required for traditional paper business cards.
Customer's Preferability
Spending a ton of money on traditional business cards for that perfect design, glossy finish, rich colors, and double-sided prints, only for your recipients to never locate them when needed. 88% of paper business cards are already out of sight and out of the mind of your recipients in less than a week of receiving them!
Yes, that's right!
On the other hand, customers love having all important contact details in just one place, easy to find, and never having to worry about storing them in physical spaces.
Easy Accessibility
Another impressive benefit of digital business cards is that you can easily have your contact information sent to potential investors and clients via E-mails, phone numbers, and social media platforms like LinkedIn.
This way, you do not have to physically meet the client to discuss business like in the traditional times, thus being cost and time effective. Your clients and investors can contact you directly if they are interested in your business idea and can move ahead from there.
Easy Tracking
Ever found yourself wondering about what happens to your paper business cards? Have your clients forgotten about them or are they misplaced? Tossed in the bin or hidden in the drawers with numerous similar to them? Are un-updated cards being contacted, thus leaving an unprofessional impression on your prospects?
With digital business cards, it is super easy to track if they have been viewed. You can also follow up with your prospects right after, to increase the potential of your deal.
Update Anytime, Anywhere
Paper business cards need to be updated with the latest contact details regularly and then resend to your existing and potential clients. Not only is this expensive to do, but also creates a huge time lag in your business due to budget issues.
However, you can easily update your digital business card by logging in to your digital business card app and editing your information. Your cards will automatically be updated for all of your recipients so they never miss out.
Contactless
Post-covid, many companies have opted for WFH or hybrid, meaning most prospects will not be available even if you go to meet them at workplaces. Not to forget, meeting officially only to approach clients without a confirmed deal is a waste of your time and money.
Digital business cards eliminate this problem as you can send them to anyone using their E-mail, contact numbers, and social media platforms.
Eco-Friendly
Over 7 million trees are cut down annually to only fulfill the requirement of paper business cards. This is surely an alarm to switch to paperless and sustainable digital business cards and save your share of the environment.
Because of the benefits listed above and many more, companies are actively looking for cost-effective business card apps to customize their digital business cards. But where should you start?
What Should You Add to Your Digital Business Cards?
Your full name
A professional headshot of your best angle
Contact information – E-mail, phone number, address, social media platforms, blog, etc
Brand logo and brand colors are a must!
Key Components of Choosing a Digital Business Card App
Easy User Interface
If you do not want to spend hours understanding the system and working of the app, you should always look for apps with an easy interface. A good option to understand the working of any app is to opt for FREE TRIAL before paying for the app impulsively. This will help you understand if the app fulfills the needs of your brand and will save a ton of money if the FREE TRIAL does not suffice your needs.
Customization
Customization is a crucial step in making a perfectly relevant digital business card for your business. The app of your choice should have options to add your logo, contact details, links to your website, and also options to change colors according to your brand requirements.
Ready-made templates are even better! They are much easier to add images and text to your digital business cards, saving time wasted trying to find the perfect sizes and fonts.
Tracking
Digital business card apps should be able to track relevant data by tracking who has saved and shared your cards. This gives scope to improve or eliminate undesirable details in your card.
Messages
Adding personalized messages with your digital business cards to your prospects can make you stand out from the rest of the clients. Look for an app that lets you add texts to provide context to your clients so they don't forget you all that easily!
Notifications
Notifications popping up every time your card is viewed by your clients can help you send personalized messages, follow up on old discussions, and create follow-up strategies is a great way to ensure that you do not miss out on important clients with the hustle-bustle of business and they don't miss out on you either!
Security
Your app should have password security, two-factor authentication, location access, and different ways to verify user identity. All your personal information should be protected in cases of information theft.
Affordability
Many digital business card apps are free and require PAID upgrades only for highly specialized updates. Small and medium-scale business owners can easily opt for the FREE version and enjoy the benefits of owning a highly customized digital business card.
Sharability
Your digital business card can reach places only if the app supports easy sharing via emails, contact numbers, and social media platforms. You can also set expiration dates on your links, keeping them protected and safe.
10 Best Digital Business Card Apps for 2023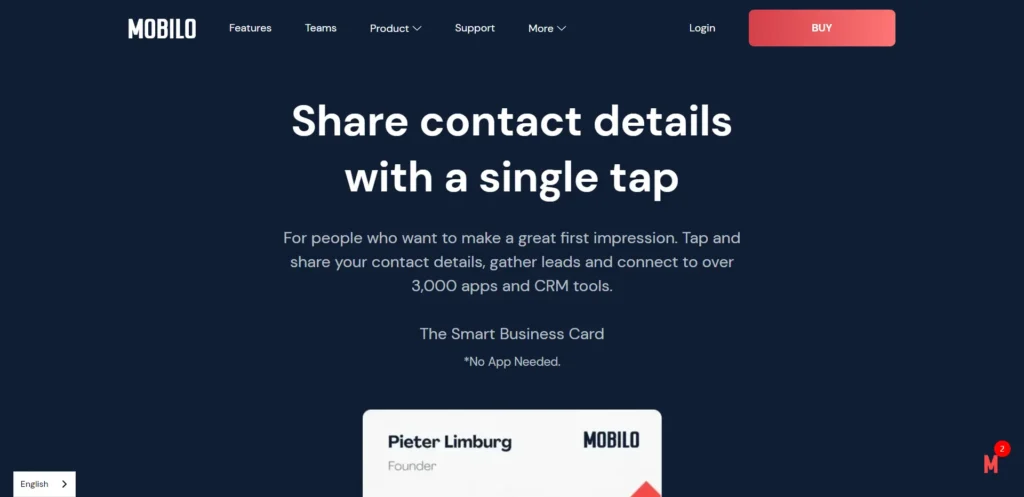 This is painlessly beneficial for large-scale businesses with several employees under their roof. It supports an NFC chip which means you can tap your card on your recipient phone to easily share your card details with them. If their mobile phones do not support this feature, you can also share the details via QR code.
They provide physical cards as well, made of wood and stainless steel for high-end brands of expensive taste.
They offer a TEAMS platform that allows HR and CRM integration which means it automatically adds or removes employees who enter and leave your firm.
PROS
Lead tracking board allows you to keep an eye on your employee's progress.
Allows all social links to scale your business.
Has smooth customer care to help you set up the application and design your digital business card.
CONS
Their landing page is quite minimalist and monotonous, thus driving away people toward more attractive applications.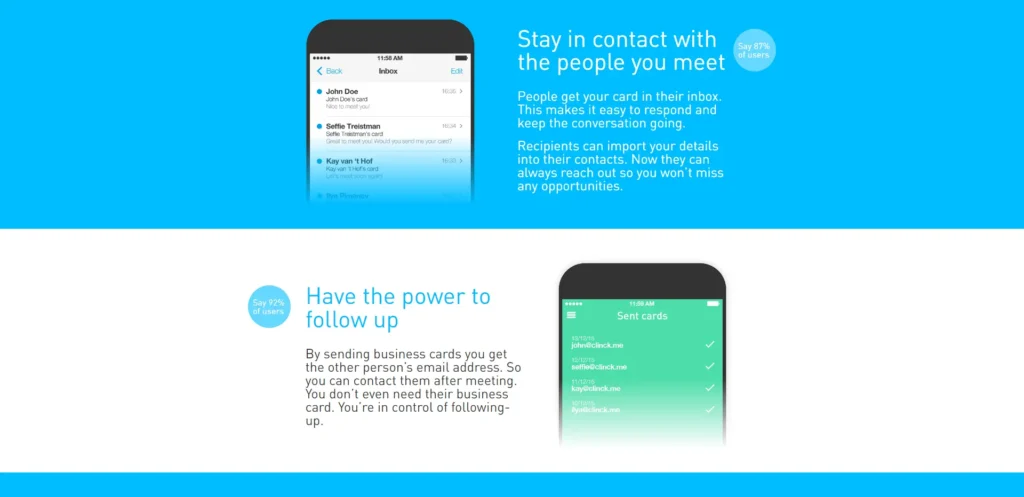 If you are a small business owner only looking to create an attractive e-card for your business, this is the right platform for you!
PROS
Create beautiful designs with an easy user interface.
You can add your brand logo, name, address, and social media platforms to your card.
Your prospects get your digital business card in their inbox, making it easy for the conversation to flow.
The recipient can import your contact details and save them.
CONS
It does not include any exclusive features like tracking, messages, or notifications.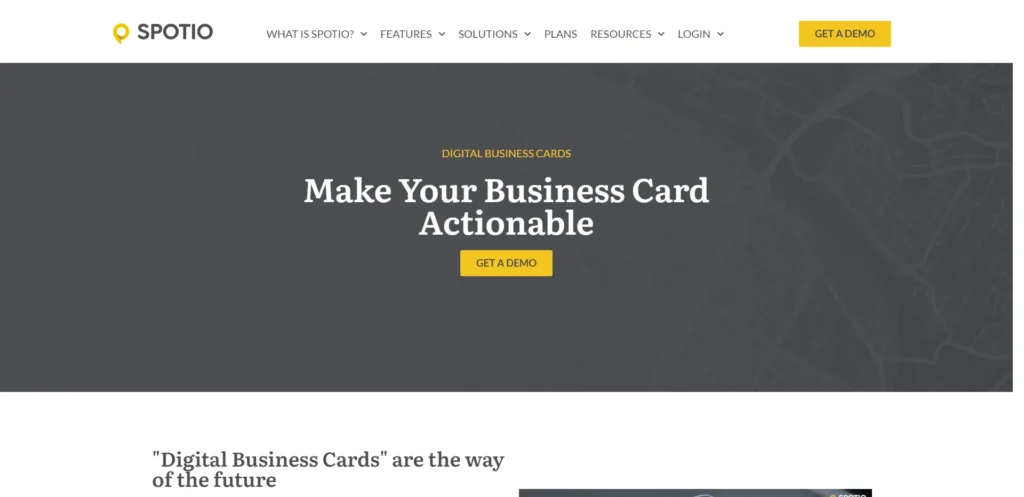 This app is specifically designed for sales representatives, making it effortless to track data like who you've sent your cards to and how many people have viewed it so far.
It serves various features namely custom messages, route planning software, task automation, notifications, personalization, contacts, and more. One feature that stands out from the rest is its CRM software, which helps you automatically transfer your card data to the CRM of your choice.
PROS
It supports CRM software
Allows multi-channel communication
GPS tracking
CONS
Has several features ideally not required for small and medium-scale businesses, making it overwhelming to operate.
Pricing plans are not readily available.
One of the most eye-catchy business cards in the market! It offers various material types namely black and silver metal, PVC, bamboo, and more. Black and silver tones are very pleasing to the eyes, attracting the crowd's attention easily. If you are going for quality products, V1CE is something you'll love.
No application or subscription is required to design your digital business card through V1CE and it allows you to share your business cards across all platforms without any restrictions.
PROS
It offers a 30-day money-back guarantee to all its users.
Various materials to choose from
Available worldwide
They assist in designing your cards through their in-house designers, taking the load off your back.
CONS
They are much more pricey than their competitors in the market.
The pricing starts from $50 and goes up to $200, something small and medium-scale business owners would not opt for.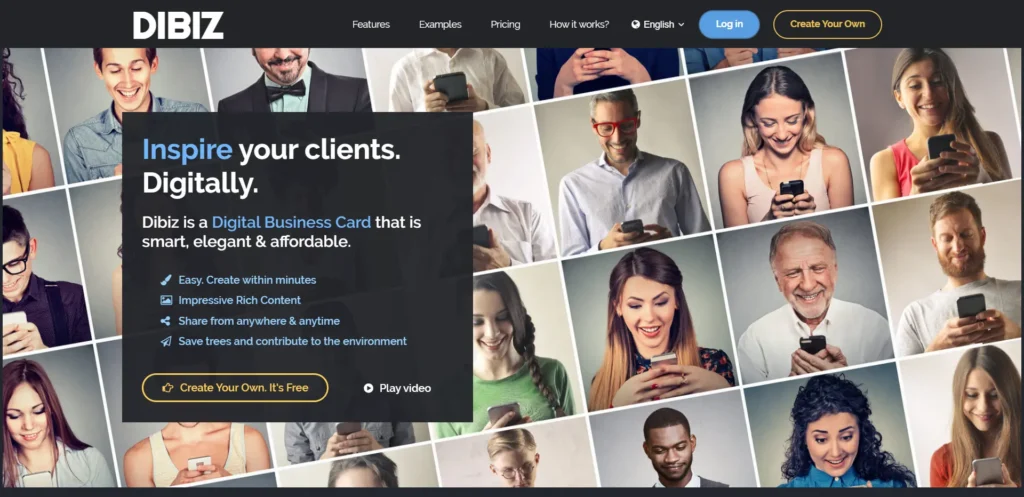 This app is perfect for small business owners or anyone who is looking to create a digital business card with simple steps and use it for basic needs such as sharing your card with fellow prospects and tracking the number of visitors on your card.
PROS
Ready-to-use templates are available for use.
Can track the number of visitors who tried to contact you through your card.
CONS
Limited to nill API and integrations offered.
Their security feature is extremely basic and might not prove to be safe in the long run.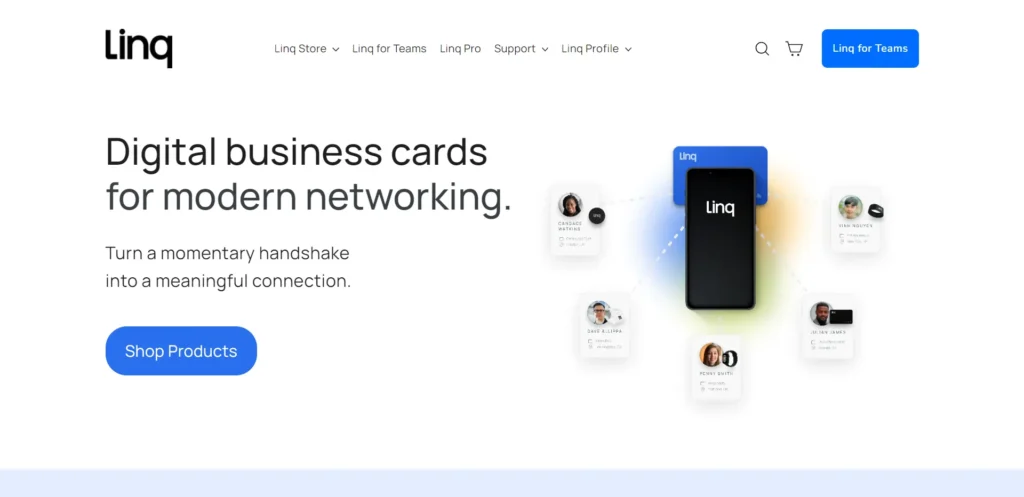 Linq offers various range of products from business cards to apple watch bands, all using NFC technology. One impressive feature of Linq is that it allows you to manage your team of employees, irrespective of their number. Thus, it is highly suitable for both small as well as large-scale businesses that are looking for organizational tools for their teams.
It allows you to create landing pages for your website, allowing you to add custom links, photos, and contact details. Digital business cards are highly customizable, letting you add your brand logo and colors without any fuss.
PROS
This is without fail one of the best software for large-scale businesses. You can customize your template, allowing your employees to custom-add their social platforms like Linkedin. You can have your team leaders be the admins, making it easy for them to handle their teams. You can also add or delete the cards of new or old employees.
CONS
It can be overwhelming for small-scale businesses as there are plenty of features available that, to be honest, they won't require anytime soon.
IOS users might take a little longer to understand the system, however, we believe that it's manageable.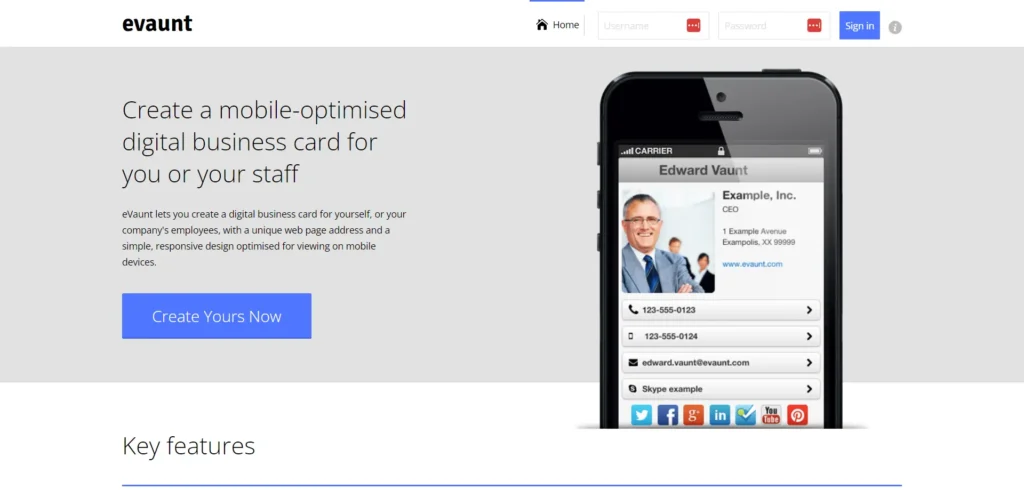 EVaunt is yet another digital business card app with simplistic features like call and email buttons and embedded maps for you to create unlimited business cards for you and your employees.
PROS
You can create unlimited digital business cards for FREE.
CONS
It has limited security features to encrypt personal data.
Their landing page gives finite information which may not be enough to understand how the app works.
There are no high-end features, only simple card designs to get you started.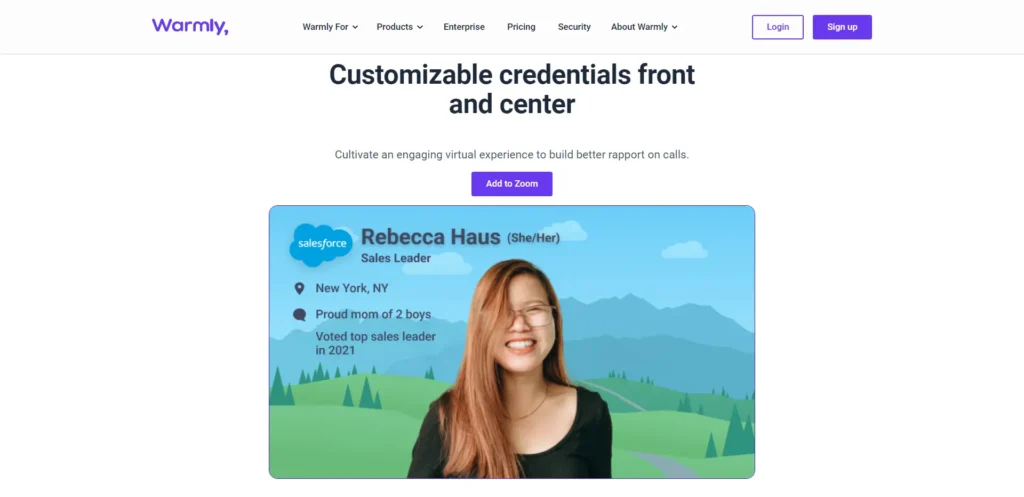 This is a unique application that helps you set up your background during online business meetings to the background of your digital business card.
With the growing WFH and hybrid era in corporate, there are numerous times when you have to attend work meetings from home, which let's be honest, is not always pleasing to look at. The worst-case scenario is your family members walking around in the background, making you look unprofessional to your prospects and clients.
Warmly easily lets you design your business cards and add them to popular apps like zoom and Google meet.
PROS
Their landing page is quite attractive, showing you the 'BEFORE' and 'AFTER' pictures of customers using their app.
Their four-tired pricing plan also includes a FREE plan in which you can try to understand the working of the app.
CONS
This app is known to replicate the look and feel of traditional business cards, perfect for people who like to keep it minimal and authentic.
With SnapDat you can send your digital business cards suitable for the moment, using 40 different customizable designs. You can also track the people you met using its incredible 'GeoStamp' mapping feature.
PROS
You can include personalized messages or write notes for yourself to refer to later.
When someone sends you their digital business card, you can use the 'SnapBack' feature to instantly follow up by sending your card to them.
CONS
Their security integrations are less reliable.
The design interface of the app is outdated.
Only available for iPhone users.
This app claims that you can design your digital business card in just 2 minutes! How crazy is that? DCard is a FREE application that allows you to create professional cards that can be updated easily with a user-friendly dashboard and editing options.
PROS
The application has a FREE version available and a TRIAL is available for all PAID versions of the plan.
You can upload photos and links along with your contact information on your card.
Suits mobile versions of the card too.
You can add your products and services, testimonials, and portfolio as well.
CONS
Their plans don't specify how many cards can be designed using one account, which supposedly means only one card design might be available, even with the PAID plans.
Security provision is not discussed in their marketing copy.
There are no bulk creation or API integration features, thus making it time-consuming.
FAQs Related to Digital Business Card Apps
Traditional Paper Business Cards To Digital Business Cards – Is this a growing shift in corporate?

Yes, the use of digital business cards will only grow from here on. Post-covid, companies have a set mindset to cut costs, use high-tech features, and believe in time efficiency. Digital Business Cards check all the boxes and more.

What are the benefits of using digital business cards?

There are several benefits of using digital business cards, such as –

Eco-friendly – Paper business cards require materials like paper and plastic, two materials that harm the environment. 
Saves money and time – Digital business cards need not be re-printed for minor updates or experience time lag. 
No space restrictions – Digital business cards allow you to add information, social buttons, contact details, and much more.
Final Thoughts
Digital business cards allow you to operate your businesses hassle-free and help organize your team members efficiently. It helps you track potential clients easily, talk to them by sending personalized messages and cut out costs like printing, editing, sending out cards to existing and new prospects, etc.
This service is affordable, convenient, faster, and time-effective. Don't wait any longer, let's create your own digital card now using any of the digital business card apps listed above.