The Indian personal care industry has a total market size of US$12 billion (as per 2023 reports), with increased opportunities due to the emergence of e-commerce platforms and D2C models. Previously, the Indian beauty sphere consisted of a few global giants like Maybelline, Revlon, Lakme, and Mac, to name a few.
Now the scenario has turned gradually, with local brands coming to the forefront and dominating the market with innovation and tactics. Sugar Cosmetics is a great example of a homegrown brand that has scaled from almost nothing to a Rs 300 crore business.
Humble beginnings
The history of Sugar Cosmetics starts in 2012, with Vineeta Singh and Kaushik Mukherjee founding a new company from scratch. They were classmates at IIM Ahmedabad. Their main goal was to provide cosmetics to the masses at an affordable price with no compromise in quality.
So they quit their jobs, gathered some capital, and finally started selling cosmetics at a few local boutiques, from which they got a great response through word-of-mouth publicity.
Sugar Cosmetics went from a modest operation to a functioning company in less than a year. Now that their goods were being sold in shops across the nation, Vineeta Singh and Kaushik Mukherjee even had famous people as fans who loved their products and endorsed them to the masses.
Meet the fantastic founders!
Vineeta Singh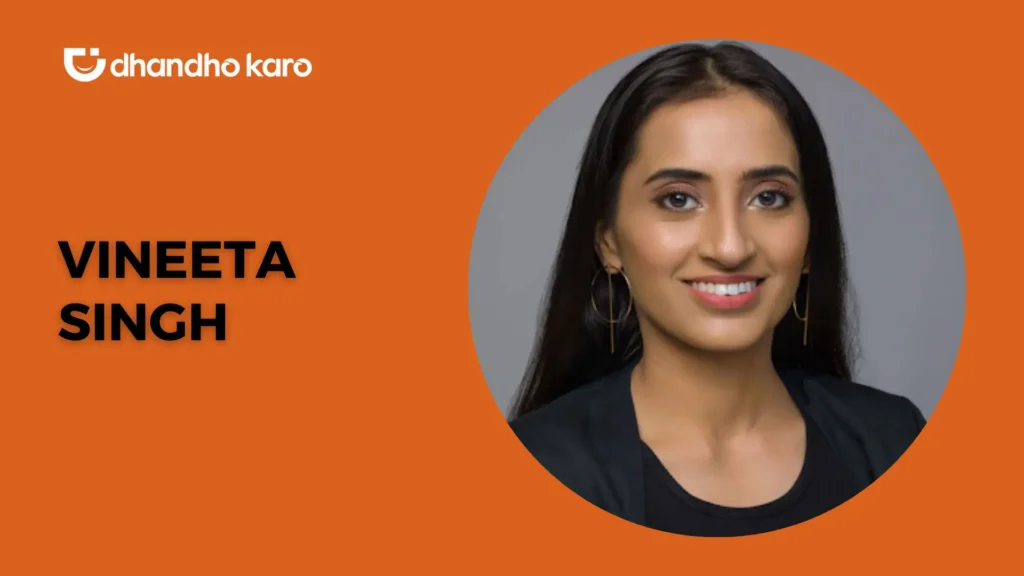 Vineeta Singh is an entrepreneur and the CEO and cofounder of Sugar Cosmetics. She was born in 1983 in Anand, near Ahmedabad, to a medical practitioner mother and a biophysicist father.
As a young girl, she wanted to be a doctor and study at AIIMS, a highly reputed-medical college in India. Soon after her birth, they shifted to Delhi, where Vineeta did her schooling at the famous Delhi Public School, RK Puram.
During her school days, she was very much an all-rounder with a passion for badminton and running, always managing to be in the top 1% of scorers in her school.
Later, for her undergraduate studies, she went to IIT Madras to pursue a BTech In electrical engineering and further did an MBA from IIM Ahmedabad, which was the opposite of her childhood dream of being a doctor.
After her studies, she got a job offer of Rs 1 crore, which she rejected to start her heroic entrepreneurial journey, and the rest is history.
Then she came into the limelight when she got featured as a shark in the reprised Indian version of Shark Tank. People loved her for her clarity and analytical skills. She is also an active feminist and promotes female-owned businesses.
Kaushik Mukherjee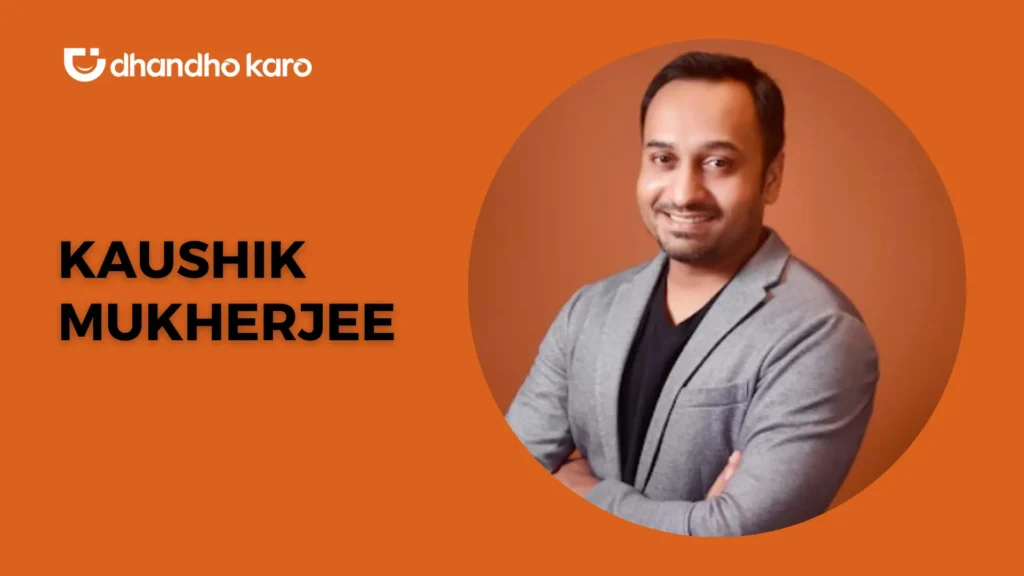 Kaushik was born on June 17, 1983, in a middle-class Bengali family in Kolkata, and attended Don Bosco School.
Later, he studied Electrical Engineering at Birla Institute of Technology and Sciences (BITS) Pilani before pursuing his MBA at the Indian Institute of Management (IIM) Ahmedabad, where he was named Best All-Rounder of his batch.
This is where he met Vineeta Singh, with whom he later collaborated to launch Sugar. They finally tied the knot in 2011.
He participated in sports such as swimming and football while studying for his MBA. He also sang, drummed, and played the sitar in the university's music club. He was also a member of the IIMA's Finance Club.
Mission and vision
Sugar Cosmetics' mission statement says, "We believe in every interpretation of beauty. Bold to subdued, quirky to crazy, every day to glam goddess!
We aim to celebrate every aspect of you, no matter what your style is. So, go ahead and pick your faves." says the official site of Sugar Cosmetics.
Sugar Cosmetics strives to achieve high-quality standards at affordable prices for the masses. They have established a great D2C business model with great capture in the retail segments of the beauty industry.
Sugar's business model
Sugar operates on a direct-to-consumer (D2C) business model. The business employs an omnichannel strategy to market its goods, which entails selling them on various E-Commerce sites like Nykaa, Amazon, Flipkart, Myntra, etc. Its sales in India and abroad form a big part of its revenue share.
A hybrid online-offline business model is used by Sugar Cosmetics, which has more than 10,000 sales outlets spread across more than 130 locations in 28 states.
After the pandemic, the company has been focusing on developing business strategies that can strengthen the client-brand relationship even further. Their revised business model includes cost-cutting, social media marketing, team restructuring, and e-commerce dominance.
Magnetic marketing: Sugar's best-kept secrets
Sugar Cosmetic believes in the optimal use of marketing and also dedicates a large chunk of its annual budget to this facet of the business. Without that, they wouldn't have experienced the massive success they already have!
Here, we are going to discuss the marketing strategies they put into action, which led them to boost their customer base and skyrocket their sales.
1. Affordable range
It provides consumers with comparable effective prices as compared to the beauty giants Lakme and Maybelline. As the products were priced with the middle-class population in mind, the company heavily endorses make-up products at affordable prices.
2. Astounding packaging
Even though the company's products are reasonably priced, there are no efforts left in the packaging sector. The products come in attractive packaging with high-quality content and a cult following among the youth.
3. Optimal use of internet marketing
Sugar Cosmetics also made an effort to market their goods through the Internet. Instagram and YouTube have produced the best results for them out of all the digital platforms!
They also promote their products through Social Media influencers. They collaborate with a famous content creator who targets their audience and captures a mass audience at cheaper prices as compared to conventional marketing strategies.
Last but not least, they will also continue to rely on BTL activities for their marketing. Organizing trade shows, telemarketing their products, sending direct mail to the targeted audience, and focusing on search engine marketing are all producing positive results.
The rise and rise of Sugar Cosmetics
1. Funding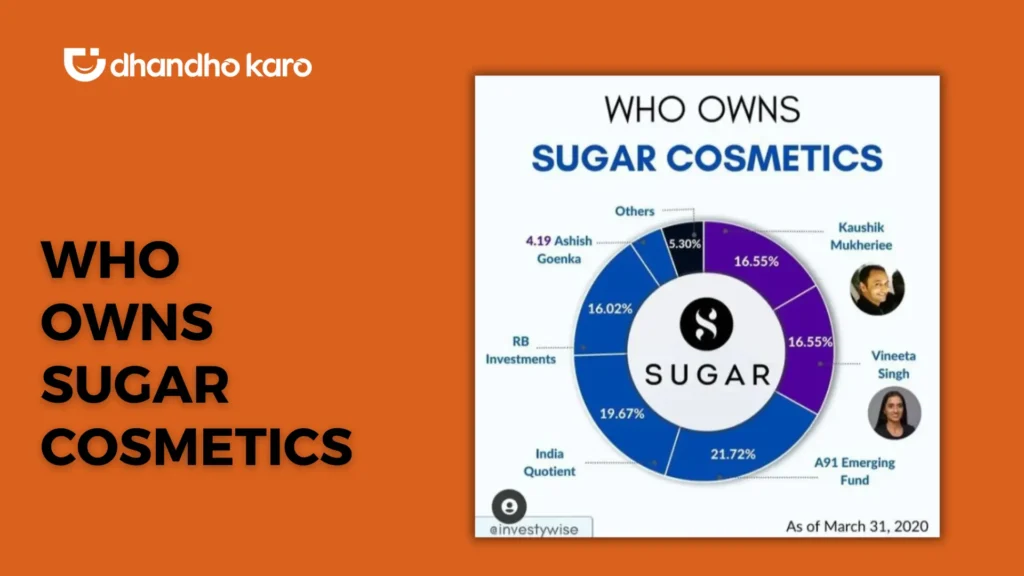 Over the course of six rounds, Sugar Cosmetics has raised a total of $87.5 million in funding. Their most recent funding came from an angel round on September 3, 2022. Nine investors are funding Sugar Cosmetics.
The most recent investors are A91 Partners and Ranveer Singh. On January 13, 2022, ENN Beauty was purchased by Sugar Cosmetics.
As of today, Sugar Cosmetics Net Worth is Rs 300 crore.
2. Valuation and turnover
According to the most recent reports, it is valued at $500 million (4,133 crore rupees). And if we talk about the turnover, In FY22, Sugar Cosmetics generated total operating revenue of INR 210.9 crore from India, as against INR 117.6 crore in FY21. With a projected 70% growth rate by 2024, Sugar Cosmetics is ready to become the second-largest brand in the color cosmetics category.
3. Revenue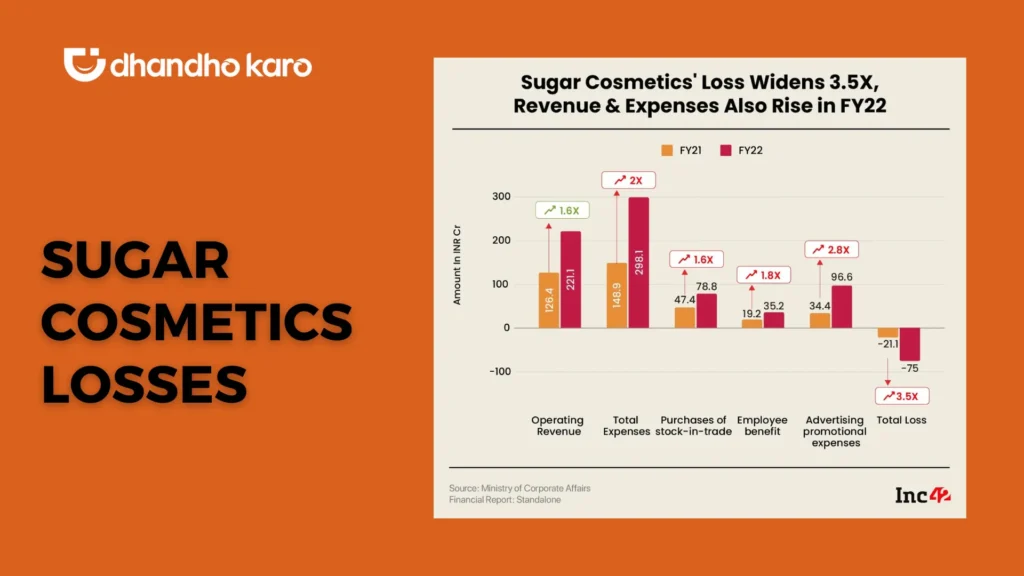 Despite an increase in sales, Vellvette Lifestyle-owned Sugar Cosmetics reported a widening of its loss to INR 75 crore in the financial year 2021-2022 (FY22) from INR 21.1 crore in the previous fiscal year.
Although its operating revenue from the sale of its cosmetic and beauty products increased by almost 75% to INR 221.1 crore in FY22, the startup still reported a 255% YoY increase in its loss. The figure stood at INR 126.4 crore in FY21.
4. Profits
The startup, which has a $500 million market cap, is growing in the US, Russia, and West Asia with the goal of going global soon. According to Sugar Cosmetics CEO Vineeta Singh, the company needs perfect timing to enter the IPO stage, where it can attempt to become the most well-known brand in the market while also experiencing the fastest profit growth.
Naturally, the market places a high value on profitability, and Sugar wants to clear that hurdle over the course of the upcoming year.
SWOT analysis
Strengths
High-end materials that are designed in state-of-the-art facilities.
Online as well as offline.
Easy application
Large target audience
Brand awareness amongst youth
Weaknesses
less recognition internationally
Mediocre promotional campaigns on social media platforms
No big celebrity endorsements
Relatively low budget as compared to global brands
Opportunity
Able to change its products with shifts in trends.
Launch a wider range of products
Increase presence in the marketplace with digital and influencer marketing
Threats
The competitors have more capital to invest in marketing campaigns
Owing to changes in trends, many products get outdated
Many competitors launch the same product at even more competitive prices
Staying ahead in the game
Sugar faces fierce competition with the other established cosmetics brands in the country; to name a few, we have Nykaa, Myglamm, Lotus, Purple, Mamaearth, Lakme, Maybelline, etc.
To create a space in the industry, one has to find a gap in the market and bridge the gap for the audience. Luckily, Sugar Cosmetics has been very successful in doing so, By various strategies listed below:
1. Bridging the gap
Sugar Cosmetics charted the prices of all red lipsticks available on the market using the least common denominator—red lipstick. They discovered that there were no competitors in the Rs 599–Rs 699 price range.
They consequently made the decision to join that band. Even though investors did not find it exciting at the time because they believed it to be a niche market, the brand stuck with it.
"That is one of the benefits of developing consumer brands in India. "Today's niche is tomorrow's mass market," Mukherjee observed. This way, they were able to capture large audiences by playing in the rare air.
2. Accessibility to the masses
With affordable pricing and premium quality, Sugar Cosmetics adds value to thousands of lives every day, is light on their pockets, and offers a variety of products. It is often observed that sugar strives to make their products accessible to the economic majority of the population in India, that is, the middle class.
3. Making gizmos its best friends
Sugar's owned media generates 4 billion views per year. The company was very careful to avoid promoting bottom-of-the-funnel messaging on top-funnel platforms. The brand took Social Media influencers into the spotlight and used the right approach to build a loud voice for the brand.
Its digital footprint has helped it scale the business, by constantly trying new strategies and reflecting on previous failures to grow even stronger with increased revenues.
4. Going omnichannel
The brand adopted a step-by-step strategy. D2C was the beginning, followed by availability on partner portals and other e-commerce sites, and finally shop-in-shops. Launching its exclusive brand outlets and kiosks came next. There are currently more than 114 Clients and kiosks for the brand. The company has also entered the high streets. Their future plan now is to get into travel retail.
5. Devotion towards feedbacks
Actions speak louder than words, and when it came to sugar, words—in the form of customer reviews—spoke about what they wanted and got it done by the brand, leading to its rise in the Indian market.
On marketplaces and e-commerce websites, Mukherjee has made it a habit to read reviews of the products his business sells. The feedback from customers has provided Sugar with a wealth of insightful information that it has used to enhance and diversify its product line.
The insight even allowed Sugar to create some innovative products, including matte eyeliners and foundation sticks.
Conclusion
"You're never really ready… And you're never really ready. But as long as you're willing to put your heart into something, and feel strongly about it – at least you'll have the calming peace of knowing that you tried," – Says Mukherjee.
Vineeta and Kaushik's 11-year journey started in 2012. They were full of doubts, insecurities, and fears, but they never gave up, and today we all know the brand by its faces and embrace the long yet beautiful journey of Sugar Cosmetics.