In today's competitive business world, it is most important to stay updated, even though there is a lot of information available to understand the business world most accurately but we always need help figuring out where to start. Here's when the business magazine comes in.
Business magazine is an excellent option if you want to get insights into the business world as it provides a wide range of information from deep analysis of management tips to industry news it will help you to stay updated
If you're looking to stay ahead in the competition or just want to understand the business then you need to read a business magazine, with extreme choices available in the market. How would you know which are worth your effort and time?
That's when this article comes in after reading this one you'll able to find out the right magazine for you and we will talk about the top 13 magazines in India
Let's first find out the importance of business magazine
Merits of reading a business magazine
Stay informed about the latest trends and developments
Business magazines keep you up to date with the latest trends in business and how you can develop yourself in this field as well as warn you about changes occurring in the business environment that can affect your business.
Learning about different industries and sectors
Best business magazines can provide you with a broad overview of different industries and sectors which will help you to expand your business or to identify new business opportunities.
Gaining a competitive edge in your business
Business magazines will help you to stay up-to-date on the latest trends, can give you insights from leading entrepreneurs and business leaders, and help you to take the right decisions for your upcoming or existing business.
This information can help you to identify new opportunities and get a competitive edge in your business.
Getting insights from leading entrepreneurs and business leaders
Top business magazines in India often feature interviews of leading entrepreneurs and business leaders which will help you to understand the business from the view of a successful businessman and inspire you to indulge their hacks in your journey.
Networking with other business professionals
Best business magazines in India can help you to socialize with other business professionals, many business magazines have online forums and communities for people to connect.
This can be a great way to learn from experienced professionals and implement them in your work.
Types of business magazines that cater to different people
Student business magazines
Student business magazines in India provide an ample amount of information about business and entrepreneurs. They cover topics such as management, finance, starting a business, and marketing techniques.
These magazines help students to get a clear knowledge of the business world and help them to minimize mistakes in their entrepreneurial journey.
Small business magazine
The small business magazine helps small businesses to understand marketing trends, how they can manage their cash flow, engage in lean planning, and what do's and don'ts they must keep in mind while doing business.
These magazines also include success stories and interviews of successful entrepreneurs to motivate new entrepreneurs to do more and help them to learn from their mistakes.
General business magazines
This magazine caters to both business owners and well as the general public, it provides multiple pieces of information about market trends, new job profiles, scope in a particular field, and many more.
Top 13 business magazines in India
1. Business India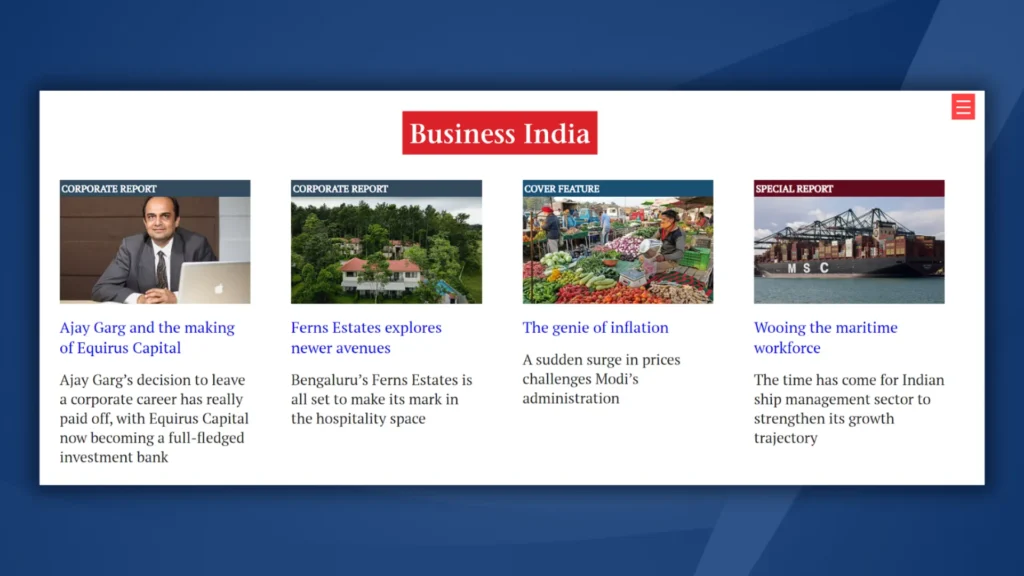 Business India is one of the best magazines in India founded in 1978 by Ashok Hotchand Advani, Hiroo Advani, and Rajkumar Advani in Mumbai. Its targeted audience is business leaders, entrepreneurs, and other people who are interested in learning about business.
Business India is published twice a month, on the 1st and 15th of every month. It is available both online and offline, online you can access it through their official websites, and offline is available in newsstands and stores across India.
It has unique features and sections including:
Corporate Reports: These in-depth reports give a deep analysis of companies in India
Industry Reports: These reports provide insight into the latest trends and development.
Management Strategies: These articles advise and guide entrepreneurs on how they can improve their effectiveness and efficiency
Personal Finance: It also guides you on how to your finance effectively.
The subscription cost of business India is Rs1200 in India and US$120 per year (overseas).
2. Business Today India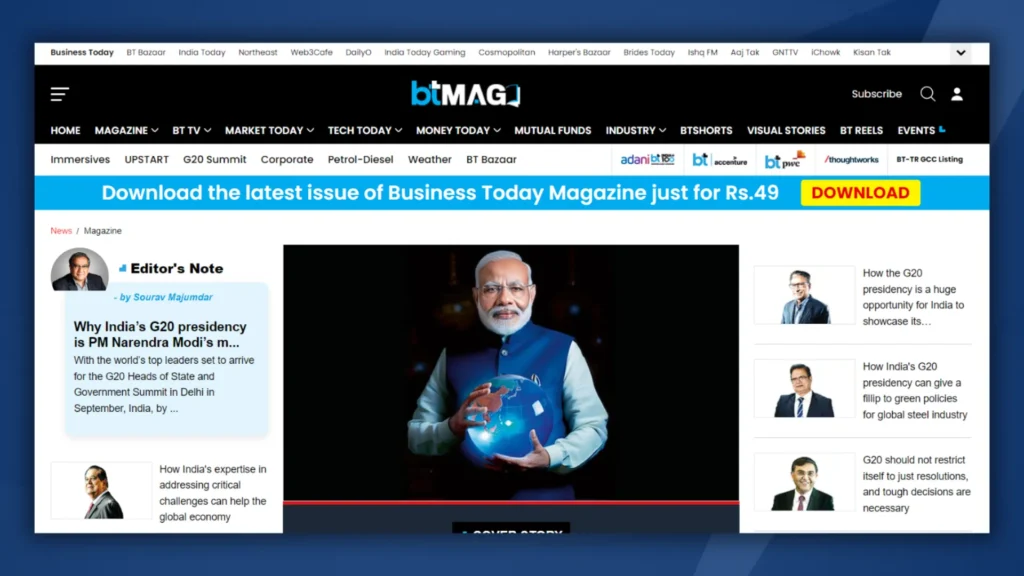 Business Today India was founded in 1992 by living media india limited, a media merger based in New Delhi. It is one of the most famous business magazines in India with a circulation of over 338,000 copies.
Business Today India has several unique features and sections, including:
BT Power 50: This list ranks the top 50 most powerful people in Indian business annually.
BT Next: This features young entrepreneurs doing extraordinary work in the field of business.
BT Wealth: This section gives insight into the latest trends in the Indian economy and personal finance.
BT Digital: It provides insights into the impact of technology on businesses, industries, and society as a whole.
Business India is published fortnightly and is available online as well as offline in India. Its subscription costs Rs2999 for print and Rs999 for digital copy yearly.
3. Entrepreneur India
Entrepreneur India is a business magazine targeted at Indian business owners and entrepreneurship enthusiasts. It aimed at simplifying choosing the suitable project for investment. It helps in making business decisions easier and trouble-free by providing a list of suitable projects for investment.
Entrepreneur India stands out because of its exciting and immersive experience, which keeps the reader from getting bored. It features interviews with top entrepreneurs and failure stories of some great startups.
In addition to all news it provides it also helps entrepreneurs with relevant recourses and as well as reviews of helpful tools and services.
Entrepreneur India is published monthly on the first day of every month, it is available offline, online, and in other formats to make it easily accessible for all. Its subscription costs for
4. Forbes India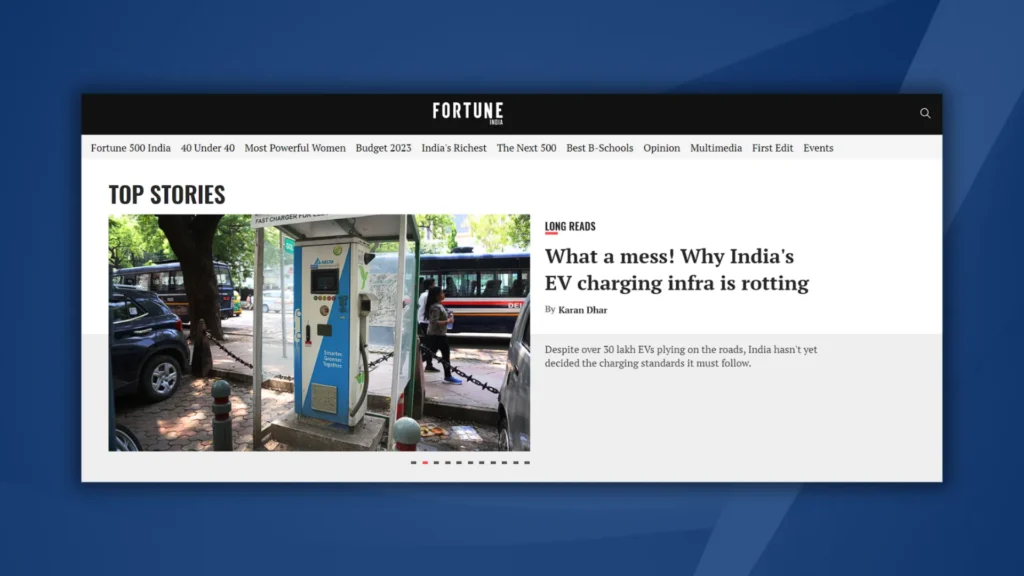 Forbes India is also one of the known names when it comes to best business magazines in India, it was launched in 2008 as an Indian version of the world-renowned Forbes magazine. It is designed for entrepreneurs, investors, and all those who are looking for a deeper understanding of the Indian market.
Forbes magazine offers various unique sections for its readers such as:
In focus: it provides an in-depth look at indian business, featuring expert opinions and analysis of new trends and upcoming economic events.
Rising stars: this section features emerging entrepreneurs and businesses who are making waves in their respective industries.
Market watch: This section gives a close look at the market trends and upcoming changes in the market that could affect business and investments.
Forbes India is published monthly and is available online on their official website and offline in new stores. Its subscription costs for individual issues are Rs 150 plus tax and annually Rs 1490 plus tax.
5. Fortune India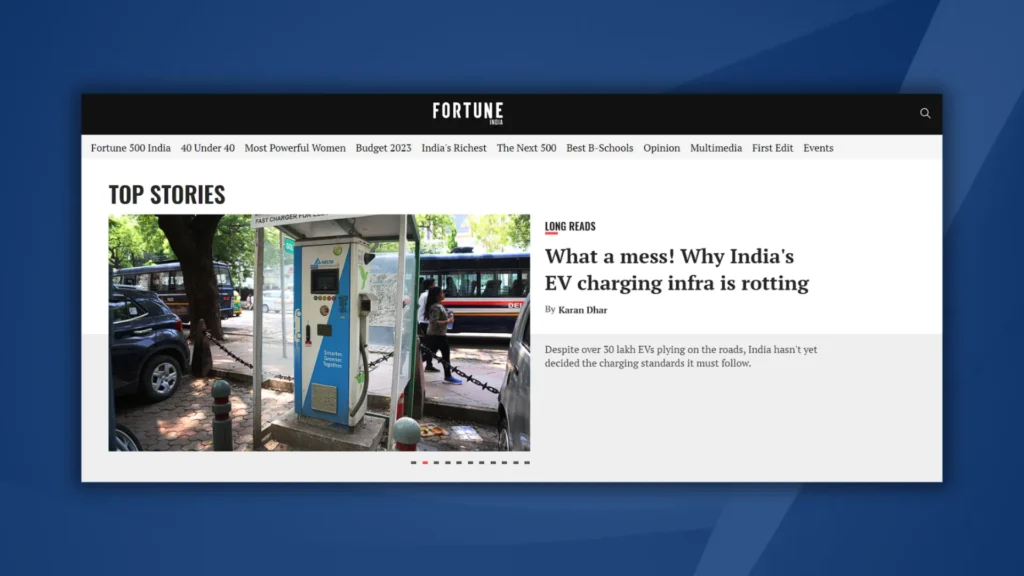 Fortune India is a top business magazine in India, launched in 2018 as a joint venture between the Times Group of India and Fortune media group. It caters to business executives and enthusiasts with up-to-date business, finance, lifestyle, and more information.
Fortune India outshines others because of its unique conveying techniques and sections such as, 'People behind the Success' which motivates young minds with other's success stories and what strategies they used to archive it.
'Global voice' is also one of the sections which cover developments from different countries and examine economic and political events which could affect the international market. It is published monthly and is available offline as well as online.
6. Outlook Business Magazine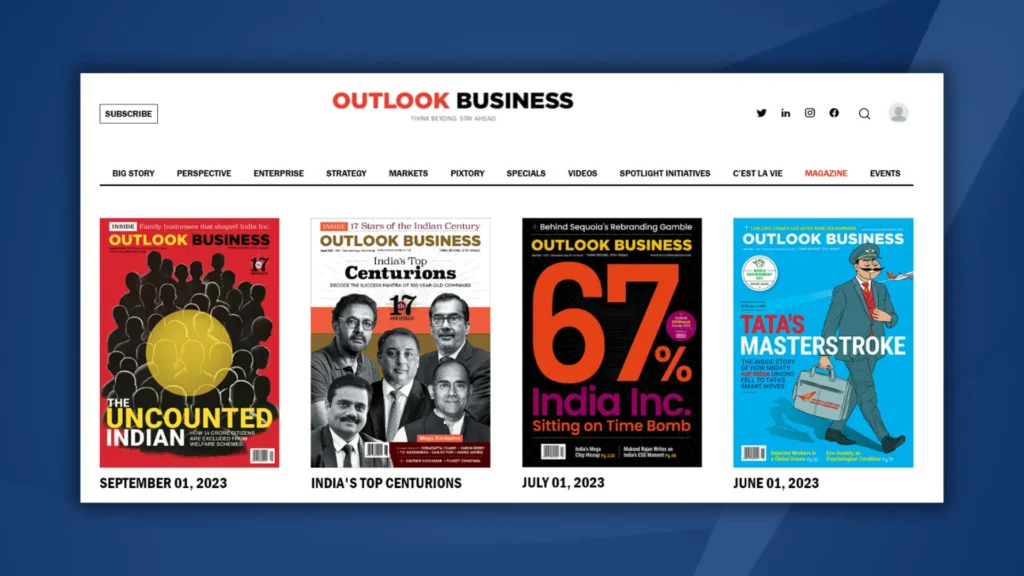 Outlook Business magazine was launched in 2011 by Outlook Group based in Delhi and is one of the top business magazines. It is the perfect companion for business enthusiasts and corporate executives.
It provides compressive coverage of financial market investment and taxation advice and more.
Outlook Business Magazine offers exclusive reports, interviews with industry experts, and analysis of the current economy. The magazine has a wide range of unique features and sections, designed to give readers an in-depth understanding of the business world
It includes special reports on the latest developments in the business world, interviews with industry leaders, a complete analysis of the current economy, and reviews of new products, services, and software solutions.
Outlook Business magazine has a monthly publication frequency, which is available in print and digital formats.
7. The CEO Magazine
The CEO Magazine was founded in 2021 their aim was to give readers insight into the world of business leadership. Its content revolves around topics such as management, productivity, and team building and caters to entrepreneurs, business owners, and students.
The CEO Magazine has a special section dedicated to successful entrepreneurs and experts who have achieved success as well as help them new minds to improve themselves. It also offers its subscribers access to exclusive content not available in the regular issue.
This magazine is available onlime as well as offline for its reader, a subscription costs RS2990 annually.
8. The Economist
The Economist magazine is amongst the best business magazine in India. It was founded in 2008 and since then it has been catering best quality information related to the indian economy, and unique marketing trends to all business enthusiasts.
It targets a large audience from those with higher knowledge in business and economics to those with an interest in the same topics.
Its highlighted features are:
The World in 2023: This section shows predictions about the economic trends and market in the coming year.
The Economist Espresso: This is the email newsletter that provides the latest news in a summarised manner from The Economist.
The Economist Explains: This is a series of articles that explains typical and confusing economic terms and concepts in a concise and clear manner.
The Economist in India is available online and offline, its subscriptions cost Rs14900 for digital plus print annually and Rs 9699 for a digital annual copy.
9. Time Magazine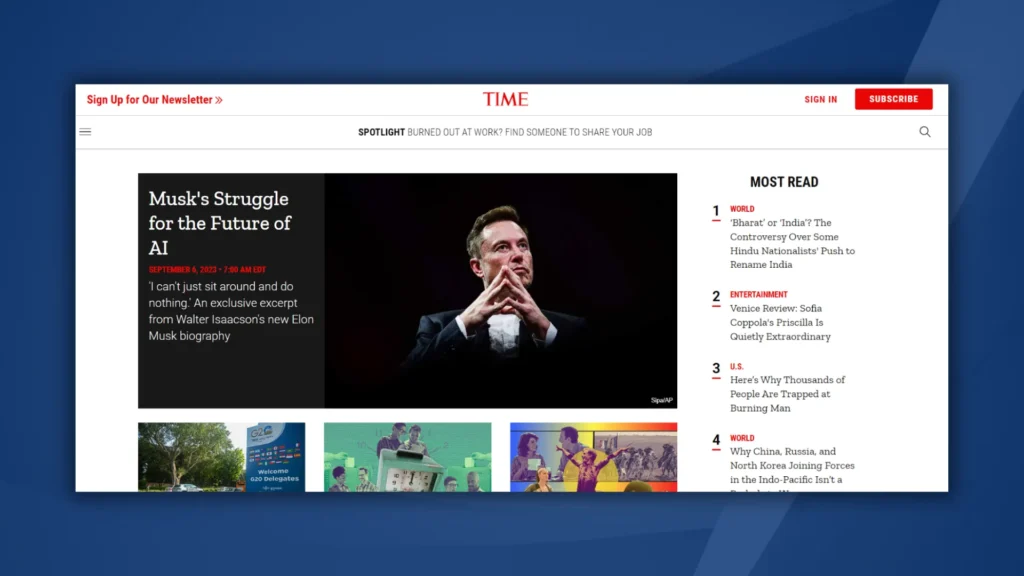 Time Magazine was founded in 1923 by Henry Luce and Briton Hadden, the magazine covers a wide range of topics such as politics, science, culture, and current events. Its targeted audience is educated, adults and business-keen learners.
The distinct features of Time magazine are
The Person of the Year: This is an annual feature that identifies the most influential person on the world in past years.
The World in 100 Words: This is a weekly feature that provides a short and crisp overview of the latest news stories from around the world.
Time magazine is published monthly at the end of each month, it is available in print and digital formats.
10. BW Business World
BW Businessworld was founded in 1975 by the Businessworld Group, Aroon Purie.
It offers business-related news for its audience. Its targeted audience is young entrepreneurs, business enthusiasts, and students.
It provides new and trending business ideas, tells about emerging market trends, and help the new entrepreneur to learn in-depth about business and its environment. It also features inspiring stories to motivate people so that they don't lose hope when fail.
BW Business World is available online on their official and offline in local news stores across India.
11. Business of Fashion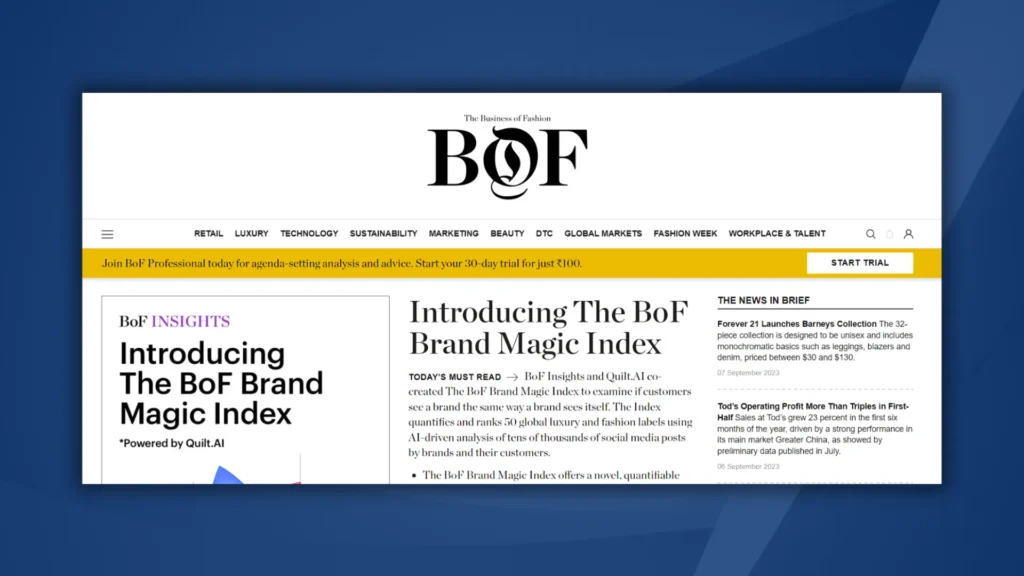 Business of Fashion is a leading magazine in the world of fashion it was founded in 2021 it offers insight into the latest trends and events in the fashion industry through interviews with leading figures, feature articles about current trends, and reviews of fashion shows, exhibitions, and events.
It has creative sections which provide information about trendy trends and features fashion influencers, it also organizes various events on fashion and educates people about the fashion world.
With print copies available across the country, it is also available online that is in digital format through their website. they offer a subscription model as well.
12. Inc India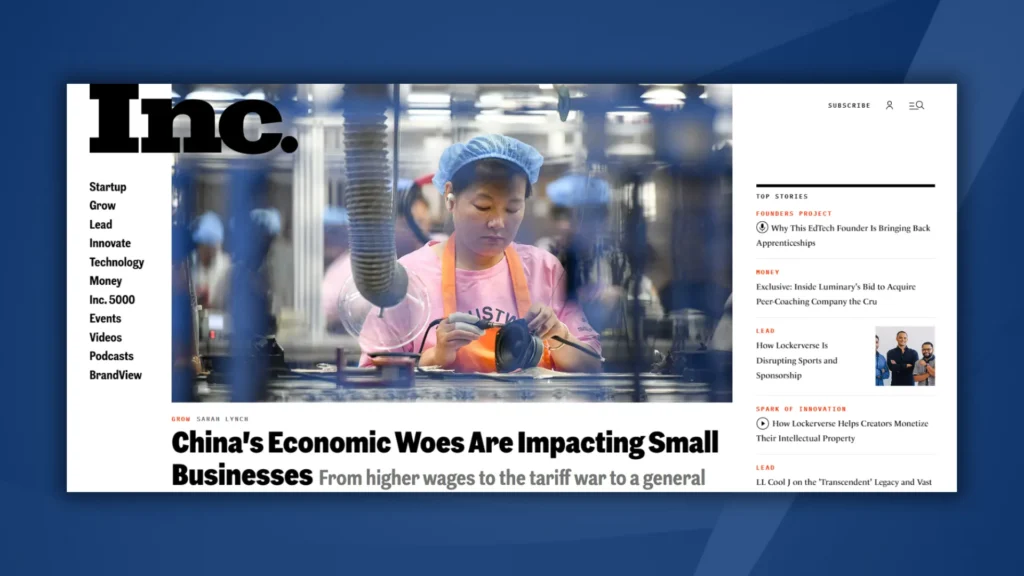 Inc India business magazine was founded in 1997 by a group of entrepreneurs in New Delhi, it provides information regarding ecosystems, ventures, and new strategies to business professionals and people with an interest in business.
It outstands from other magazines because of its latest news, strategies, tips, and tricks on how we can sustain a business in the long run. It ensures that the readers get the bests knowledge at the given time
Inc India is available in both mode online and offline.
13. Insight Success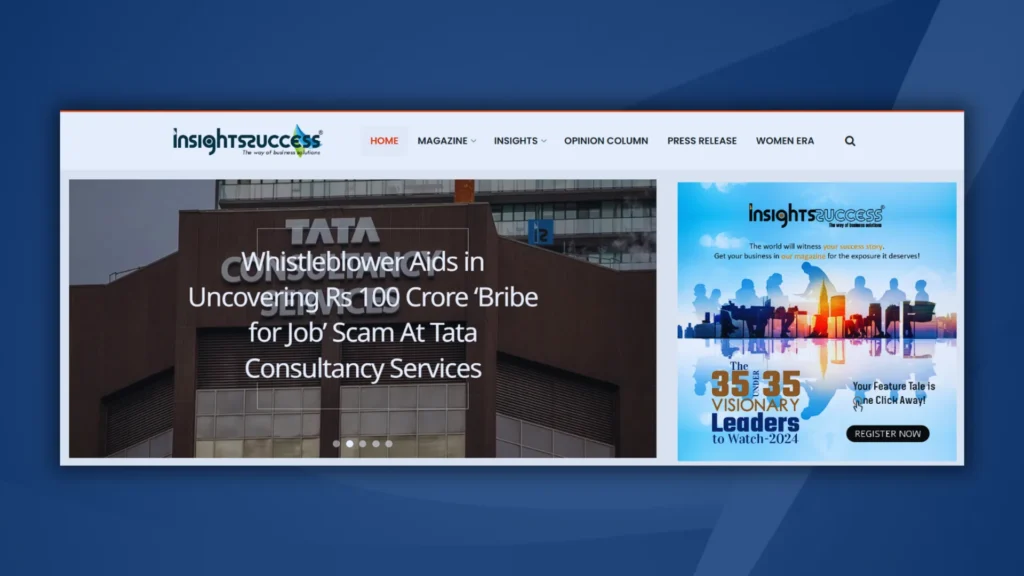 Insight Success is a great magazine for aspiring professionals who are looking to upscale tier careers. it was launched in 2020 and provides all the information which is important for an aspiring professional to take a decision.
For the convenience of its reader, it is available on Insight Success's official website and in print copies across India as well.
Now! As we have talked about various top magazines in India, let's now understand how we can select the best-suited magazines s per our interests…
Here are some ways to do so
Consider your interest
Before selecting any magazine choosing the right field to read is very important as if you won't read according to your interest it will never able to gain your interest and you'll get bored easily also it will add no value to your life.
Read sample issues
Many magazines offer sample readings before actually buying the whole subscription you should first read from the sample and understand whether the writing style and content is up to your need or not.
The magazine's reputation
Before choosing the right magazine its reputation is also one of the important parts which you must note while choosing as with a high reputation the liability to give reliable content also increases which will ultimately decrease your chances of getting wrong information.
The magazine's editorial focus
Some magazines are focused on specific topics like business, fashion, or travel while others are more general interest magazines hence you must check editorial focus that whether the magazine's main focus revolves around your interest point or not.
Conclusion
As India has a vibrant business magazine industry, in this article, we discussed the best business magazines in India. we hope you liked this article and it was helpful in your journey to find the best business magazines in India according to your interest.