Ever done a task without planning and drafting? We would know the consequence if it happens so. Do you have guts to build your house without knowing how to do it or having the outline instead? Absence of planning and drafting is a great mishap for your projects that can be 100% labelled as "flop". Incorrect planning breeds from wrong analysis and that's give you quality-missed decisions. We know that mistakes are common in human's life. But how to plan perfectly in such a way that you can modify the plan any time and if the plan is born in the form of visuals?
Wireframing tools jumps into the question to answer it. Wireframing tools are programs helpful to visualise how your end product should be. It can be either an application or software or a website. You can compare the purpose of a wireframing tool to a civil engineer who carefully plans for a perfect outline of a house. Wireframing in papers have become outdated due to insufficient properties. You don't want to be an artist to perform wireframing as you do in paperwork. Unlike paperworks, artificial intelligence dependent wireframing tools will bound their desires with quality support.
Finally, on reading this article you will be benefited with
Importance of wireframing tool.
Information about wireframing tools.
Tips to select the best wireframe tool.
List of best wireframe tools.
Importance of Best Wireframe Tools and Uses
Many software developers and application designers start developing their products without visualisation.
Furthermore, it is vital for you to know the difference between mind mapping tools and wireframing tools. Mind mapping tools are a great initiator to jot down the phases involved upon accomplishing your goal.
On the contrary, wireframing tools are a visualisation technique, that illustrates the appearance of your project before it's begun to develop. It teaches you the positions of your icons, buttons and thus allows you to analyse the navigation efficiently. Mind mapping tools substantiate how efficient the flow of each phase is, while wireframing tools cross-check the liquidity with the aid of visuals.
Back to wireframing tools, it allows the developers as well as clients to merge their ideas which will be produced as easily understandable visual representations. Without wireframing tools, the designers might lose a large amount of time and energy while clients shout at them for their monetary loss.
In fact, wireframing stimulates more ideas in the vision of humans by presenting how the software works in a visual format.
To be crisp and short, the oncoming significance of wireframing tools would be useful for you to select the best wireframe tools across the web.
Helps to fix any navigation errors in the user interface.
Incorporate dozens of features to provide unique functionalities.
Aids in sorting out any issues with the appearance of the software.
Allows users to fetch feedback from various users and make adjustments accordingly.
Aids in saving the time and energy of programmers which also reduces stress by giving them an outlook of how precisely the final product should be. Thus, the coder does not worry about any updates in this program.
AI-dependent wireframing tools have a lot of features to induce your creativity and thoughts upon crafting the outline
How to Choose the Best Wireframing Tools?
Numerous tools have emerged across the web to provide its users unique uses. However, the difference between each wireframing tool appears different to different users. One wireframing tool could be useful to person A while useless to person B.
From our opinion, all the wireframing tools are best. For you, it is important to follow the requisite of you and then move towards its selection. Rather than confusing yourself with a lot of tools, be wise to set your requirements in a wireframing tool and pick out the one that exactly aligns with your desires.
Across the market, you should first think about the budget you are able to spend on the tool. It could be free or provided with some money. Furthermore, many wireframing tools can lag your OS, causing great inefficiency in the working of your PC or mobile. Some even load you with a lot of advertisements when connected to the Internet connection. We definitely cannot guarantee you to match you with the best wireframe tools that are good from all perspectives.
Apart from comparing the advantages of each wireframe tool, also start comparing the number of disadvantages in each wireframing tool and you can prioritise the one with fewer disadvantages. Maximum benefits with minimum exposure should be your thumb rule for any tool you choose.
The best wireframing tool should not accompany technical errors and repetitive issues. On the contrary, it can accompany a good user guide or instructions to its software so that newbies become stress-free from the steep learning curve. Likewise, the best wireframing tool shouldn't be overwhelmed and complex for users to open up and utilise it.
The best wireframe tool should be regularly updated in order to fix bugs. The approaching considerations should be in your criteria list to analyse the best wireframe tools across many options.
Should contain fundamental features, to begin with.
Should incorporate how-to guides for startups.
Should not be overloaded with many useless features for the only sake to include it.
Easily available in responsive formats should be included.
Reuse, drag, and drop functionality.
Data privacy and protection.
Don't spend too much money on these tools. Free alternatives are always in stock.
Your saved ideas should be accessible again to update any mandatory ideas to it.
Say "yes" to feedback functions, analysing and reporting properties of the best wireframe tools.
Easily shareable features is a must.
Elements, icons and any structural character to be used should be available in the user front of everything area.
List of Best Wireframe Tools 2023
Here is the much-awaited content. Read very carefully to know which 11 tools have occupied the BEST WIREFRAME TOOLS of the year 2023.
Lucidchart is a web-based diagramming and wireframing tool that lets users create flowcharts, wireframes, UML diagrams, and more. The tool includes a wide selection of preset shapes and templates, along with the ability to import and work with Visio files.
Lucidchart also provides a range of collaboration and sharing features, allowing multiple people to work on a diagram simultaneously, and making it easy to share them. In addition, It includes intelligent features such as auto-layout, diagram linking, data linking, and more that using users can quickly and easily create professional-looking diagrams without requiring extensive design skills.
Lucidchart was founded in 2010 by Karl Sun and Ben Dilts. Since then, Lucidchart has expanded its line of goods and is now used by millions of users at countless businesses to collaborate on images.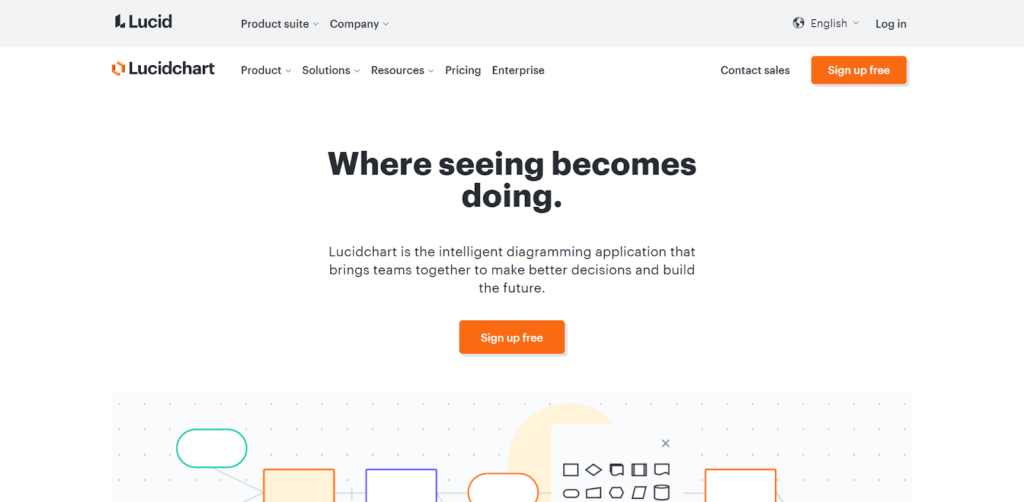 Features
Create business process maps
Stay aligned on user flows
Scale cloud infrastructure
Plan and organise scrum teams
Map data flows
Figma is a web-based design & wireframing tool that allows users to create wireframes, prototypes, and visual designs for websites, mobile apps, social media creatives, etc. with allowing multiple people to work on a single design file simultaneously, making it easy for teams to share and review designs.
Figma also includes a wide range of pre-built UI elements and design components that can be easily customized, as well as the ability to import and work with Sketch files including vector networks, and prototyping that make it a comprehensive design tool.
Additionally, It includes built-in design guidelines, making it easy to ensure that designs are accessible and meet standard design practices.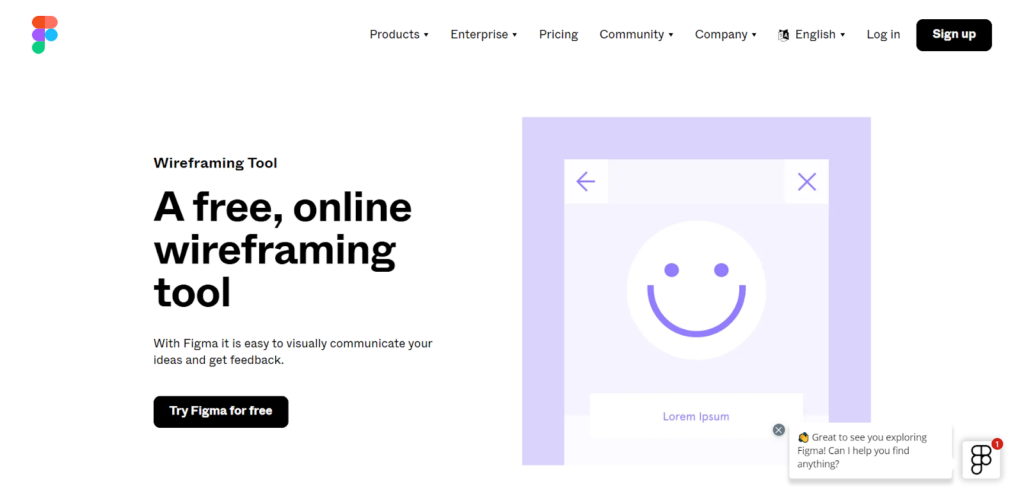 Features
Browser based
Up to date
Private plugins and widgets
Team libraries
Design system analytics
Centralised file management
Mockplus RP is one of the most recommended online wireframing tools for UX designers. It provides collaboration ability to make sure all of the designers and other parties stay in sync. It's also a user-friendly tool for beginners for its drag-and-drop feature. You can create from sketches, diagrams, and wireframes to hi-fi prototypes with more than 3000 pre-built components and icons.
It allows you to quickly preview and test your UI/UX visions like the real deal on your mobile, laptop, and tablet.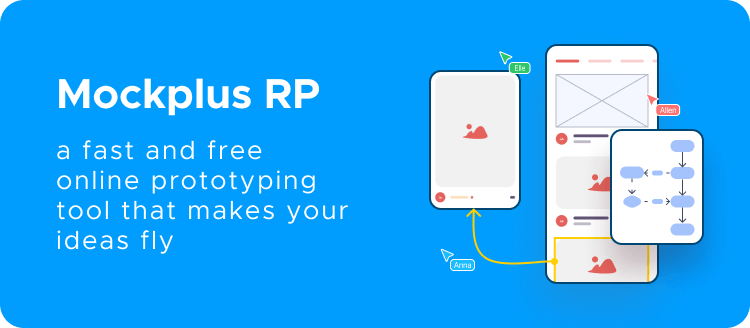 Features
Quickly create from low–fi wireframe to Hi-fi prototypes
Ready-made components, UI library, and reusable assets
Drag-&-drop builder
Co-edit with your team
Instant feedback
Preview and test
A robust and cost-free wireframing tool for UI/UX designers, Adobe XD was created by the industry pioneer in creative technology. With XD, you have access to a design tool that allows you to quickly sketch up and wireframe layouts, make UI elements, build user flowcharts, navigational structure, and information architecture. To get everyone on the same page early in the design process, provide links to your clickable and interactive wireframes when you're ready.
Features
Vector drawing tools
Precision Design tools
Repeat Grid
Prototyping
Responsive resize
Powerful plugins
Get everyone on the same page by sketching out your ideas for the user interface. Balsamiq A quick and low-fidelity UI wireframing application called Wireframes simulates sketching on a whiteboard or notepad while using a computer. It effectively motivates you to pay attention to structure and content rather than wasting time on early debates of colours and details. With wireframes, you may quickly produce new ideas, discard the subpar ones, and identify the best solutions.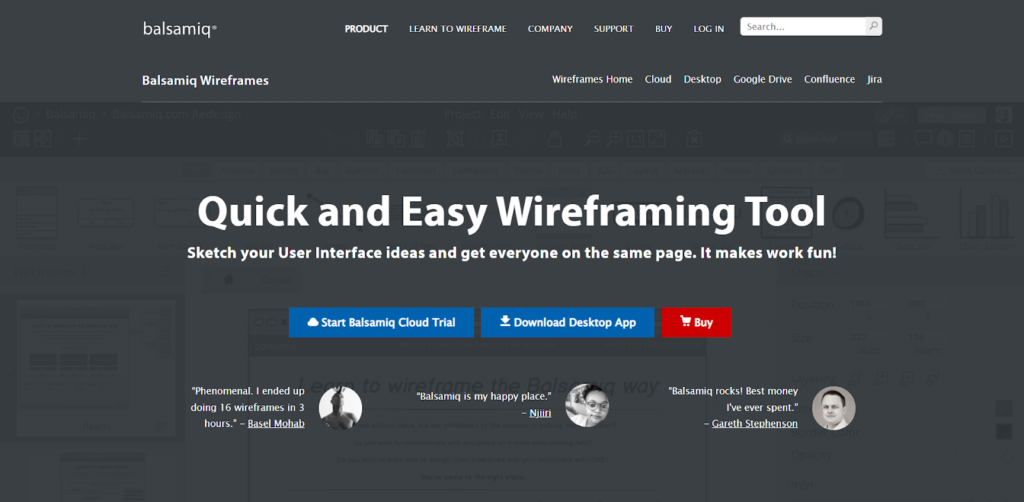 Features
UI components and icons
Drag and drop simplicity
Export to PNG or PDF
Speed optimization
Reusable symbols
Interactive prototypes
The only UX solution that empowers UX specialists to create realistic, useful prototypes is Axure RP. To genuinely explore digital experiences, create UX prototypes with countless permutations of event triggers, conditions, and actions. Create functional forms, sortable grids, and dynamic interfaces by utilising the robust Axure RP widgets.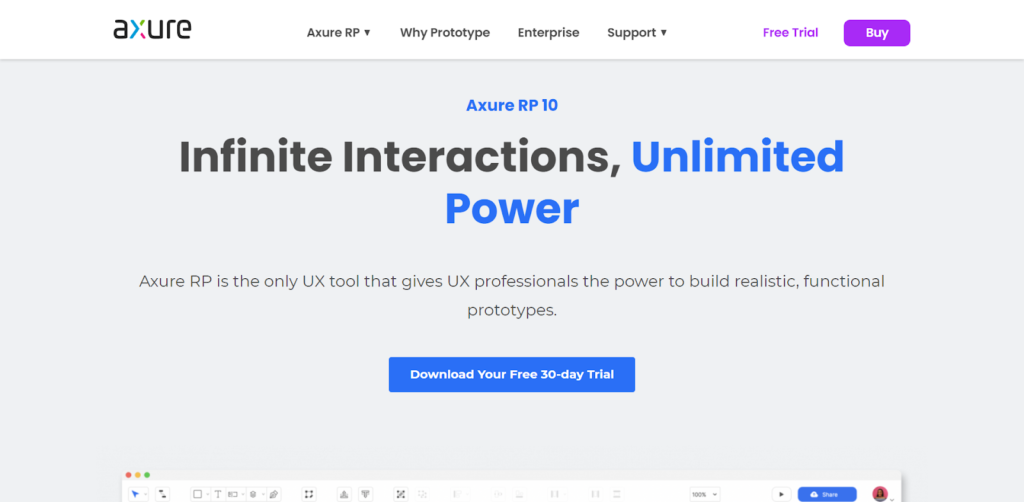 Features
Conditional Logic
Working Forms
Multi-state Containers
Data-driven interface
Adaptive views
With Cacoo, your team can collaborate concurrently whether they are physically gathered in the same conference room or electronically gathered anywhere in the world. Cacoo allows you to brainstorm, plan, present, and get feedback. Your team can utilise Cacoo for every phase of your creative workflow while collaborating in real-time.
Features
Extensive collection of wireframe templates
Easy collaboration
Accessible in all modes
Secure file management system
UML diagrams, flowchart
You can experiment with consistency factors with UX Pin. The user interface flows well. Utilize cutting-edge Merge technology to hasten the development of your products. Use the same building components to create consistent interfaces, from UI designers to UI developers.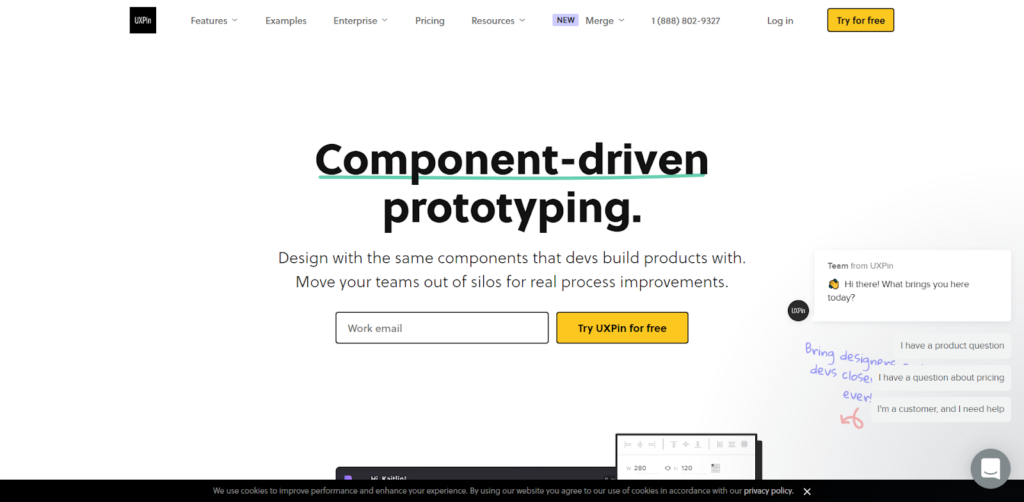 Features
Manage your UX process
Verify ideas easily
Easy access
Design consistency
One of the earliest apps in the Atlassian Marketplace, Gliffy has the most intricate integrations with Atlassian's products. Gliffy is the only interactive diagram builder in Confluence, allowing users to navigate between layers and information in the diagram viewer.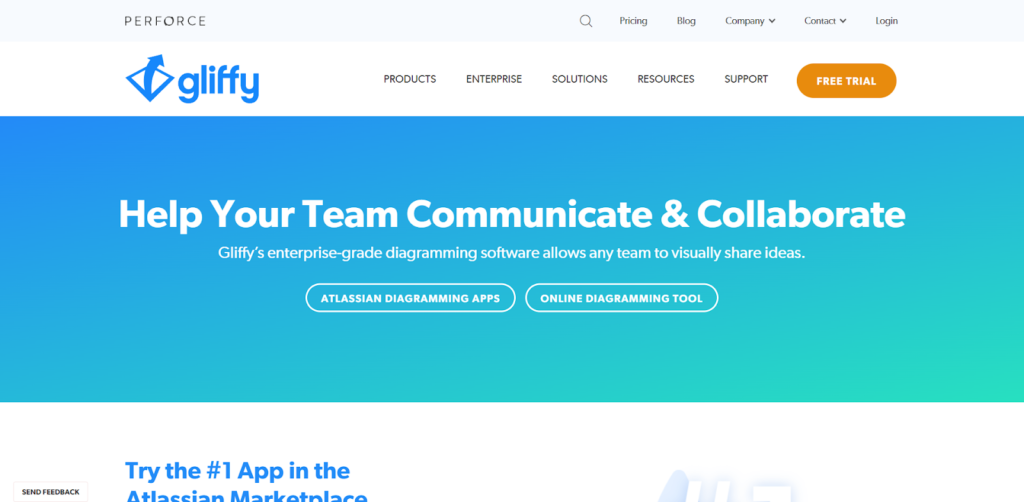 Features
Diagram with ease
Integration with atlassian
Easy sharing and collaboration
Preserve and track changes
Export and import facilities
Your team can create user interfaces for websites and mobile apps using this simple wireframe tool. Make the transition from low to high fidelity more seamless by streamlining your design process. You can create designs directly in your browser by working on Windows or MacOS. Premade UI elements can be easily and quickly wireframed by designers and non-designers alike by dragging and dropping.
Features
UI shapes, blocks, and icons
Callouts and annotations
Reusable components
Easy collaboration and sharing facility
MockFlow offers all the tools needed for every stage of the product design process, from wireframing to user testing. MockFlow is designed for visualising UI concepts thanks to its whiteboard-like interface, component-level themes, and flexibility to customise components using CSS.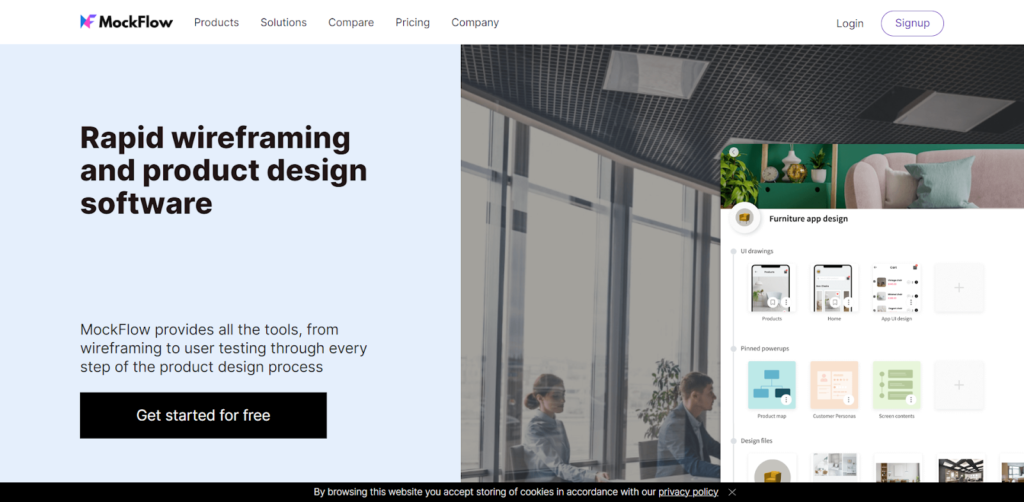 Features
150+ UI packs
Direct CSS support
Embed code components
Generate UI specs
Page-based version history
Conclusion
Drafting an outline that exactly matched with imagination is a bit difficult task. With the invention of wireframing tools all of the visualising your final product tasks has become simple with this single tool. It has made many projects successful with simple user interface.
We noticed many people are unaware of this software due to its less awareness and popularity spread over the globe. Users have found it useful with this, exploring them the flaws of the project. It is not quite easy for technology to identify this treasure among lots of rock and stuff. Optimising this tool to the best depends upon the 360-degree analysis and view of the user. Use this tool to its greatest extent to mould your Bounce rates into conversion rates.